Spend with Pride
Sponsored By
Must-Know Queer-Owned Businesses in San Francisco to Shop Right Now
We asked Nenna Joiner, owner of the inclusive adult store Feelmore in Downtown Oakland, about their favorite queer-owned businesses in the Bay Area to shop this Pride Month (and beyond!)
Sponsored By
Pride Month is here in San Francisco, and we're more than ready to embrace it. Known widely as a "gay mecca," the greater Bay Area is known for its inclusivity of the queer community, dating all the way back to the 19th century gold rush.
A frequent question for those traveling, especially during Pride month, is "how can I support queer-owned businesses?" To answer it, we enlisted the help of Nenna Joiner. Joiner is the owner of Feelmore, a queer-owned, inclusive adult store in Downtown Oakland.
When Joiner started selling sex toys out of their car in 2009, they didn't expect that a brick-and-mortar location was in their future, much less two brick-and-mortar locations. However, Feelmore Adult's Oakland shop was opened by Joiner next to the well-known Fox Theatre in 2011, with a Berkeley location following suit in January 2020 on Shattuck Avenue.
We asked Joiner about the other queer-owned businesses they recommended in the Bay Area to shop this Pride Month (and beyond!).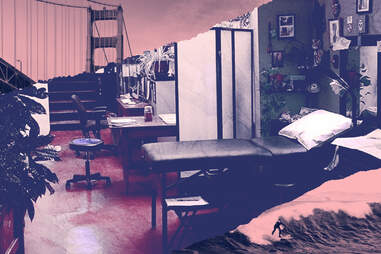 Diving Swallow

| Design by Maitane Romagosa for Thrillist
Diving Swallow
"If social justice was a tattoo shop, Diving Swallow would be it," Joiner said. The shop, located on 14th St. in Oakland, is a collective of women, non-binary, and queer tattoo artists with styles ranging from dotwork to neo-traditional.
Founded in 2004, Diving Swallow works to align its values with its actions and is well-known for providing an environment for clientele of all backgrounds to express themselves through the art of tattooing in a safe space.
It's common for Diving Swallow to have dedicated, repeat customers that come back again and again. "You can say that [Diving Swallow] lets the work speak for itself," Joiner said about the shop.
Diving Swallow is located at 264 14th St. in Oakland. Check out their Instagram for more info about their artists and range of styles.
Beauty Botanica
A queer hair salon in Downtown Oakland, Beauty Botanica was founded specifically to support the queer community's hair needs.
"On my afternoon walks, I get a chance to imagine where I would get my hair cut...if I had long hair," Joiner said about the salon.
The salon's owner, Olivia Bianco-Chaidez, is a hair colorist herself, and receives rave reviews from her wide variety of clients.
Beauty Botanica is located at 304 15th St. in Oakland. Make your appointment here.
Haute Butch

| Design by Maitane Romagosa for Thrillist
Haute Butch
Located in Santa Rosa, Haute Butch is a black, queer-owned and operated clothing company founded in 2012 by Karen Roberts and Danette Sheppard-Vaughn. The business, according to its website, was created "in an effort to solve a problem that's existed in the fashion industry since its birth—creating masculine clothing tailored to fit women's bodies."
Although the company has yet to launch a storefront, appointments can be made for suit fittings here.
"From accessories to suit lining, check out this spot for a statement piece," Joiner says.
Haute Butch's clothing selection and contact info can be found on their website. For on-model styling examples, check out their Instagram.
Advertisement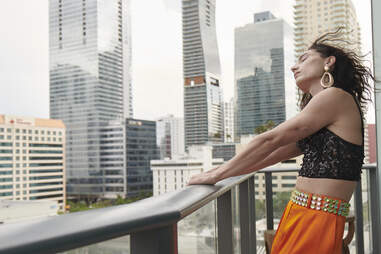 Orbitz
Shopping consciously is important at all times of year, and especially during Pride Month. As an active ally to the LGBTQIA+ community, Orbitz is committed to helping everyone, whoever they are, travel freely and take up space, wherever they go. Their curated LGBTQIA-welcoming hotels feature properties that have taken an inclusivity pledge, so that you can spend your hard-earned vacation budget on hotels that accept you as you are. All you have to do is pick a destination. Visit Orbitz.com/Pride to learn more.
Mr. S Leather
"What kind of queer would I be if I had never walked into Mr. S Leather in San Francisco?" Joiner remarked when asked about the shop.
Mr. S Leather, an adult store with a BDSM focus that was founded in San Francisco in 1979, prides itself on bringing the queer community "quality gear you can depend on," according to its website.
The store carries the world's top brands that are extensively tested by the shop's staff members and continue to be refined in order to make sure customers are getting the experience they deserve.
Mr. S Leather is located at 385 8th St. in San Francisco for storefront pickup from 12 P.M. to 6 P.M. daily.
Hella Bay Clothing
Founded in 2015, Hella Bay Clothing has left its trademark on the Bay Area with its unique designs, colors, and fabrics that emphasize Bay Area pride and community.
Joiner specifically recommends Hella Bay's "Champions Collection" for its "iconic Bay Area monuments" such as the FOX Oakland, Mac Dre, and the BART public transportation system.
Hella Bay clothing can be ordered online, or from a number of Bay Area retailers that can be found here.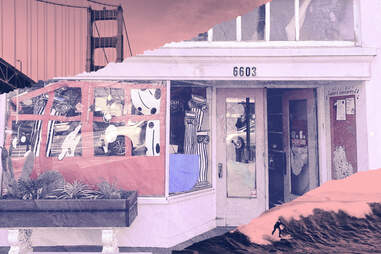 Down at Lulu's

| Design by Maitane Romagosa for Thrillist
Down at Lulu's Boutique
A salon and vintage boutique, Down at Lulu's is a well-known East Bay treasure. The store, located on Telegraph Avenue in Oakland, is a space that welcomes all for haircuts, shopping, or both at the same time.
Joiner says, "the best thing, other than being queer owned and run, is that you don't have to go to Lulu's just to get your hair on point! You can head to Down at Lulu's to buy some of the best sourced vintage wear, from boots to backpacks."
Down at Lulu's is located at 6603 Telegraph Avenue in Oakland and is open every day from 12 P.M. to 7 P.M.
Sui Generis Designer Consignment
Located on Market St. in San Francisco, Sui Generis Designer Consignment was created to "make great luxury clothing affordable." The shop, started by owners and partners Miguel Lopez and Gabriel Yanez, was opened in 2006 and is now home to men's and women's designer clothing, shoes, and accessories.
As Sui Generis is a Latin expression meaning "unique," it's no surprise that the shop is home to one-of-a-kind designer finds meant to serve as a statement piece in your wardrobe.
Sui Generis is located at 2231 Market Street in San Francisco.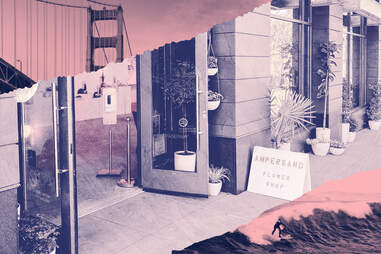 Ampersand

| Design by Maitane Romagosa for Thrillist
Ampersand
A flower shop and design studio, Ampersand has been located on Market St. in San Francisco since 2014.
The shop, which prides itself on being a go-to space for "seekers of beautiful spaces and thoughtfully curated things," carries everything from florals and plants to home goods and seasonal specialties—all in an inclusive space that welcomes everyone.
Ampersand's flagship store is located at 2190 Market St. in San Francisco.
Sasha Weilbaker is a Thrillist contributor.