Must Have Gadgets to Pack if You're a Woman Traveling Solo
Here are the must-have safety gadgets to stay protected at all times.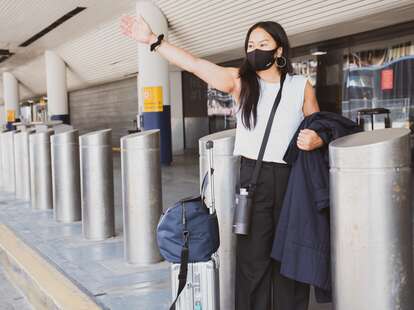 We independently source all of the awesome products and experiences that we feature on Thrillist. If you buy or book from the links on our site, we may receive an affiliate commission — which in turn supports our work.
There are a lot of reasons why traveling alone is a thing. Besides exploring a new place on your own terms, it can also be a transformative experience. You learn a lot about yourself and that can allow you to discover a new layer of confidence you didn't know you needed for your day-to-day life. However, this idea can be terrifying, especially if you're a woman. We already experience a nagging fear that something could happen whenever we leave the house, let alone while traveling. Even if we take the precautions we routinely take on a daily basis, there's still a high chance that we'll encounter creepy men with bad intentions along the way.
To help with having more peace of mind, we've rounded up some of the best safety gadgets you can take on your trip for extra precaution, all conveniently available on Amazon. From portable door locks to accessories with GPS tracking, here are the gadgets you should take with you to travel confidently.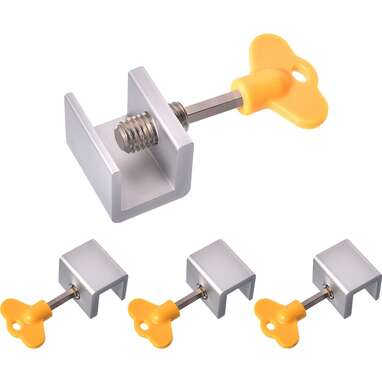 Amazon
These easy to install window locks are a must if you're planning to stay in an Airbnb, especially if you're staying on a low level floor. This bundle includes four sliding window locks made from aluminum alloy and comes with keys and stainless steel screws. Once the locks are in place (you can even use two on the same window for extra security), take the key with you or store it away so no one can unlock it.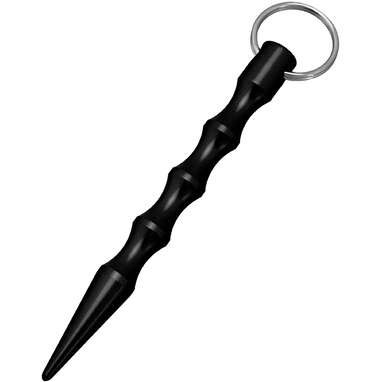 Amazon
There's a good chance you already walk with your keys between your knuckles for extra precaution, but this metal, pointy keychain will give you extra confidence to defend yourself more effectively than your small keys could.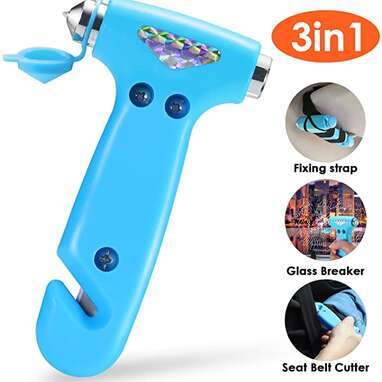 Amazon
Being in a car with a stranger puts women in a very vulnerable place. If you're ever in an uncomfortable situation, this hammer will help you have an escape plan. This gadget is equipped with a double-sided hammer that can be used to smash the car window and a hidden blade to cut your seatbelt if you have trouble taking it off.
Amazon
This smart pepper spray effectively alerts your contacts through text with your location as soon as you spray it, which is super convenient when you're in danger. The magnetic keychain enables a quick release with one hand and it boasts a 10 foot range and 13ml content to last you multiple uses. However, before you take it on your trip, remember to check pepper spray laws at your destination and the updated TSA regulations to see if you can travel with it.
Amazon
Traveling by yourself also means that you have to be super cautious with your belongings, especially with your keys to wherever you're staying. That being said, we highly recommend attaching this genius little tech gadget to the most important things you carry with you––including your keys and your wallet––to be able to track them down using Apple's Find My app in case you lose them along the way. They boast a battery that can last over a year and are also dust and water resistant.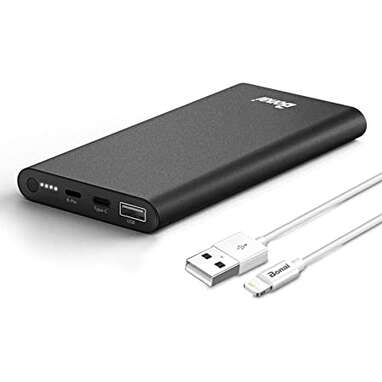 Amazon
Having a portable charger is always a good idea and a good habit to include in your packing routine. This one has the capacity of charging your phone up to four times in a row and you only need one hour to get your battery to 100%. That way you can confidently explore your destination without worry.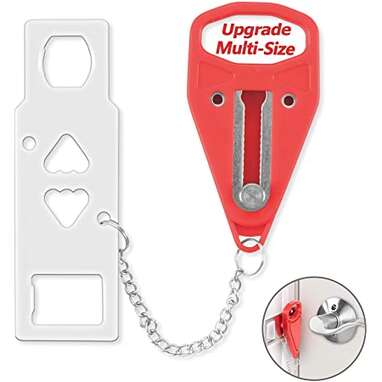 Amazon
Whether you're staying in an Airbnb or a hotel, make sure to include this handy portable lock in your packing list. With its easy to install and sturdy design, this lock works in most doors that open inwards. That way you can avoid any strangers opening your door while you're sleeping.
Amazon
This Amazon best seller has amazing reviews from satisfied customers. With a four year shelf life, this pepper spray boasts a powerful stream delivery that reaches a distance of 10 feet and is built to eliminate the 30% rate of failure that others are known to have. It also has a key chain ring to conveniently attach to your keys. As we mentioned before, remember to check the pepper spray laws at your destination.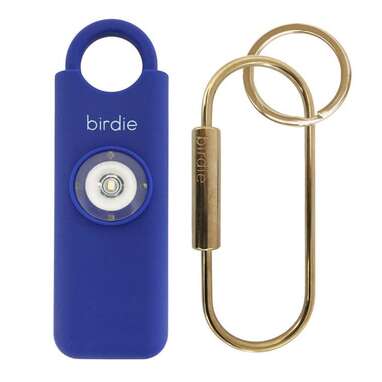 Amazon
This amazing alarm tool was created by women to empower other women to live their everyday lives. Whether you go on a hike or walk around the city by yourself, this safety accessory has a super loud siren and flashing strobe light to create a diversion and to help deter an attack.