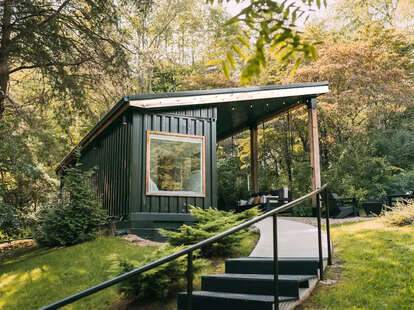 Airbnb
Airbnb
We independently source all of the awesome products and experiences that we feature on Thrillist. If you buy or book from the links on our site, we may receive an affiliate commission — which in turn supports our work.
Recycling old shipping containers is one of the trendiest forms of sustainable design—not only does it prevent a huge hunk of metal from ending up in a landfill (or from getting melted down, which uses a lot of energy), but it also curbs the use of brand-new materials when building a house. As an added bonus, they also look pretty darn cool, with cozy indoor spaces and four walls that are essentially blank canvases on which to leave your own artistic mark.
While it takes a lot of planning and budgeting to create your own shipping container home, you can get a taste of the upcycled life by renting one on Airbnb. The rental site has tons of options available, from tiny homes in New York to entire condo complexes in Houston. We've rounded up some of our favorites below to help you plan your next eco-friendly, design-forward weekend getaway.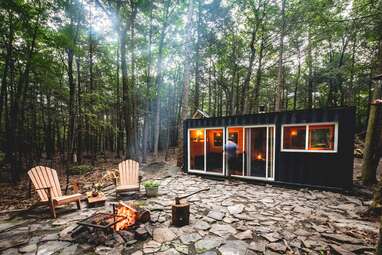 Airbnb
2 guests/$207 per night
Staying in this 20-foot shipping container is a lot like camping, only you are encased in high-efficiency insulated walls and sleeping on a comfortable queen-size bed. The home also comes with a wood-burning stove, kitchenette, patio, shower, and record player, and guests can book 90-minute sessions in the shared sauna (also housed in a shipping container). Spend your time exploring the 20-acre plot (waterfall included) on the edge of the Catskills, or visiting the cute restaurants and stores in Saugerties.
What guests say: "Amazing off grid container cabin to disconnect and enjoy some time away. Make sure you check out the sauna. Definitely recommend to everyone!!"
Airbnb
Upper Hominy, North Carolina
2 guests/$119 per night
This modern, dog-friendly retreat sits on 125 private acres adjacent to the Pisgah National Forest—just a few miles away from the Blue Ridge Parkway and a 25-minute drive to Asheville. The semi-off-grid cabin comes with a queen-size been, electric stove, mini fridge, and outhouse, plus a solar-powered outdoor shower. The glass garage door on the front of the cabin opens to a beautiful wooded view, while the deck with outdoor fireplace is the perfect spot to soak up even more unobstructed vistas.
What guests say: "My husband and I loved staying at this charming getaway in the mountains with our dogs! The deck and outdoor fireplace perfect for relaxing by the fire, reading, and enjoying the beautiful springtime weather."
Airbnb
8 guests/$296 per night
This listing encompasses an entire condo complex made out of two shipping containers stacked on top of each other (you can also rent individual units if you have a smaller group). The interiors of both apartments are so spacious and well-designed, you would never guess they were housed in repurposed containers. But the star attraction is definitely the rooftop patio, which features a kitchen with grill and refrigerator, fire pit, and enough seating for 20 people.
What guests say: "Amazing spot for a nice rooftop to relax and grill. The host communicates great and the home is very cozy and well decorated. Would definitely book again!"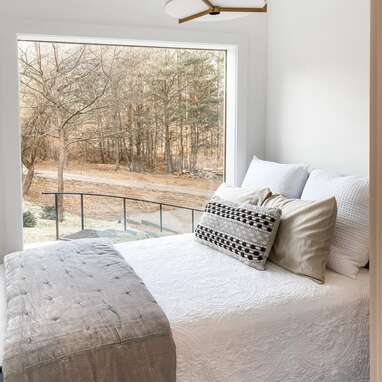 Airbnb
2 guests/$495 per night
Nestled on 30 wooded acres near the Hocking Hills, this cozy container home has a bedroom with full-view window, private bathroom and shower, full kitchen, living room area, and gas fireplace, plus a glass garage door that opens to a covered patio with a hot tub, gas grill, seating area, and swinging bed.
What guests say: "No details were missed! Super clean and peaceful. Can't wait to schedule again."
Airbnb
4 guests/$214 per night
Located in Williamsburg, this listing includes a full unit in a building made entirely of shipping containers (reportedly the first of its kind in NYC). The apartment comes with its own bathroom and kitchenette, as well as a full-size bed and sleeper sofa; guests also have access to an on-site community garden and the building's rooftop, though you'll need permission from the hosts to use the latter. The space is beautifully decorated with colorful artwork and shelves upon shelves of books.
What guests say: "I had a wonderful stay at Janet and David's shipping container. The structure itself is quite remarkable and—even though it is made of steel—the amount of love that the couple has put into the place really makes it feel like a cozy home."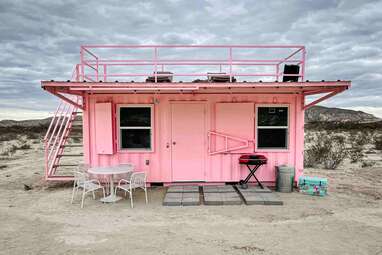 Airbnb
4 guests/$72 per night
Surrounded by donkeys, jackrabbits, and mountain views, this repurposed shipping container is an extremely affordable place to rest up between visits to Big Bend National Park. The rosy pink home has no electricity or running water, but you will have access to battery-powered lights, Casper mattresses, and propane camping stove. The best feature is definitely the rooftop deck, with lounging chairs for stretching out and watching the Milky Way stretch above your head.
What guests say: "This is such a perfect location! Not too far to drive to Terlingua or Big Bend but still feels so secluded and private. The views are amazing and I will definitely recommend to friends!"
Airbnb
4 guests/$167 per night
This converted shipping container sits on a hill surrounded by trees, right by northeastern Ohio's Tuscarawas River. The house is well-stocked and has lots of personal touches, but the real selling point is the deck with a hot tub. There's also a fire pit, queen-size bed, and amenity-stocked bathroom to maximize your comfort and relaxation.
What guests say: "We wanted to find a unique spot not far from home that would allow us to enjoy the outdoors for our anniversary. We definitely found the right place! It was clean, comfy, cozy, eclectic and incredibly enjoyable! We look forward to returning sometime soon."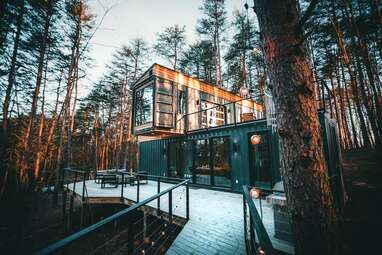 Airbnb
6 guests/$429 per night
This container home in Ohio (which is actually made of three shipping containers) is one of the coolest around. It offers comfy amenities like a gas fireplace, hot tub, and rooftop patio, while the 18.5-acre property is ripe for exploration. The huge windows in nearly every room are a particularly nice touch.
What guests say: "Great location! The interior space was decorated beautifully and the outdoor deck is amazing. Everything you could possibly need to unwind and relax!"