Airbnb
Airbnb
We independently source all of the awesome products and experiences that we feature on Thrillist. If you buy or book from the links on our site, we may receive an affiliate commission — which in turn supports our work.
Earth Day inspires us to rethink the way we do a lot of things. But how much of an eco-effort do you make when it comes to your vacations? While travel can often leave a big carbon footprint, there are several ways to go green when you're on the road—like booking a decidedly eco-friendly vacation rental.
Airbnb has tons of listings that proudly tout their environmental consciousness, whether it's through reclaimed materials or solar-powered energy. We've rounded up some of the greenest (and coolest) options across the country, covering all sizes and budgets—so you're sure to find something that fits your style. But more than anything, you'll hopefully be inspired to make sustainability a priority during your next getaway.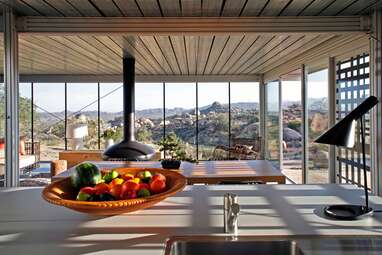 Airbnb
4 guests/$500 per night
This house in the California high desert is something of an internet celebrity, thanks to its unique architecture and clever sustainability efforts. Powered by solar panels for energy and hot water, the home is all about living simply and minimally (no TV or Wi-Fi here)—just sit back, relax, and enjoy the desert views from the glass walls.
What guests say: "This house had been on my bucket list for a while and we were finally in the area to stay. It was everything we hoped for…a uniquely beautiful home to feel connected to the outside world."
Airbnb
2 guests/$277 per night
This solar-powered cabin lets you experience Zion without the crowds, with an observation deck affording views of the mountains by day and dazzling night sky by night. (Or you can just stay in bed, since the entire outer wall raises up like a garage door.) Guests have access to a private grill and bathroom (complete with composting toilet), or they can mingle with other travelers around the communal fire pit.
What guests say: "The view here is unbelievable! We were able to make it in before sunset and also watched the sunrise before we left. It is absolutely beautiful here."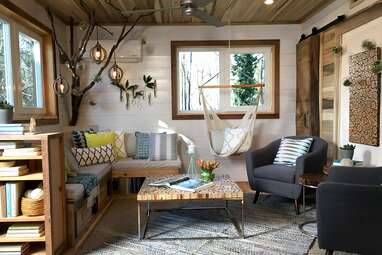 Airbnb
Greensboro, North Carolina
2 guests/$92 per night
According to the host, the purpose of this treehouse was "to build a beautiful structure that focused on natural, healthy, and local materials where possible." Its eco-friendly materials—cork siding, formaldehyde-free plywood, etc.—paired with its location in an actual tree make this one of the greenest places you'll ever stay.
What guests say: "The Roost is just breathtaking! No words can accurately describe just how beautiful this place is. If you are on the fence about it GO FOR IT. You will not regret it."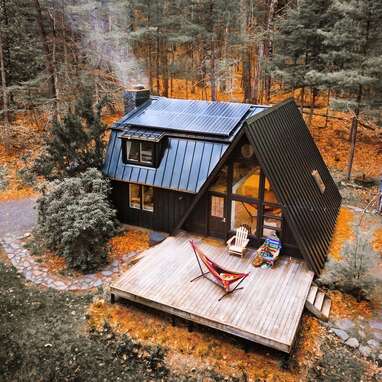 Airbnb
4 guests/$332 per night
Originally built in 1961, this solar-powered, off-grid cabin has all the makings of a peaceful Catskills retreat. Relax in the open dining room with original wood ceilings or cook a meal in the renovated chef's kitchen, then head outside for even more perks: a fire pit, BBQ grill, extra-long picnic table, screened-in gazebo, and small spring-fed pond.
What guests say: "We loved every part of the house—cozy fireplace, beautiful kitchen, spacious bedrooms. It was the perfect home for a weekend girls trip."
Airbnb
Gallatin Gateway, Montana
4 guests/$300 per night
This totally off-grid house catches its own rainwater, generates its own electricity, and moderates its own temperature year round without the use of a furnace. Every detail of the home has guests' comfort in mind, from modern appliances and comfy furniture to the wood-fired sauna and miles of hiking trails surrounding the property.
What guests say: "Exceptional place, great experience! The self-sustaining house is so interesting to explore and to learn how it works, and they have made it so comfortable with all the conveniences you would want."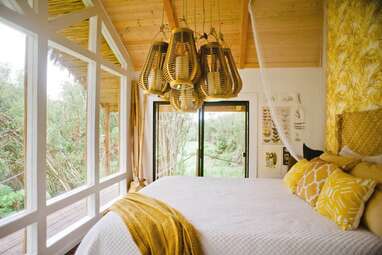 Airbnb
2 guests/$300 per night
If you're looking for a tropical paradise, you can't do much better than a bamboo treehouse hidden in the jungles of Hawaii. This property combines luxurious features like a wraparound deck and dreamy bedding with sustainable design—think solar power, rainwater harvesting, and cork board walls.
What guests say: "Just as beautiful as the pictures show, and nothing beats waking up to the birds and the gorgeous sunlight coming in through the windows in the morning."
Airbnb
6 guests/$429 per night
Upcycling old shipping containers is very on-trend in the world of sustainable design, and this example in Ohio (which is actually made of three shipping containers) is one of the coolest around. It offers comfy amenities like a gas fireplace, hot tub, and rooftop patio, while the 18.5-acre property is ripe for exploration. The huge windows in nearly every room are a particularly nice touch.
What guests say: "Great location! The interior space was decorated beautifully and the outdoor deck is amazing. Everything you could possibly need to unwind and relax!"
Airbnb
8 guests/$676 per night
Made with reclaimed materials and filled with plants, this might be one of the best-designed Airbnbs in all of Denver. The open living spaces are filled with books, artwork, and chic furniture, while the outdoor areas include a fire pit, rooftop garden, hot tub, and tons of seating. Heated floors and black-out curtains in the bedrooms only add to the whole luxurious experience.
What guests say: "Our absolute favorite Airbnb stay (and we've stayed in many)! The beautiful decor creates a warm and inviting environment and the amenities, immaculate attention to detail, and cleanliness make it truly a 5-star experience."
Airbnb
6 guests/$467 per night
Superhost Tiffany really goes the extra mile to make her listing more eco-friendly, from providing guests with food from local farmers to using toilet paper made from bamboo. The result is a third-floor living space that is as gorgeous as it is sustainable, with bright and stylish decor, a balcony overlooking the ocean, and a sandy backyard with cushy seating and an outdoor dining area.
What guests say: "This house had everything and more! We loved playing and listening to the records, chatting on the deck overlooking the ocean, and relaxing on the beach. We will definitely return again soon."
Airbnb
7 guests/$402 per night
You don't need to travel to Denmark to get a taste of hygge—just book a few nights at this modern home in Michigan. The house was designed with sustainability in mind, incorporating recycled materials, radiant floor heat, and energy-efficient windows. Add to this a cozy living room with fireplace, two bedroom suites, rain showers with views of the forest, and a covered porch with grill and group seating, and you have yourself one seriously peaceful getaway.
What guests say: "We wanted a few quiet days away from everything and this was the spot! Wonderful lounging space by the fire, beautiful views, and a shower/tub to die for."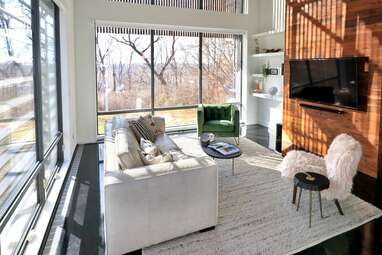 Airbnb
7 guests/$231 per night
This LEED Platinum certified home looks like something from a design magazine, with a chef's kitchen and group-friendly dining table, custom tilework, a glass staircase, and a rock-filled fire pit area with Adirondack chairs. Some of Kansas City's top attractions are a quick car ride away, but you might find it hard to leave such a gorgeous property.
What guests say: "We have stayed at this home twice now. It's clean, modern, well-appointed, close to downtown, eco-friendly, and the owners have thought about everything. It's our little escape when we visit Kansas City."