We independently source all of the awesome products and experiences that we feature on Thrillist. If you buy or book from the links on our site, we may receive an affiliate commission — which in turn supports our work.
The Olympics—like with most sporting events—is all about spectatorship (at least, for the non-athletes among us). And on American soil, that typically mandates some combination of drinking, aggressive tweeting, and of course, merch. The question is: Have you stocked up on your requisite Team USA gear?
Listen, if there's ever been a year to go in on some promotional garb it's this one. Not only were the Tokyo Summer Olympic Games postponed last summer (along with just about everything else on the planet), but this year, they include a whole new roster of thrilling sports—namely: surfing, sport climbing, and skateboarding. Whether or not you intend to watch said sporting events, it goes without saying that the whole surf/skate addition opens a wealth of new possibilities in the realm of merch.
Better yet, this year, the Olympics is boasting official partners like Nike, Ralph Lauren, and Skims (because what could be more American than the Kardashians?)—so really, it's about time you started planning your outfits. Below, take a look at the best Amazon has to offer in the realm of USA swag—then place your orders before it's too late.
You need not harbor any interest in the Olympics to don this laid back Tokyo surf tee. So if you're looking to invest in some merch that'll get solid daily use even after the games come to a close, this one is a safe bet.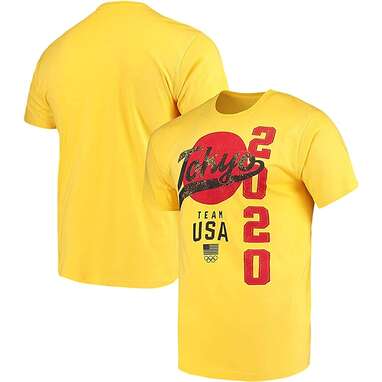 A little maximalism is always welcome—so consider kicking off your olympic season with a vibrant shade of canary yellow. This particular tee from OuterStuff celebrates both Tokyo and Team USA, so you really can't go wrong.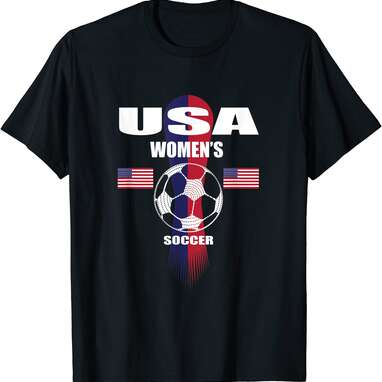 For those invested in the sporting portion of things, it goes without saying that the one team you should be cheering on unabashedly is the U.S. Women's Soccer Team. Expect several high-fives from strangers each time you don this one out in public.
Looking for a subtler form of merch? Consider a lapel pin. This cute, little Hello Kitty gymnast is sporting her finest Team USA garb on the balance beam—so if you're looking to whisper about your fandom (in lieu of say, shouting from the rooftops), this is your sweet spot.
If you take yourself seriously—and you take the Olympics seriously—you might as well rock this USA training shirt from official Olympic outfitter, Nike. Conveniently, it doesn't seem to bear any specific sport affiliation so it'll come in handy during any/all events in which the U.S. competes. Call it a skeleton tee.
Channel Heath Ledger in Lords Of Dogtown with this skateboarding team T-shirt whenever possible this summer. This is history in the making: The first ever US skateboarding team. You might as well own the merch to prove it.
It's a Megan Rapinoe jersey. Need we say more?
Like Nike, Ralph Lauren is an official outfitter of the Olympic Games. So channel your inner polo star, bust out your boat shoes, comb a part into your hair, and get ready to rock this preppy classic.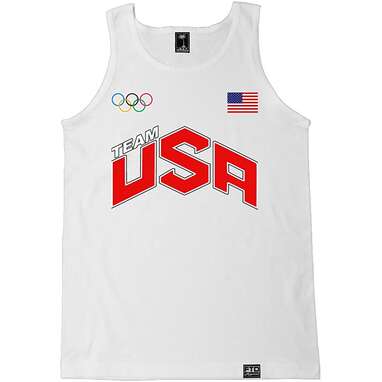 On the flipside of things, you can also channel your inner Pete Davidson with this scumbro-esque tank-meets-muscle-tee that simultaneously seems to communicate that you shopped the latest Supreme drop, and that you've given up on yourself.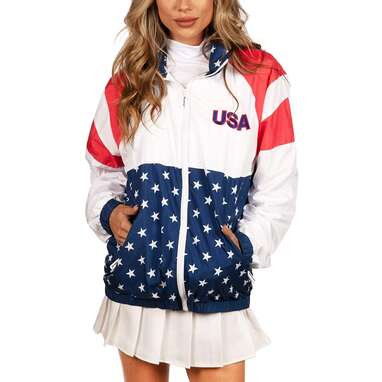 Au contraire, for those who do wish to honor the age-old tradition of sleeves, this windbreaker is a must. It's loud, patriotic, goofy, and rife with pockets for beer and/or snacks. And in spite of the fact that these are the summer games, it's got a distinct apres ski feel to it—just to keep your companions on their toes.
Eliza Dumais is a former staff writer at
Thrillist
. She now works as a lifestyle editor at
Refinery29
.