18 Portable Kayaks to Get You off the Couch and Into the Water ASAP
And they start at $69.99.
We independently source all of the awesome products and experiences that we feature on Thrillist. If you buy or book from the links on our site, we may receive an affiliate commission — which in turn supports our work.
Editor's Note: We'll be updating this article throughout the summer as kayaks sell out and/or become readily available. Keep checking back for updates on prices and inventory.
If you've been searching for ways to get outside and have fun while social distancing, you likely already know where I'm going with this. Kayaking is a great way to stay in shape, get on the water, see things from a new perspective, and maintain distance from others -- plus, if anyone gets a little too close, you can always splash them with water. According to maritime law, that's the kayak version of firing over the bow. Probably.
But hauling a kayak around and/or storing it isn't exactly a viable option for those of us who live in urban areas... until, well, relatively recently. Enter portable kayaks: water vessels that either inflate or fold down into something you can haul in the trunk of your car and later store in a closet (or just leave in the trunk of your car like this editor). So we took it upon ourselves to compare some of the most popular portable kayaks available right now so you can find the perfect one that suits your needs and budget.
Under $500
For the weekend warrior who just wants to have fun in the sun
Price: Normally $69.99. Currently selling for $170 due to demand.
Intex is familiar with inflatables. They make everything from pools and air mattresses to inflatable toys and boats. This kayak won't get you down a river of Class V rapids, but will give you hours of fun on the lake. The K1 is made with a heavy-duty vinyl to protect from bumps/small rocks and it comes with everything you need to get moving -- aluminum oar, pump, and patch kit just in case.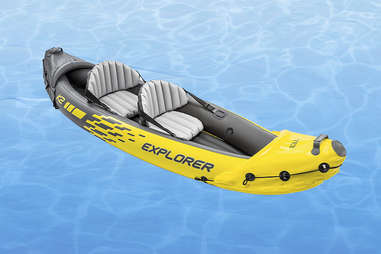 For you and a lover, a friend, or a random person you met who really wants to kayak on the lake
Price: $89.99 (currently out of stock, but expected to be back soon)
Intex's K2 is a great option for couples who might be into kayaking but need to test the waters first (pun intended). The price-point is its biggest draw for what you're getting: a durable tandem kayak with pump and oar included. It's best used in flatwater scenarios for leisure paddles and generally just kickin' it in the sun. One owner had this to say: "When you remove both seats, two people can comfortably sit on the inflated floor facing each other and enjoy a lazy afternoon on the water." Now how romantic is that? I'm really asking you, I have no idea.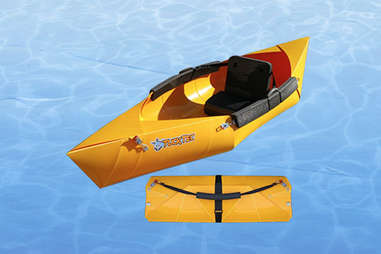 For car campers and fisherpeople looking for convenience and durability
Price: $350
The Tucktec looks like something Lara Croft might have paddled in the 1996 version of Tomb Raider for Playstation. But that design gives this kayak great maneuverability, stability, and speed. It weighs just 28lbs, goes from folded to functional in two minutes, and is equipped with "carbon-fiber reinforced fold lines [that] will not tear, puncture or split. Ever."
For the youngins or people looking for party on the lake
Price: $350
The Rave kayak is definitely not meant for any sort of distance paddling or extreme conditions, but if you're looking for something that's difficult to flip with bottle holders and the ability to fit two people, this is your kayak. When you're done at the lakehouse, just deflate it and put in the durable carrying case until next time. It also comes with two portable paddles and a pump.
For single paddlers looking for a smooth and stable ride in an enclosed cockpit
Price: $379
This is a fully-inflatable nine-foot kayak with an enclosed cockpit, quick release fin, zip compartments for dry storage, and D-rings for gear storage. It's also for solo paddlers only, so get two of em' at this price and bring a pal along.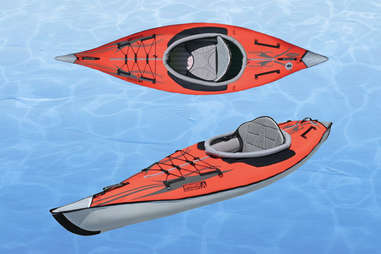 For those looking for a single-person vessel that rides like a plastic kayak but feels like sitting on an air mattress
Price: $499
The single-person kayak from AE isn't that much different from the tandem. The biggest disparity would probably be length and weight -- aside from the fact that this is for only one person. The single is 10' long verses 15', and weighs only 36lbs. But it still features all the good stuff like storage for fishing gear or coolers, a reinforced hull, and inflatable cockpit coaming for the added attachment of sprayskirt.
For those who want a little extra room on solo paddles or just want to bring a buddy along
Price: $699
AE's tandem kayak is one of the best tandem kayaks on the market for its price. One of its notable features is the multi-chamber inflatable hull, which ensures safety and reliability on the water if something were to happen (it'll keep floating). It's recommended that you keep this one on flatwater, but I'd wager you'd be comfortable in the bay or ocean as long as the weather permits. The whole thing weighs 55lbs in the included duffel bag, and you'll have to purchase a pump and oar separately.
For solo paddlers looking for a little extra room and a little extra speed
Price: $600
The Deschutes is made for one person even though it's 11-feet long, but that extra room is perfect for storing your gear for the day -- a cooler, fishing pole, dry sack, another inflatable kayak. This model boasts Duratex™ construction and an EVA floor, which basically means it's lightweight, sturdy as hell, and super fast in the water.
For the adventurous type who wants to hit class III rapids and then go fishing after
Price: $650
That's right, the inflatable StraitEdge is able to handle up to class III rapids and is equipped with bungee deck lacing to keep all your gear secured as you do. And since you'll probably be hungry from battling Mother Nature, bring your fishing pole along and throw it in the built-in rod holders as you attach a drift anchor to the steel D rings. It's about 10-feet long, weighs 34lbs, and comes with a seat, repair kit, and duffel bag to carry it in when you're finished for the day.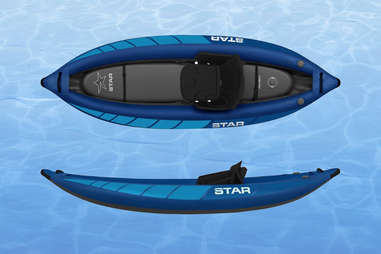 For those wanting a little whitewater action... we're talkin' rapids!
Price: $745
Believe it or not, this is an inflatable kayak capable of handling Class IV rapids. The Raven features a self-bailing design, meaning any water that comes in will go right back out, as well as an advanced-formula PVC material that gives it great abrasion resistance and air retention. Not sure if you're ready for Class IV rapids? Don't worry about it. This lil' boat will work just fine for a leisure day in any body of water. As for specs, it's 9' long and weighs 38lbs.
For those who really liked the AE StraitEdge but wish it was set up a bit more for fishing
Price: $750
With the Angler you're getting a wider frame for added stability, an accessory frame on the bow (for mounting your tackle and gear), and bungee lacing at the bow and stern to keep your stuff (read: cooler) secured all day. Basically, you'll want to check this one out if fishing is your reason for getting a kayak.
For beginners looking to explore distance paddling and longer adventures on the water
Price: $800
For speed and agility, look no further than the Chelan. The kayak itself is 12-feet long, so you're getting a lengthy waterline as well as a flat rocker and fine piercing bow. What this all means is that this thing is fast on the water. It doesn't have an enclosed cockpit, but the kayak was designed to keep you dry while paddling. The Chelan also comes with a seat (with an adjustable air cushion), mesh storage pockets, and integrated rod holders (more fishing!).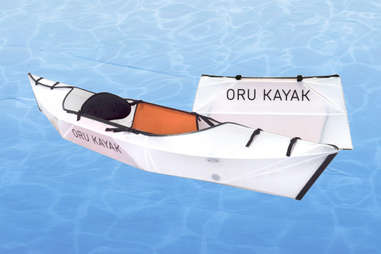 For the person who wants an entry-level portable kayak from a trusted brand
Price: $899
Oru is an industry-leading portable kayak brand. Oru's Inlet kayak is their cheapest model and marketed towards more recreational kayakers looking to spend time exploring lakes or mangroves (read: flatwater). At 10', it's also the shortest kayak they make, but is still made with the same quality materials as the rest of the lineup. The most impressive aspect is that it'll go from the trunk of your car to water-ready in less than 5-minutes.
For those who like whitewater rafting with a friend... in your kayak
Price: $900
The McKenzie is a great choice for whitewater rafting enthusiasts who want to bring a buddy along -- as you should, because why would you go whitewater rafting alone? And with this kayak, you'll never have to. It's equipped for two, constructed with Duratex (so it won't pop/break on you), features four mesh drains for quick water evacuation, and clocks in at 12-feet long. The only downside? You'll have to buy an extra seat if you want to bring a friend along for the ride. Oh hey, there's one right here.
For those who want it all: flatwater, rivers, and oceans
Price: $999
The Moki I's most alluring feature is its versatility. The kayak is made from a durable high denier construction (read: thick and strong) which makes this particular vessel ready to take on the river or the ocean. It boasts a large cockpit with plenty of room for your gear and three air chambers to ensure you'll stay above water if something goes wrong. The Moki clocks in at 12' long and 37lbs. An oar is sold separately.
$1,000+
For the adventurer who sleeps in the city but lives in the wild
Price: $1,199
If you look around the web, you'll see no shortage of rave reviews surrounding Oru's line of foldable kayaks. The company is predicated on durability, quality, and compactness. The Beach is one of Oru's most popular. It's 12' long with extra space in the cockpit for a cooler or fishing gear. It'll perform best on flatwater conditions (lakes, slow moving rivers, etc).
For serious kayakers looking to spend a few days adventuring on the water (or one very long grueling day)
Price: $1,200
The EVO is a full blown, inflatable expedition kayak. It's made to feel like a hard shell but with added portability. Key features include bungee deck lacing, inflatable coaming (if you want to attach a spray skirt), D-ring gear tie downs, rear storage, and an aluminum frame that's supported by air chambers. It comes in at 12-feet long and only two feet wide, giving you a smooth and quick paddle whether you're just out on the lake or looking to log some miles offshore.
For those looking to surf in a portable kayak made of "plastic resin specially formulated for kayak industry"
Price: $1,595
Pakayak created a new kind of portable kayak: One that divides into plastic sections that neatly fit into each other like Russian dolls when stored, but form an airtight connection when assembled. The whole thing is rather ingenious, as you're getting a durable kayak fit for the choppiness of the ocean that can be later tucked into itself and stored in your closet. As an added bonus, the carrying case is equipped with wheels, so getting it from the parking lot to the launch is a breeze.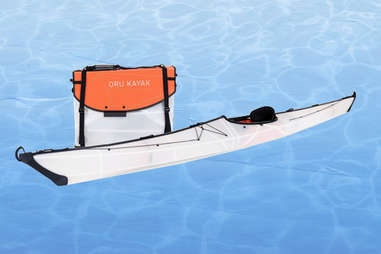 For those who'd rather venture out into the open sea than spend a day at the lake
Price: $2,199
The Coast XT is Oru's sea-worthy model, created with speed and stability in mind. It's 16' long but will still fold up small enough to fit in a trunk or backseat. The kayak is equipped with deck lines that can hold gear in place -- for fishing or picnicking -- and has a reinforced polypropylene shell that's able to withstand gliding over rocks or hitting underwater obstacles that you might not be able to see. Plus, the Coast's design makes it easily rollable in the event you tip in the waves.
Want to know more about our favorite products and services, and get great deals on cool stuff? Sign up for the weekly Thrillist DealMail.