Essential Cookware and Kitchen Gear, According to Thrillist's Food Team
From handy spatulas to a plant-based milk maker, take notes on these kitchen tools our Food & Drink team has been raving about this year.
Design by Chineme Elobuike for Thrillist
We independently source all of the awesome products and experiences that we feature on Thrillist. If you buy or book from the links on our site, we may receive an affiliate commission — which in turn supports our work.
It's no secret that we're all passionate about food here at Thrillist, and that includes raving about the kitchen tools we love whenever we have the opportunity. You've heard plenty of reviews from us, like The Beast Blender and Our Place's Always Pan, and some others from the people we've had the pleasure of speaking with. This time, though, we've tapped members of our own fabulous Food and Drink team to share more about the kitchen gear they've been most enthusiastic about this year.
From small silicone spatulas that will help you scrape the last bits of hummus from the food processor to a plant-based milk maker that will help you whip up next-level vegan recipes, take a look at some of their recommendations below.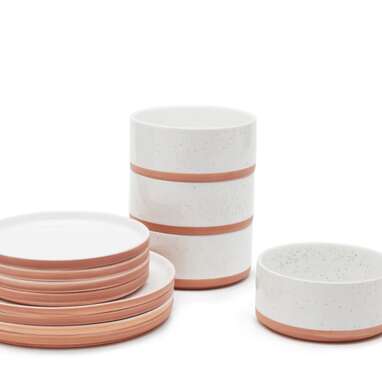 Our Place
"Among the chaos of the pandemic, I moved across the country last year and was in search of cute and functional dinnerware," says Kat Thompson, Senior Staff Writer. After looking around, she found that this bundle from Our Place answered her call. "I love how each element of this set is stackable and the spice color matches my pink dish rack, tea rest, Dutch oven, and Le Creuset flower cocotte (yes, I'm obsessed with the color pink). I've put the bowls and dishes through endless meals of pasta, soup, Thai food, and more—they're the perfect size, easy to clean, and looking at them stacked neatly in my cupboard gives me joy."
Amazon
Editorial Director, Jess Mayhugh uses these spatulas for everything. "They're great for maximizing the last bits of jelly from a jar, scraping sauce out of small bowls, or even scraping the last bits of hummus from a food processor," she says. But it doesn't stop there, she's also made them her go-to tool for cooking and baking. "The size is perfect for delicate things like icing cupcakes. They also provide the perfect single-serving scoop for scrambled eggs, peanut butter on toast, or chutney on grilled meat. The fact that they're all rubber makes them super easy to clean or throw in the dishwasher and their flexibility and heat-resistance make them ideal tools for a million uses."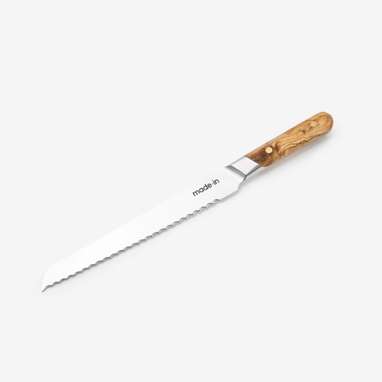 Made In
"A bread knife is a kitchen essential, but so many of them are floppy and dull and can barely manage its way through soft rolls, let alone a crusty dome of sourdough," says Thompson. But she's found the perfect one from Made In. "It's sturdily built, with nine inches of serrated sharp teeth that can slice through any loaf, delicate tomato, and even meats. This bread knife was made in collaboration with Nancy Silverton, the queen of baking, and has lived up to every challenge I've set in its path. Specs aside, it's gorgeous—with a smooth handle that comes in red, black, and olive wood."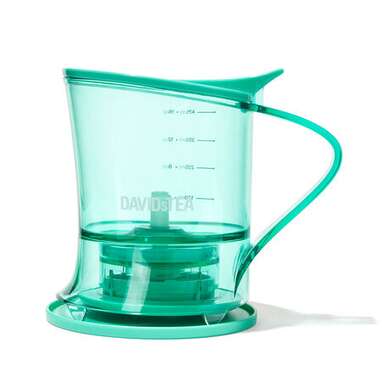 David's Tea
Thompson is also a big tea lover, especially during the colder months, which is why this tea steeper is another must-have in her kitchen. "I love the David's Tea magic steeper because it's easy for me to throw in my favorite blend, let it steep, and listen to the comforting whoosh as steaming hot tea funnels it's way into my mug," she says. "It's less messy than digging out an individual tea steeper and more fun." She also recommends picking up some of their adorable Nordic mugs and flavorful blends.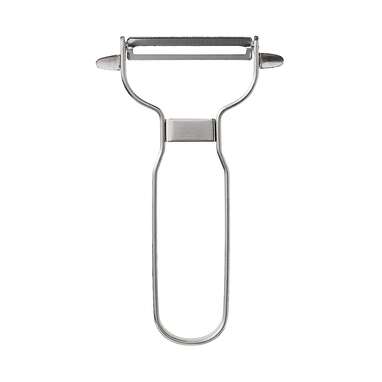 Muji
Staff Writer Jessica Sulima swears by this stainless steel peeler. "Small but mighty, this peeler is incredibly precise and easy to control." During the holiday season, she finds herself roasting a lot of root vegetables—potatoes, carrots, beets—where this tool does a lot of work. "Because it's so thin, it's also handy for smaller items, like whole ginger or turmeric, and its metal nibs on the sides to remove any bruises or spots."
Almond Cow
If you're looking for an appliance to help you elevate your vegan baking, contributor Sonal Ved swears by Almond Cow. "It's a nut milk maker that will give you flawless, homogenised nut milk in a jiffy," she says. She recommends using it to make combinations like pumpkin pie milk, keto milk, cashew and cacao milk, milk for nog and so much more. "[I use it for] vegan tres leches. The original recipe relies on [a lot of cow milk], so you need something that is very high quality to replace it in the tres leches recipe. Store-bought nut milk doesn't make the cut and that's why I like to make it from scratch." One of the most important features she highlighted is that it makes the process of making the milk clean and quick, and eliminates the need for a cheesecloth to strain. The result is a creamy milk that's close in texture to animal milks.