We independently source all of the awesome products and experiences that we feature on Thrillist. If you buy or book from the links on our site, we may receive an affiliate commission — which in turn supports our work.
Unless you're the type of frequent flyer who's perfected the art of packing, agonizing over what to bring with you on a trip can kickstart travel stress before you even make it to the airport. Though it's all a bit easier if you have a go-to stash of stuff worth tossing in your carry-on, no matter where you're headed. 
To help ensure you're prepped for whatever the travel gods may have in store for you, we've pulled together a list of carry-on-friendly items that will come in handy no matter where your next trip takes you. 
Tuff Guy Shoe Bags
If you hate the thought of your shoes brushing up against whatever bright white and clean clothes you've packed, consider investing in some shoe bags. The Tuff Guy set includes four nylon zip-close and waterproof containers that'll help prevent any unwanted scuffing or staining. They can also be used to organize anything else you may want to keep separate from everything else in your bag
Get them from Amazon for $12.99
Tooletries Koby Bag
A Dopp kit is a essential, and this silicone Tooletries bag is a solid and sturdy option. It's leak-resistant, so even a fully spilled bottle of shampoo won't wreak havoc on your clothes. Plus it's 100% antibacterial and easy to clean, which means you it should hold up for many years (and trips) to come. 
Get it from Amazon for $34.99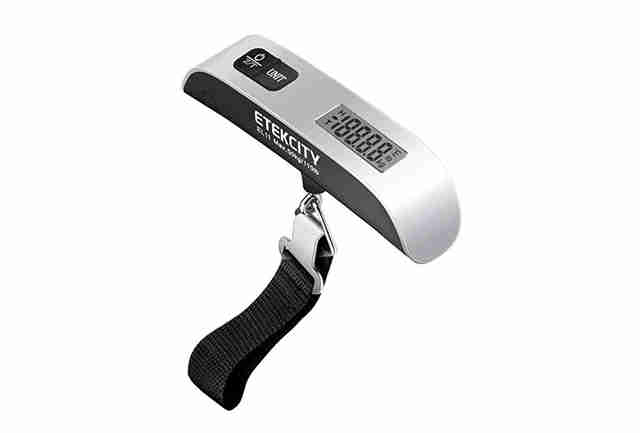 Etekcity Luggage Scale
If you're regularly going over the weight limit when checking a bag, this handy gadget can spare you glares from airline agents. Just hitch the hook to your bag to check your bag's weight, so you can re-allocate items as needed before you're forced to do it in front of a bunch of disgruntled travelers in the check-in counter line behind you.
Get it from Amazon for $8.99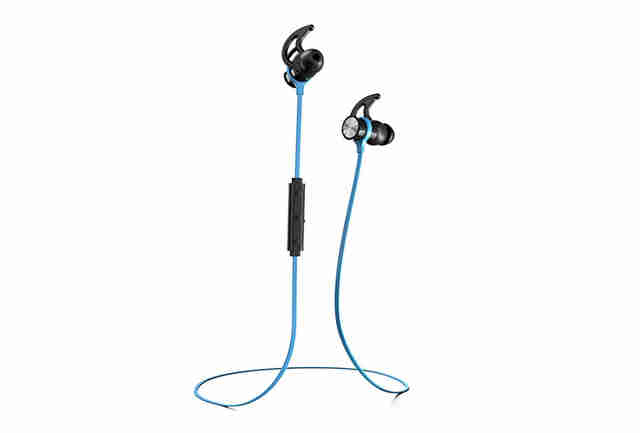 Phaiser Bluetooth Headphones
We all love a great pair of on-ear or wired headphones. But these styles can often become a hassle when traveling. You have to find a place to securely store on-ear headphones away from damage. And the wired headphones can easily get tangling when you're taking them in and out of bags or your pockets. But all these issues can be avoided the affordable Phaiser Bluetooth Headphones. They are sweatproof and feature magnetic earbuds, so you can jog to your terminal without worries about losing your precious buds. And their memory foam earbud tips will guarantee you isolation from any outside noise. 
Get it from Amazon for $29.99
Mario Badescu Facial Spray
The dry air circulating during your flight can quickly leave your skin feeling parched. But one quick spritz of facial spray -- which is formulated with aloe and rose extract -- will give you a nice restorative and refreshing hit of moisture that will keep you both looking and feeling a bit fresher once you step off the plane. Your move, jetlag.
Get it from Sephora for $7
Amazon Basics Passport Case
You may think covering your passport in a wallet-like case is a bit redundant, but you'd be surprised how much it can help cut down on time spent fumbling through your purse or bag for it when you need it. And, for some added peace of mind, it's also equipped with RFID-blocking tech to help keep your identity safe. 
Get it from Amazon for $16.19
URPOWER Travel Steamer
Quickly knock out wrinkles from your dress shirt and any other former duds you stuffed in your bag with this quick-heating URPOWER steamer. It's small enough to squeeze neatly in your suitcase and the nozzle is designed to evenly distribute steam, plus the tank holds enough water to keep it running continuously for up to 10 minutes.
Get it from Amazon for $20.99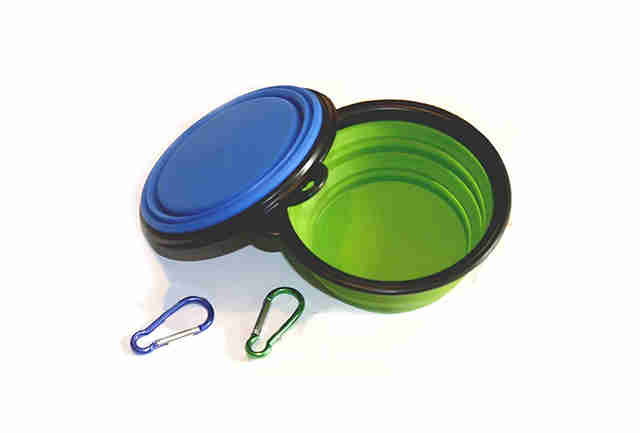 Collapsible Dog Bowl
If you're toting your pet along with you, a collapsible bowl is absolutely essential. These hold up to 12 ounces or 1.5 cups of food, and can be easily whipped out whether you're on a layover or at the hotel. They're also equipped with carabiners so you can just tack them onto your bag or backpack loop.
Get them from Amazon for $5.89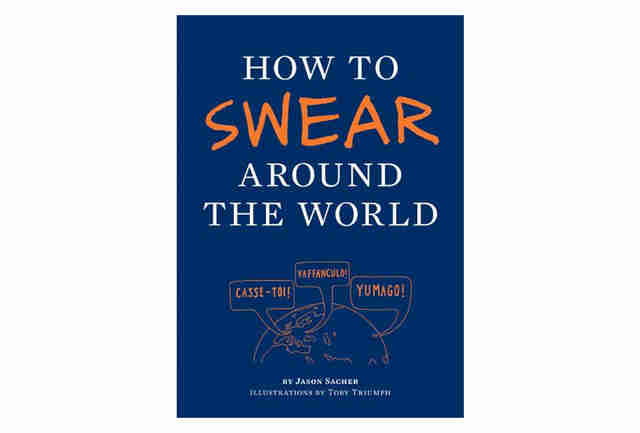 How To Swear Around The World
Headed abroad? Who doesn't want to know a few fun naughty words in the native tongue of the place you're headed, should you find yourself in the position to need them? Page through this pocket-sized tome which provides the lowdown on swear words and other disses in different languages. It includes both general swears and more specific digs. There are also some helpful illustrations.
Get it from Amazon for $6
Baiji Collapsible Silicone Bottle
Flying famously dehydrates you, and that's particularly true if you indulged in a few adult beverages at 30,000 feet. Reverse course by keeping one of these on you and regularly regularly refilling it throughout the day. It's foldable to easily pack away when not in use (or when you're going through TSA), and can even be attached to your bag via carabiner.
Get them from Amazon for $15.97
 
Ropel Umbrella
No one wants to be caught in the rain, but traveling with an umbrella can feel a bit ridiculous. This sturdy little one is perfect for traveling, though. It weights under a pound and features resin-enforced fiberglass ribs to handle surprise showers and mighty wind gusts without buckling. 
Get it from Amazon for $22.95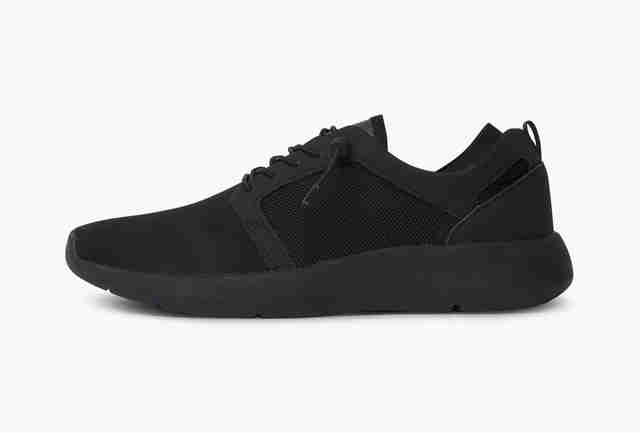 Tropicfeel Monsoon Sneakers
When it comes to deciding on footwear for traveling, especially if you're going for a minimalist approach to packing, versatility is key. That's where these shoes -- made from recycled plastic bottles -- come in. They're lightweight, super comfortable, and quick-drying and can transition seamlessly from the airport, to unexpectedly long walks through the city, and even to the beach.
Get them from Tropicfeel for $99.50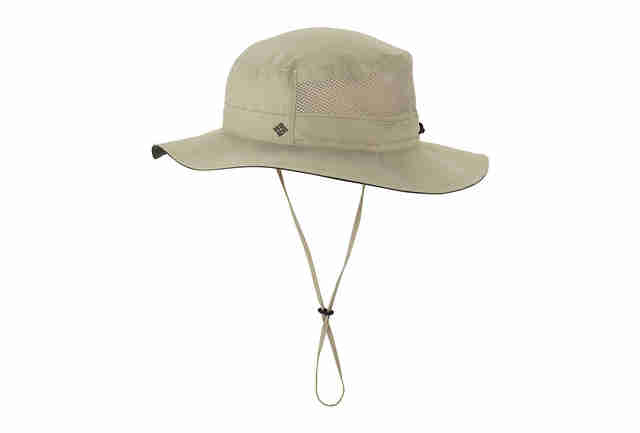 Columbia Bora Bora II Booney
Technically, this thing is designed for fishing, but frankly, it's got a lot to offer your regular ol' traveling self, too. When the sun is just doing the absolute most, or you're desperate to catch a few minutes of sleep on the plane, toss this thing on to stay cool and protected from the rays while blocking out the brightness. 
Get it from Columbia for $22.50