The Best New Big-Screen TVs for Every Kind of Viewer (and Budget)
We independently source all of the awesome products and experiences that we feature on Thrillist. If you buy or book from the links on our site, we may receive an affiliate commission — which in turn supports our work.
Even if you bought a new TV last year, it's easy to feel like it's been lapped by technology in the subsequent 12 months. HD and 4K flatscreens the size of your wall are getting higher in quality (and cheaper in price), but how do you know when it's worth an upgrade? Are you willing to put up with your 5-year-old "smart" TV even though it's not as crystal clear as the models you see at Best Buy? Or are you ready to splurge on something that lets you enjoy the realer-than-real life resolution available from live sports telecasts and streaming services in 2019?
There are so many TVs out there these days, though, that you can easily get caught up in an alphabet soup of specs, from screen size and resolution to smart features and speaker wattage. It can be enough to push you to press pause on shopping for one altogether.
To help you feel more confident in the process -- and decide if you're ready to get something new -- we've pulled together some of the best big-screen (mostly) smart TVs on the market to match your budget and viewing needs.
Now go forth, and binge better.
If you want premium without the premium price tag
Sony 49-inch X900F Series 2160p TK Ultra HD Smart LED TV
$998
Boasting superb black levels and bright highlights (not to mention insanely accurate color), this sleek Sony TV is a solid choice if you're looking for something from a top-tier brand without draining your savings account (comparable models from other higher-end makers run a few hundred bucks more). Specifically, reviewers rave about excellent picture quality and clarity and a lack of motion blur, making it great option for football fiends. It's also equipped with an Android TV operating system with plenty of app options and the bonus of built-in Google Assistant (plus a voice-control remote).
If picture quality is your top priority
VIZIO 65-inch M-Series Quantum Class 4K HDR Smart TV
$798
Although everyone wants a TV that deliver great picture quality, the M-Series Quantum goes above and beyond in that department at a price point below $1,000. The "quantum" in the name isn't just a jazzy marketing gimmick, either. As CNET points out, it refers to the tiny "molecules" (aka quantum dots) that vastly improve color on LCD screens. This one is also priced considerably less than QLED flatscreens from comparable competitors. Like most smart TVs, you can directly access services like Netflix and Hulu, but it also comes with Google Chromecast built in, allowing you to access thousands of other apps.
If you're all about gaming
Samsung 49-inch RU8000 LED Smart 4K UHD TV with Soundbar Bundle
$697.99
Although this Samsung flatscreen is impressive on a number of fronts and great for both Netflix binging and live sports, it especially shines if you're planning to use it to play video games. Reviewers rave about its real-time response to gaming inputs and exceptionally smooth motion (thanks to low input lag, variable refresh rate tech, and an auto low latency mode that detects when you're gaming), which is a big deal if you're planning to use it with your favorite consoles. On top of that, it runs on Samsung's smart TV platform which gives you access to a ton of pre-installed apps and the Samsung app store. Right now, it's also available as a bundle that includes a powerful 31-inch Deco Gear soundbar.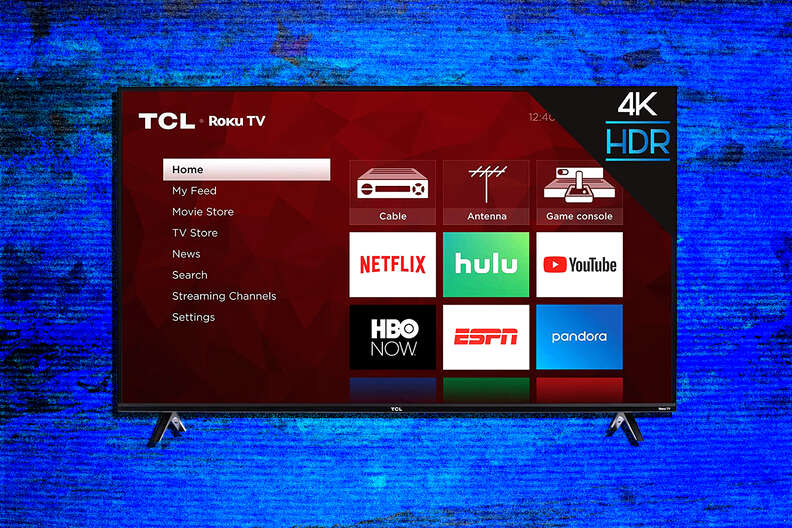 If you're on a super-tight budget
TCL 50-inch Smart LED Roku TV
$279.99
If you're not ready to drop a ton of cash on a new flatscreen but also don't want to be leapfrogged by rapidly advancing TV tech, this TCL model should be on your radar. Though it doesn't deliver jaw-dropping picture quality quite like some higher-end flatscreens, it's a great option for anyone looking for slick smart TV features at an entry-level price. It runs the exceptionally well-reviewed Roku TV interface, which gives you access to tons of apps (all the standard streaming services, and much, much more), and allows you to easily stream from other devices to the big screen.
If you want top-of-the-line
LG 55-inch B8PUA 4K Ultra HD Smart OLED TV
$1,149
If you're aiming for an all-around mesmerizingly good TV that will transform your viewing experience, the LG B8 is one to do it. Yes, it's a bit pricier than the others on this list, but for good reason. It boasts wide viewing angles and has earned high marks for its next-level picture quality, "perfect blacks," and bright highlights. As for its smart features, it runs on LG's proprietary and user-friendly webOS platform, which allows you to easily connect other devices and install all manner of apps and services.
If you want to binge-watch in the backyard
SunBriteTV 55-Inch Weatherproof Outdoor Veranda 4K UHD HDR LED TV
$1,999
Feel like having a movie night under the stars on the patio or watching the game out by the fire pit? You're going to want a TV that doesn't buckle when exposed to the elements. That's where this 55-inch SunBrite weatherproof 4K flatscreen comes in. Apart from top-notch ultra-HD resolution, it's equipped with an aluminum casing that can stand up to all manner of weather (from rain to snow), dust, and even extreme temperatures.