Graphic design by Maggie Rossetti for Thrillist
Graphic design by Maggie Rossetti for Thrillist
With winter weather's cold, frosty grip finally in the rearview mirror, now is the time to bust out your tents, grills, and stoves. Get in the car, kids—we're going camping.
Everyone's version of camping depends on their comfort level with the outdoors as well as their personal expectations. Whether that means a barebones solo trip in a remote part of the wilderness or a decked-out excursion complete with amenities, like a three-person tent, blow-up mattress with linen sheets, and emergency briefcase smoker, the power of nature must be respected to be properly enjoyed. Camping like a pro means being in control over your environment, even though you're in an environment that, technically, does not belong to you. Welcome to raccoon country, folks.
From the essential camp tools every outdoor enthusiast should have on their person to more comfort-leaning gear for those curious about the world of glamping, here's a shortlist of everything you need to camp like a pro.
Price: $79.95
Delivering up to 500 lumens of powerful LED light, this high-efficiency camping lantern uses ChromaReal technology to set the mood of any trip with dusk-to-dawn-inspired lighting that perfectly recreates the color of the sky. Powered by a 6400 mAh rechargeable battery, this lantern offers both task-based and ambient light and features a shake-to-access mode to toggle between light settings, ranging from cool to warm white and even candle flicker and fireworks. Keep your phone, gadgets, and/or outdoor rock speakers, charged courtesy of a USB port for a smart lantern that makes other lanterns look like regular rocks.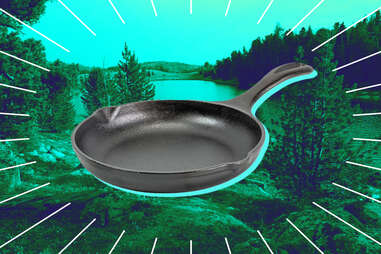 Price: $22.95–$39.95
Half the fun of a camping trip is being able to indulge yourself in camp-friendly foods, like bacon, eggs, breakfast hash, and Miyazaki A5 Wagyu ribeye if you've got 'em. Whether you're cooking on a camp stove or over an open flame (the latter being way more badass), a solid cast-iron skillet can make all the aforementioned foods—and more—without needing much more than a quick rinse and scrub to make the transition from bacon to s'mores. The gold standard in cast-iron cookware, Lodge's classic cast-iron skillet comes factory pre-seasoned for ready-to-go cooking action.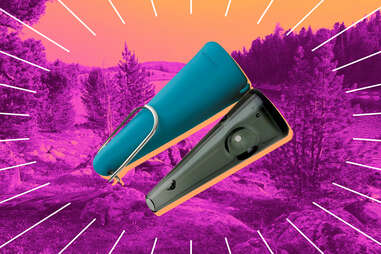 Price: $30
What better way to honor the myriad gifts of Mother Nature than by enjoying her finest jazz cabbage with a glass pipe that's as classy as it is compact. Crafted from high-quality, black-tinted borosilicate glass, this thoughtfully-designed pipe includes an ash-catching indent and can sit upright or lay on its side for easy packing from the comfort of your sleeping bag. Included with this pipe are a silicone sleeve and small keychain for on-the-go enjoyment when pre-rolls and edibles aren't readily available.
Price: $189
When was it that humankind decided to band together and call it a day on the design of the folding chair? True Places' Emmett Folding Chair (finally) reimagines the portable chair with a lightweight and compact design that won't buckle under the pressure from an eclectic range of tushes. Made from aerospace-grade aluminum and outfitted with weatherproof outdoor fabric, this versatile chair comes in four colors (navy, sky blue, coral, and marigold) and includes a moveable cupholder and recycled carrying bag for added convenience.
Price: $34.99
There's roughing it and then there's roughing it. For fans of the former (i.e. camping that borders on glamping), the promise of a shower can really make a trip. Boasting an impressive five-gallon capacity, Advanced Elements' portable solar shower kit comes with a handy reflector panel and insulator panel to heat water with the power of the sun. As long as you make peace with the fact that an outdoor camp shower is in an entirely different category than, say, a hotel shower, you'll be able to maintain a pristine-ish sense of personal hygiene where others fall short.
While the origin of the margarita, America's most popular cocktail, is steeped in folklore, many agree that it was invented in the West. And it's where the inspiration for Lone River Ranch Rita comes from—a premium brewed, margarita-style beverage inspired by its western roots. Ranch Rita's deliciously light yet refreshing taste hits just right, thanks in part to a hint of organic agave nectar and lime—making it the perfect summer sipper for any occasion.
Price: $160
The term "cowboy coffee" denotes a type of grind that all too often shows up in the various French presses and percolators across campgrounds. Designed for on-the-go use, VSSL JAVA is a portable, durable, adventure-ready coffee grinder that relies on an aerospace-grade aluminum design with stainless steel burrs to grind some seriously fine coffee. Choose from 50 unique grind settings and turn the ergonomic handle for coffee ground the way you want it, whether it's Dunkin's cinnamon roll blend or Amor Perfecto.
Price: $84.99
In a post-double-rainbow age where the beauty of nature is better observed in pairs, the double hammock remains a must-bring for couples camping together in a serene environment. Made of silky, fast-drying diamond ripstop nylon that keeps cool in the heat and free from condensation during bouts of cold, this durable hammock has a 500-pound weight capacity for you, a loved one, and your loved one's heaviest dog. Weighing in at only 18 ounces, set up is a breeze with eight integrated gear loops for on-the-go relaxing that won't tear under the strain of a couple of warm bodies.
Price: $99
No matter where or when you hit the campground, a dependable sleeping bag is a must-have along with basics like a tent or grill. Rated down to five degrees, this old-school, polyfill-insulated sleeping bag is made of heavy-duty blended canvas and lined with flannel for protection that doesn't compromise on comfort. Don't forget to bring a pillow.
Price: $65
If nothing else, Gary Paulson's magnum opus, Hatchet, taught us how far a tool like this Barebones field hatchet can take you when out in the woods. An elegant hickory handle and blackened carbon steel blade work in tandem to present a reliable and handsome camping tool you can use for everything from chopping firewood to opening stubborn cans of tinned fish.
Price: $170
Designed for the adventurous and hungry outdoors enthusiast who needs more than trail mix and jerky to hold them over, this thoughtfully-designed stove bundle includes everything you need to prepare the outdoor feast of your dreams. One case includes a folding stove, bamboo-topped prep surface, compact coffeemaker with cup, and gas adapters for a comprehensive cooking setup you'll wish you had at home. Just make sure you bring utensils.