We independently source all of the awesome products and experiences that we feature on Thrillist. If you buy or book from the links on our site, we may receive an affiliate commission — which in turn supports our work.
In case you hadn't noticed the excessive heart-themed merch on display everywhere, Valentine's Day is indeed quickly approaching. Whether you just started dating or have been in a relationship for a while now, making your date night on February 14 a bit more uniquely romantic requires getting a bit creative. We know that's easier said than done, so we've got an idea for you: games!
Card and board games are a great, fun way to deepen and build connection, while getting to know one another even better. Considering the plethora of options out there, picking the right one can be a bit overwhelming. But worry not! We've rounded up some of the most popular and bestselling options worth looking into.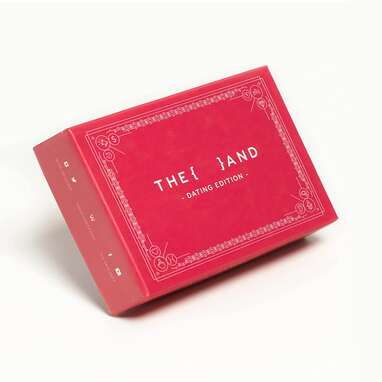 Amazon
The Skin Deep started as an interactive documentary project where they filmed two people having emotional conversations prompted by intimate questions, and it's since evolved into a variety of card games. The Dating Edition deck is meant for couples who want to connect on a deeper level and grow closer. This deck boasts 199 cards with different questions designed to spark conversation between you and your partner (or person you just started seeing) to better understand and connect with one another on a more meaningful level. Each player will take turns asking the other questions but you can always say "pass" if you're still not ready to answer. The most important part is that both commit to answer with honesty.
Amazon
In a new relationship? Skip the awkward small talk and bring this deck out to break the ice and spice up the conversation. The 150 card prompts are divided into six categories—Life, Random, Deep, Experiences, If You Could, and Would You Rather—all with thought-provoking questions that help you get to know someone. Playing this game will help you explore honesty, humor, insight, interests, and the plans you each have in mind while building connection.
Amazon
If you're looking for something a bit spicier date night, consider this version of Jenga with a twist. As opposed to the other card games, this one encourages couples to be more, shall we say, amorous. Each block comes with a prompt that's either a question or a challenge that the person has to answer or complete after drawing from the tower. However, you set the rules beforehand and suggest a "punishment" for the person who loses or doesn't complete the prompts (e.g. drinking a shot, etc.).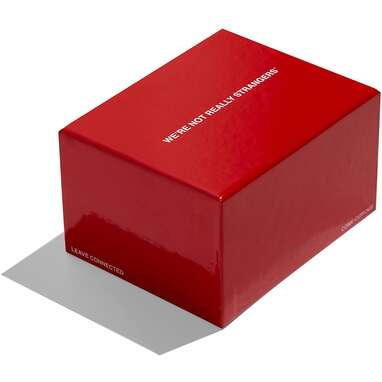 Amazon
This popular card game is intended to invigorate meaningful connections with a person you already know. If you're in a long-term relationship, We're Not Really Strangers will challenge your assumptions about each other, dig deeper into your thoughts, and reflect on what you already know about one another. More importantly, this game helps you get more comfortable with your partner while practicing the art of communication.
Etsy
Want to take it to the next level? This game puts your knowledge of your significant other to the test with 47 "Hot" questions and 27 "Deep" questions that you have to answer or drink. The Hot cards are to test your knowledge about your partner and the Deep cards help you get to know them better. But warning, this game can get a bit steamy, so play at your own risk.
Amazon
Do you both love the outdoors? We recommend diving into Parks, a board game all about collecting resources that features 45 US national parks. While not conventionally romantic, it's a great way to spend a fun night indoors while sharing your love for nature. Each person starts with two hikers that they'll use to score points while visiting as many parks as they can. While hiking your way through a wide variety of scenic trail sites and national parks you'll exchange your resources in order to visit as many parks as you can. Once all players have reached the end of the trail, a new season begins. Every round, new trail site tiles will enter the fray, altering and increasing the length of the trail as time goes on. New seasons change the trail with unique new opportunities and challenges every time you play.