Upgrade Your Grilling Gear With Sur La Table's Sale on BBQ Essentials
Find deals on spatulas, tongs, grilling sets, and everything else you'd want for a perfect cookout.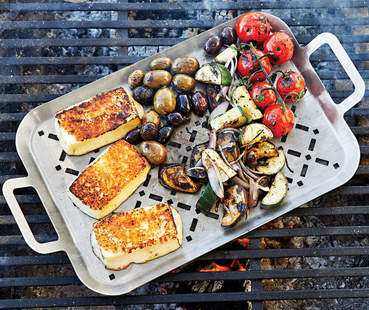 We independently source all of the awesome products and experiences that we feature on Thrillist. If you buy or book from the links on our site, we may receive an affiliate commission — which in turn supports our work.
The most important part of a successful BBQ is, well, having a grill -- and if you're in the market, we've got you covered with 8 noteworthy ones under $150. The second most important part is having the right food. But the THIRD most important part is making sure you have the proper tools to do the job right.
The tools that likely come to mind are a spatula, tongs, grill brush, and maybe a two-pronged fork. For burgers and dogs, that's all you really need. But, if you're looking to go beyond standard cookout fare and take your grill game up a notch, you'll want to consider adding things like a cast iron pan, grilling basket, or cedar planks to the mix.
All of the above -- and more -- is on sale right now at Sur la Table. Whether you're new to the 'cue or simply looking for a fun way to spice up your cookouts, you won't want to miss these deals.
Sur La Table
If you find yourself leaving your BBQ utensils outside to rust after every cookout, this 4-piece set from All-Clad is just what you need. You're not only getting a stainless steel pronged fork, spatula, tongs, and basting brush, but a heavy-duty case to store them in. Ideally the case gives you incentive to store the tools after using (and cleaning) them. It normally goes for $145 but is on sale for $120 right now.
Get it here for $120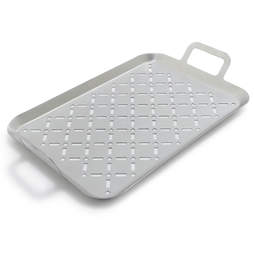 Sur la Table
This grid is perfect for grilling smaller items like shrimp, cubed meat cuts, veggies, and whatever else you can think of. It's designed so that said smaller items won't fall into the fiery inferno under the grates of your grill. And because it's stainless steel, clean up is a breeze. It's also just $20.
Get it for $20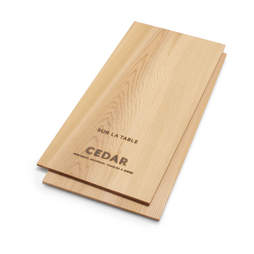 Sur La Table
What you've got here are all-natural cedar grilling planks which will add a delicious smoky flavor to pretty much anything you set atop them -- veggies, fish, shrimp, chicken, etc. The planks are reusable but won't last forever, y'know since they're wood. However, when they inevitably start to crumble, they can serve a final purpose as smoking chips. 
Get a set for $14
Sur La Table
I know some people would balk at the concept of a grilling basket for holding their cylindrical meats and veggie burgers, but those people likely have never tried using a grilling basket. It's an efficient and quick way to cook four patties up at once, ensuring they all cook evenly and at the same time. And hey, even if you would never use this for grilling at home, it'll definitely come in handy at the campsite. 
Grab it for $15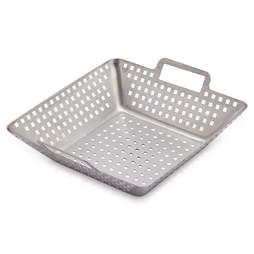 Sur La Table
Using kebabs: dangerous, awkward, time-consuming. 
Using this grilling basket: ingenious, sexy, sophisticated 
With this grilling basket, you can create entire "one pot" meals on the grill in minutes. Simply throw your ingredients in, season, throw it on the grill and shake it up once and awhile to cook evenly. It's also brilliant for stir fry and grilling up side dishes. 
Get it for $20
Other Sur la Table sale items we love
Want even more? Sur la Table also has great deals on cast iron pots & pans, tableware, kitchen necessities, and even a mini ice cream maker. Check out the full sale at Sur la Table.
Want to know more about our favorite products and services, and get great deals on cool stuff? Sign up for the weekly Thrillist DealMail.