Shutterstock/Lysenko Andrii
We independently source all of the awesome products and experiences that we feature on Thrillist. If you buy or book from the links on our site, we may receive an affiliate commission — which in turn supports our work.
Whether you've been dating your partner for a few months or a decade, planning an intimate date for Valentine's Day can be daunting. If you Google "how to throw a romantic dinner?" you're likely to be served up extravagant suggestions that don't exactly match your vibe. We get it! There are other creative ways to highlight the special occasion without covering your home with red rose petals. If food is the way to your S.O.'s heart, focus on planning everything around a delicious meal. Don't know where to start? We've gathered some ideas that can help you create the perfect setup and make memories along the way.
From tabletop essentials to entertaining post-meal activities, here's how to create a memorable Valentine's date with your better half.
Etsy
Besides flowers, an easy way to elevate the romantic quotient to your table setting is by adding some candles, specifically with candlestick holders. These colorful glass versions are a great option to add some artistic flair to your decor.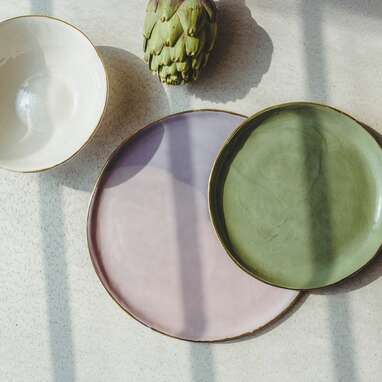 Etsy
The plates you choose can really make the difference when you're looking to add elegance to your dinner date. These handmade ceramic ones from Etsy seller SINDstudio will make any meal look like it was served in a five-star restaurant.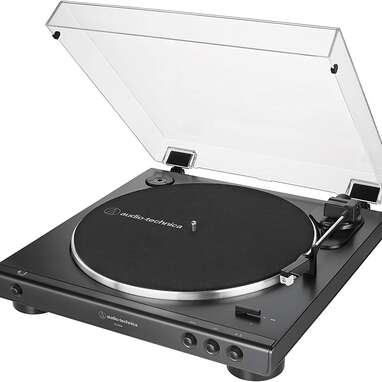 Amazon
Of course, you can tell Google or Alexa to play a song for you—but listening to your favorite tunes on a turntable ups the ante on the romance of it all a bit. This one from Audio-Technica has a fully automatic belt drive, which means you don't have to worry about landing the tonearm on the perfect spot to start playing. Simply hook them up to your speakers of choice, and with just the touch of a button, you can enjoy your favorite records in hi fi.
In Good Taste
To keep the night entertaining, try a DIY wine tasting with this curated collection from In Good Taste. The package includes eight 187ml bottles and allows you to discover different regions of California one sip at a time. From Rosé and Chardonnay to Cabernet Sauvignon and Pinot Noir, challenge each other to guess all the tasting notes and pick a winner.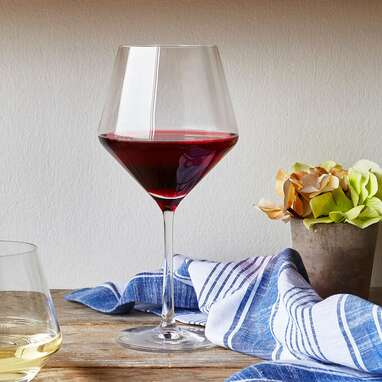 Sur La Table
Make sure you're sipping your wine from top-notch glassware. These pieces from Schott Zwiesel are specifically designed for sweeter, light-bodied reds such as Burgundy, Pinot Noir and Chianti. They boast a large bowl that allows the wine to dispense to the tip of the tongue where it is easier to taste the sweetness of the wine. Plus, their delicate silhouette makes them perfect for your elegant table setting.
Moment
A romantic date—even if it's at home—is the perfect excuse to dress up and make some memories. To make sure you have the perfect shots, consider this new Fujifilm instant camera. It's a hybrid between digital and instant, which allows you to capture as many photos as you like and only print the shots you want directly from the device. It also boasts 10 lens effects and 10 film effect options, which you can experiment with by adding vivid colors, retro vibes, add softness to the focus, or lose the color. Plus, it lets you download all the photos to your device in case you feel like sharing them on Instagram or elsewhere.