Upgrade to Wild One Dog Products With Up to 50% Off Right Now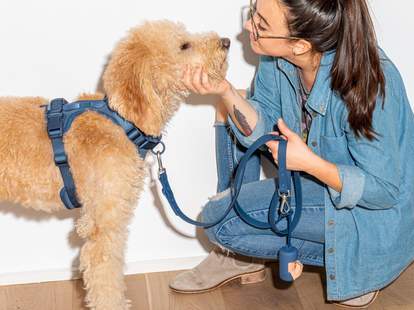 We independently source all of the awesome products and experiences that we feature on Thrillist. If you buy or book from the links on our site, we may receive an affiliate commission — which in turn supports our work.
Despite your inclination to spoil the hell out of your puppy, she may not be ready for luxury dog products. It took months before my puppy finally stopped chewing her leash, which thankfully, was just a cheapy we bought with the understanding that she might destroy it. But there comes a day in every dog's life when it's time to hang up their tattered puppy wares and upgrade to higher quality products that will last for years, and doing so just got cheaper, thanks to holiday deals from Wild One.
The high-end dog product brand is offering several discounts pegged to the holiday season, making it a little easier to invest in nice things for your dog. You can get 50% off beds, 30% off commuter carriers, and free shipping on orders of $50 or more. The company also bundles many of its products into kits, which are currently available for up to $57 off. To be clear, they're still pricey for dog supplies, but they're dog supplies you can actually get excited about instead of feeling like you're settling for something that merely serves a purpose for now. They're functional and stylish The look and feel alone are orders of magnitude nicer than what you'll find at a big box pet store. 
Courtesy of Wild One
Harness Walk Kit
This three-piece kit includes a harness, leash, and poop bag carrier -- all color matched to look extra stylish, you know, for Instagram. Your dog will instantly look like that hipster influencer dog from Brooklyn that you follow, but secretly hate. Anyway, the harness is made with a soft and stretchy poly base with woven nylon straps and solid D-rings on both the front and the back. The leash is made with coated nylon, along with zinc allow snap hooks and coated D-rings. Finally, the poop bag carrier is made with soft plastic and an elastic nylon band, which make this poop bag carrier actually seem pretty nice. 
The harness and leash are available in different sizes and the whole kit is available in six different colors. You can get $20 off now, during Wild One's holiday promotion.
Get it at Wild One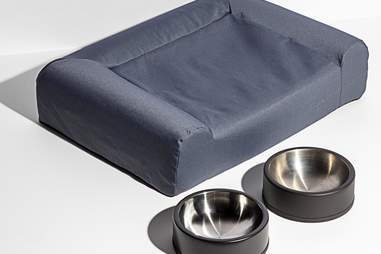 Courtesy of Wild One
Home Kit
If you've ever bought a circular bed, only to find out that your dog is more of square bed dog (oh, just me?), then you know full well that dogs can be fussy about where they want to snuggle. Wild One's is a crowdpleaser in that it features a large surface for laying and three sides with a "rail" for your dog to rest their head or prop up their paws after a long day at the park. It's made with comfy memory foam, but my favorite thing about this bed is that the cover is easy to remove and wash (just toss it in the washing machine inside out, hang it up to dry). Thanks to a zipper on the underside of the bed, this is all very easy to do. 
As for the bowls, well, they're dog bowls. While I don't think dog food bowls should be anything fancy (they're just bowls!), these are pretty fancy. They're made with a silicone base ring and food-grade stainless steel. Both bowls in the kit hold 32 ounces of liquid, or four cups, according to Wild One. The best part, however, is that they're dishwasher safe. This kit offers two color options -- tan or black/charcoal -- and is currently $25 off.
Get it at Wild One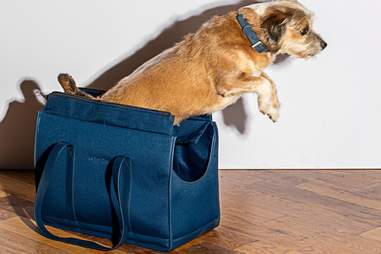 Courtesy of Wild One
Commuter Carrier
For a while, I was carrying my puppy in an old oversized tote bag. It did the job, but wasn't great looking. Wild One's Commuter Carrier, however, does the job and it's great looking. The bag features a sturdy shell opens in all the right ways to help you get your dog inside and sports a nice U-shaped opening where your pup can rest her head while you, say, lug her up the subway station stairs.
In addition to an interior leash, there's a zipper on top that lets you secure your dog even more and force her to lay in the carrier if she's on the bigger side. If you leave the zipper open, your dog may be able to sit up, which might not be ideal while you're walking. At first, I thought the minimal padding on the base was a little disappointing, but it helps keep the bag's weight down (2lbs), Unfortunately, it's a one-size-fits-all carrier, designed to accommodate dogs up to 25lbs, so be sure to measure your dog before you buy. It comes in three colors -- navy, tan, and black -- and will set you back $125 right now, which is 30% off the normal price.
Get it at Wild One
Want to know more about our favorite products and services, and get great deals on cool stuff? Sign up for the weekly Thrillist DealMail.