Shutterstock/Alena Ozerova
We independently source all of the awesome products and experiences that we feature on Thrillist. If you buy or book from the links on our site, we may receive an affiliate commission — which in turn supports our work.
Whether you're visiting family during the holidays or taking a well-deserved vacation, winter is a popular season for traveling by car. If you've spent a lot of time on the road, you probably already have a basic road trip packing list. But the colder months present their own set of challenges, so you might need to adjust that list depending on when you decide to hit the road.
From phone chargers to electric blankets, we've rounded up some of the best winter road trip essentials available on Amazon right now. Each product comes with rave reviews, guaranteed to keep you safe and warm on the highway. So turn on your defrost, hit the gas, and go!
Amazon
Whether you want to cozy up at rest stops or simply need a little extra warmth during your drive, this electric blanket will get the job done. The 12-volt blanket plugs right into your car's cigarette lighter, and has a 96-inch-long cord that will reach all the way to the backseat in case your passengers get chilly. It also folds up neatly so you can store it in the trunk or an empty seat between uses.
Amazon
No road trip is complete without a good travel mug, and this one from Contigo is particularly well-suited for hot beverages. The 16-ounce mug has Thermalock vacuum insulation that keeps drinks hot (or cold, if you prefer) for up to five hours, and the lid ensures no drop will spill on the bumpy road. Choose from 37 fun colors, and opt for a larger size if you tend to skew more venti than grande when it comes to your drinks.
Amazon
Whether you're using Google Maps or talking to a friend on speakerphone, fumbling around with your phone while driving is never a safe option. This phone mount attaches to either your windshield or air vent, safely keeping your phone at eye level without having to use your hands at all. It is compatible with virtually every brand and model of smartphone, and pivots up and down for optimal viewing.
Amazon
Hopefully you won't find yourself in a situation where your car stalls or heat gives out in the middle of nowhere. But just to prepare for the worst case scenario, make sure you pack some hand warmers that can heat you up in a pinch. Just tuck some in your gloves or socks to receive an instant temperature boost, and store the rest in your glove compartment for later use.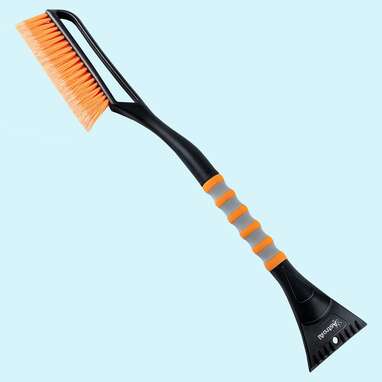 Amazon
It may seem obvious, but a good ice scraper is an essential part of any winter road trip packing list. This two-in-one tool features a brush on one end for wiping off snow, and a scraper on the other end to remove any ice. The ergonomic handle helps you get a good grip for more stubborn spots of ice, while the 27-inch length lets you cover more surface area without having to scoot around the car.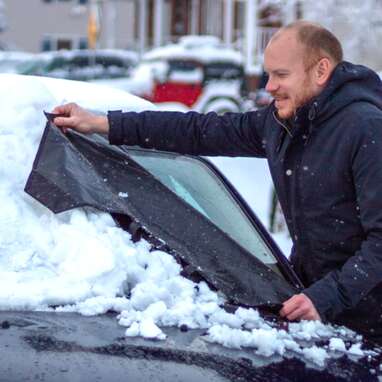 Amazon
While blasting the defroster or using an ice scraper certainly work well enough to clear off your windshield, both options can take a lot of time. Skip a few steps by popping this windshield cover on your car before you park for the night—then in the morning, you can simply peel it off and hit the road.
Amazon
The last thing you want is to be left out in the cold with a depleted phone battery. This in-car charger has two USB ports so you and your passenger can simultaneously plug in your devices. The high-speed charging technology claims to fully power up a Samsung Galaxy in 1.5 hours, an iPhone in two hours, and an iPad mini in five hours.
Amazon
Another product for charging your phone (or a back-up in case your other one breaks), this power bank provides between four and five full charges for both iPhones and Samsung Galaxies. It also is completely portable, so you can use it during lengthy pit stops or overnight camping trips.
Amazon
Designed to cover pretty much every scenario, this roadside emergency kit comes with 142 handy items: jumper cables, reflective vests and warning triangle signs, towing rope, distress whistles, raincoats, a snow shovel, and much more. It also contains a nine-piece toolkit in case you need to make any quick repairs. Total peace of mind for under $55? Definitely worth it.
Amazon
Nothing ruins a lengthy road trip faster than back pain. This lumbar support pillow fits right against the natural curve of your back, providing support by helping you maintain good posture. The memory foam padding is super comfortable, and the entire pillow can be used on an office chair when you head back to work.
Amazon
The air tends to dry out quickly when blasting the heat in your car, leading to dry skin and chapped lips—no fun. This portable humidifier is the perfect solution, fitting perfectly in your cup holder and providing moisture for a whopping eight hours. Simply fill the bottom with water, plug it into a USB port, and turn it on with a single button push. Bonus: When the road trip is over, you can easily bring the humidifier inside to keep on a nightstand or desk.
Amazon
Now that you're all set for a safe and warm journey, the final step is to make sure your trip is entertaining as well. As there's no guarantee that you'll find a good radio station in the middle of nowhere, your best bet is to stock up on podcasts and audiobooks. Audible has a huge selection of both, and is currently offering a 30-day free trial for new listeners. (Plans start at $7.95 per month after that.)
Caitlin Morton is a travel and lifestyle writer based in Kansas City. You can follow her on Twitter @CaitlinMorton23.