6 Gadgets to Help You Stay Active During the Workday
From standing desks to exercise tools, here are the best solutions to keep yourself moving while working from home (or wherever).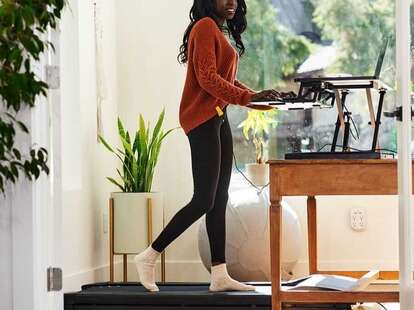 LifeSpan
LifeSpan
We independently source all of the awesome products and experiences that we feature on Thrillist. If you buy or book from the links on our site, we may receive an affiliate commission — which in turn supports our work.
Not that you need us to remind you, but working at a desk for long periods of time can take a toll on your body. Especially now that many of us are still working from home, with commutes that have been reduced from the bed to wherever in your home you log on for the day, we've been feeling the effects of our sedentary lives more than ever. But there are plenty of easy ways to stay active while sitting at your desk (or on your couch) all day. We've tracked down some of the best rated gadgets to help you get moving—while remaining productive—during your nine to five.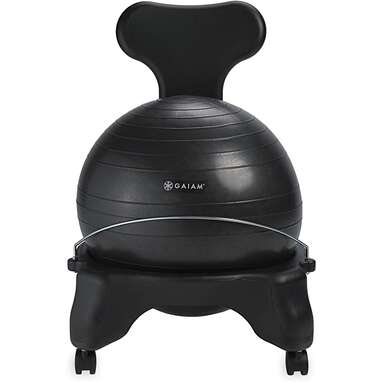 Amazon
Created by chiropractor Dr. Randy Weinzoft, the Balance Ball Chair is an alternative option to your desk chair that helps with improving your posture while strengthening your core muscles. It boasts a base with lockable wheels and a classic yoga ball that promotes micro-movements and constant stimulation of the body.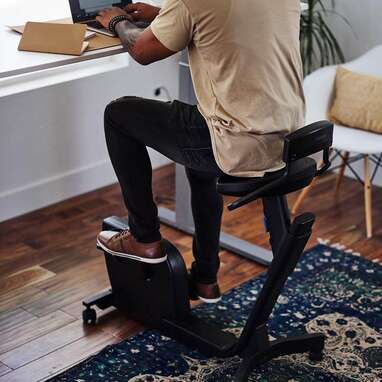 LifeSpan
If you're looking to keep moving while sitting down all day, consider this under-desk peddler by Life Span. Like a mini handlebar-less stationary bike designed to fit under your current desk setup, the machine will help you push through mid-day work slumps and keep you active throughout the day. Plus, it comes with wheels, which makes it easy to move around when you want to swap it out for your regular office chair.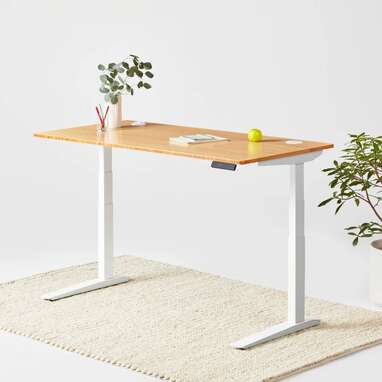 fully
No matter how comfortable your office chair is, sitting down all day isn't doing any favors for your body. That's where standing desks come in. An adjustable-height desk like this one from Fully that gives you the best of both worlds. Since standing all day isn't the best either, this desk allows you to alternate between three height range options, and can be adjusted quickly and quietly to fit your workspace needs.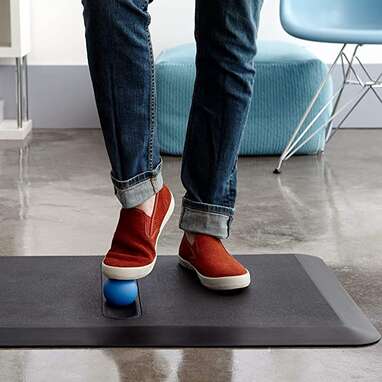 Amazon
If you're going to be standing for long periods of time, consider adding a soft mat to take pressure off your feet and back. This one from Vari offers long-lasting support thanks to its thick, cushioned base, letting you stand for longer. More than a comfortable mat, it's also an activity for your feet since it comes with three rollerballs that vary in firmness so you can roll on the mat with your feet. This movement allows you to stay active while also helping to relieve tension and nervous energy.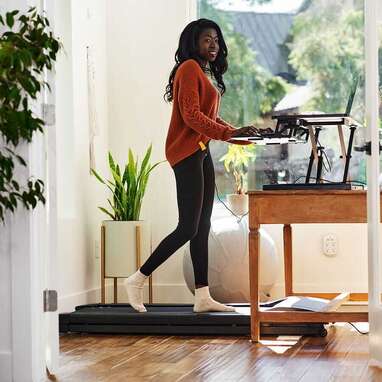 LifeSpan
On the days you're too busy to leave your desk, a treadmill can help you get your daily steps in while tackling your to-do list. Life Span's under-desk treadmill is designed to be super discreet and easy to move around so you can store it away when it's not in use. Also, it allows you to set maximum speed to either 2.0 or 4.0 mph, resume previous speed, switch units of measure, and more.
Fluidstance
This ergonomic balance board from Fluidstand is another great way to keep your body in motion while working from a standing desk. It's carefully designed to allow your natural micro-movements to strengthen and stabilize your body, keep fluidity in your joints, burn extra calories, and keep you focused and alert.