While spending summers in New York City are fun, experiencing heat waves in a concrete jungle is not so much. Once you step into a subway, you'll be wishing you'd planned that summer vacation out of the city way in advance. However, it's not too late to have your dreamy beach getaway. Within a few hours of Manhattan, you can find some wonderful beach towns that offer plenty of activities for you and friends or family to have a great time. The best part is that it doesn't require too much planning—just choose the dates and book one of these rentals we've rounded up to get you started.
From charming small beach towns in Connecticut to the best beaches in the Long Island peninsula, these properties are located less than a three-hour drive from the city and are certainly road trip-worthy. In this guide, you'll find some houses with the beach out your doorstep, others that are considered architectural gems, and the ones that offer all-around jaw-dropping views. But remember, with summer travel at an all-time high this year, rentals will certainly be snapped up quickly.
6 guests/$850 per night
The North Fork of Long Island is known for its farm-to-table dining culture, wineries, and, of course, beaches. Lean into the coastal life at this newly rebuilt, beautifully decorated home, which boasts plenty of space and all the amenities you need for a relaxing time with your crew. Enjoy your morning coffee looking at the stunning ocean views from the living room, access the beach directly from the backyard's staircase, and unwind next to the fire pit at night. Ready for some activities around town? Visit the nearby vineyards for a wine tasting experience or take a bike tour around the farms.
What guests say: "This is an outstanding property that keeps on giving. Location and the views are extremely unique and the house itself is beautiful and feels like a home away from home. Do not hesitate to book this one, a true rare find."
6 guests/$1,000 per night
If you're heading to Connecticut this summer, consider booking this bright, three-bedroom home with direct access to a private beach. This house welcomes up to seven guests with rooms featuring a king, queen, and two single beds. It also boasts a fully equipped kitchen and a large dining table, perfect for serving family-style meals for everyone to enjoy. Outside, you'll find a furnished deck, a charcoal grill, and a staircase that takes you directly to the beach. The house is also conveniently located near Tweed New Haven Airport, popular restaurants, and the Lighthouse Point Park.
What guests say: "What a beautiful place, great location, and an amazing host. We were provided with anything we may need, including kayaks, beach chairs, grill, and direct access to the beach. The house itself was exceptionally well kept, clean, and modern. Can't wait to come back!"
6 guests/$575 per night
Adventure awaits in this newly renovated beach house located in Old Lyme, Connecticut. This rental is equipped with everything you need to spend a full day at the beach; you'll find two stand up paddle boards, a sunfish sailboat, kayaks with paddles, beach chairs, and lounge chairs. While you'll likely be lazing at the beach most of the time, the house itself has all kinds of amenities to make your stay as comfortable as possible. The fully equipped kitchen features top-notch appliances, like a Sub-Zero refrigerator, convection oven, dishwasher, and K-Cup coffee maker. In the bedrooms, all the beds come with new foam mattresses, blackout shades, and central air conditioning. If you're looking to unwind after all the beach activities, a cast-iron bathtub awaits you in the full bathroom to relax at the end of each day.
What guests say: "This small, tidy house has a large living room to die for. Right on the beach with all the windows and French doors facing the tide and no desire to go anywhere else. The place is exceptionally clean, tastefully furnished, and well equipped from cutlery to silent AC to kayaks. Nice oceanside terrace with convenient outdoor furniture. Joanne and Neal are great hosts, very responsive and helpful."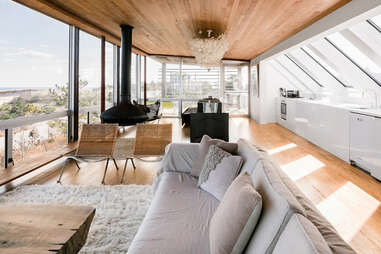 4 guests/$1,214 per night
Hosted by architect David Ling, this quintessential Scandinavian-inspired home is designed with large glass windows and skylights for guests to experience the calming views of nature at all times. It boasts three bedrooms, two full bathrooms, a dining room, and a full kitchen. You'll find outstanding architectural details throughout the house, like the floating indoor fireplace, modern furniture, and a movable accordion-like bedroom divider. The outdoor area features a deck with views of the dunes and the Atlantic Ocean, a sitting area, an outdoor shower, and a BBQ grill. Situated between Amagansett and Montauk on the Napeague Stretch, the property is just a short walk to the beach and a few minutes away by car to Hamptons restaurants, shops, and spas.
What guests say: "David's home is special in many ways, all of which contributed to a very memorable and happy stay. The architecture/design is something to behold, as is the home's location, set amongst the dunes and just steps from a beautiful beach, as well as only a few minutes from town."
6 guests/$320 per night
The small coastal town of Westerly, Rhode Island, has plenty to offer. From its popular beaches and hiking trails to historic attractions and local breweries, there's always something for every type of traveler. However, if you ask us, a house like this one on Misquamicut Beach is the best place to stay when you're visiting the town. Not only will you step out the door directly to the sandy beach, but you'll also find lots of restaurants nearby, which makes it the perfect spot for a weekend getaway with friends or family. The house itself boasts three bedrooms that welcome up to six guests, a spacious dining and living room area, and three decks with incredible ocean views.
What guests say: "Had a wonderful stay. Perfect place to see the sunrise and sunset. The deck is just beautiful and the view from the bedroom and living room is breathtaking. This house was worth every penny spent."
6 guests/$411 per night
Located on the North Fork peninsula, this charming, newly renovated cottage sits beside Norman Klipp Park, known locally as Gull Pond Beach. The beautifully decorated rental is perfectly sized for a group of six people with three bedrooms and two bathrooms. The outdoor area features everything you need to enjoy your meals alfresco with a BBQ grill and outdoor dining furniture. If you choose to dine out, this home is conveniently located only a short drive from the town of Greenport where you'll find great restaurants and bars. Other nearby activities include winery and brewery tours, boat rides, paddleboarding, and more.
What guests say: "The Navy House was a gorgeous home inside and out. All the amenities were so clean and new. Elizabeth is a great host, very accommodating, and responsive. Greenport is a great town to explore for all the beautiful wineries and breweries. The beach was only a few minutes' walk and it was so clean and inviting."
8 guests/$559 per night
Whether you're driving or taking the train, Milford, Connecticut, is a great beach town to visit within a two-hour distance from NYC. When it comes to rentals in the area, we love this bright cottage with private beach access and the perfect views from every room. The property is perfect for large groups, eight guests to be exact, and boasts spacious common areas for everyone to spend a comfortable getaway. It also comes with all the beach essentials you'll need, including towels, umbrellas, and kayaks. Both decks are also great spots for anything from meditating, enjoying your morning coffee, or grilling for the crew.
What guests say: "Perfect location. On the beach, but not far from restaurants. House is clean. Everything is in working order. The upstairs bath is heavenly. Views from the top deck are spectacular. Lots of beds. Hope to get back again!"
8 guests/$1,235 per night
If you're looking for a surfing spot, Amagansett is a great place to start and this rental is the perfect home base to return to after a day of catching waves. The interior features a mix of mid-century modern and coastal decor that gives the space an elegant look with warm, lived-in details. With a total of four bedrooms, this house accommodates up to eight guests who can enjoy its remarkable amenities, like its huge back deck with a sound system, BBQ grill, fire pit, outdoor shower, a hammock, and multiple sitting areas. Located a few steps from the beach and a five-minute drive to popular shops, restaurants, and wellness spots in the Hamptons, this place promises to give you the best vacation without leaving New York.
What guests say: "We had the most peaceful and aesthetically-pleasing, off-season long weekend. The house is built into the dunes and you can hear the ocean from the well-furnished wrap-around deck. We barely stayed indoors! Wild hare, deer, monarch butterflies, and a cardinal were the highlight nature sightings of our stay. Indoors, you are surrounded by art and loved objects so thoughtfully placed."