This New Bookstore Definitely Sells Your End-of-Summer, Steamy Beach Read
In fact, Brooklyn's The Ripped Bodice ONLY sells romance novels.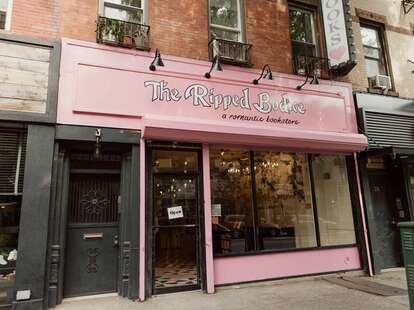 The Ripped Bodice bookstore in Park Slope

| Photo by Megan Kantor
The Ripped Bodice bookstore in Park Slope

| Photo by Megan Kantor
Just peep book covers on the beach or scroll through Goodreads, and you'll quickly find out that romance novels are having a moment. Perhaps something about summertime makes people yearn for the kind of swoon-worthy daydreaming that only a light-hearted romance can provide. With Labor Day around the corner (and is that the sun setting at 7:30 pm now?) though, there are only so many afternoons left where you can curl up in the sun and read. So if you need help choosing your last steamy beach read of the summer head to Brooklyn's recently opened, romance-only bookstore, The Ripped Bodice.
A passion project from sisters Leah and Bea Koch, The Ripped Bodice started as a Kickstarter campaign which raised a whopping $90,000. With the necessary funds, the Koch sisters debuted their first brick-and-mortar bookstore (that claimed the title as the first romance-only bookstore in the United States) in Los Angeles on March 4, 2016.
"My sister and I opened the store mainly because there wasn't one," recounts Leah Koch. "Both of us are lifelong romance readers, since around age twelve-ish, and we really just connected with the genre. We genuinely believe that [this kind of bookstore] already existed and we just didn't know about it, which turned out to not be the case." Upon opening, The Ripped Bodice was met with adoration from the local romance community. Owner Leah Koch says, "The reaction was overwhelmingly positive. Being really specific and niche, set us apart and allowed us to be successful."
Following their West Coast hit, the Koch sisters have now brought the bubblegum pink exterior to the Park Slope neighborhood. Within the whimsical store, customers can peruse a wide range of romance novels separated into sub-genres like contemporary, LGBTQ+, science fiction, historical, erotica, and young adult.
When it comes to the popularity of the novels they sell, Leah explains, "Romance is the genre of joy and hope. It brings people a lot of comfort. I think one of the more misunderstood things about romance [books] is that you know what's going to happen—because you are guaranteed a happily ever after. But, I think that for most people that's not a deterrent. In fact, that's the thing that makes it reassuring to them. You know that it's going to turn out okay."
The Ripped Bodice also hosts a collection of on-site events from book launches and discussion panels to readings and book club meetups—some of which have already begun to sell out. If you can't make it into the store, customers can also sign up for the Read, Romance, Repeat subscription boxes, which include two adult romance novels plus a knick knack like a candle or keychain.
The Koch sisters also aim to improve the diversity and inclusion of the romance genre. Spearheaded by Leah, The Ripped Bodice State of Racial Diversity in Romance Report is an annual finding that tracks the percentage of books published by BIPOC authors. "There has been tremendous advocacy behind this for decades," says Leah. "I wanted to find something new that I could contribute, so then came the hard data. This is another tool for authors to use to say, 'Hey, look how serious of a problem this is.'"
For an expert opinion on what your end-of-summer steamy read should be, we obviously went straight to the source. "My Roommate is a Vampire by Jenna Levine comes out this Tuesday," Leah divulges. "I love a title that just tells you exactly what it is. It's really clever and tongue-in-cheek and funny. I enjoy paranormal stuff that doesn't take itself too seriously." And in case you're a fast reader, "Another one I recommend is called Sammy Espinoza's Last Review by Tehlor Kay Mejia. She's a music critic, he's a famous rockstar who has sort of disappeared from public life, and they have a past from high school. It felt very nostalgic to me. Oh, and, of course, it has great romance."
Who are we kidding, we're keeping this romance-high riding right into fall.
The Ripped Bodice is now open at 218 5th Avenue in Brooklyn.
Izzy Baskette is the New York City Staff Writer for Thrillist. Talk to her at izzy.baskette@voxmedia.com or find her on Instagram.