10 Products That Help Minimize Waste While Traveling
Want to travel more sustainably? Begin by starting small.
Whether you're driving, flying, or taking the train, there's no doubt about it—With great travel comes a great amount of waste. It's a problem that can feel completely daunting, so if you're not up for making big changes to your travel plans just yet, don't let it deter you from making any changes at all; there's a smaller and more manageable way to travel sustainably. You can start by adjusting what's in your luggage.
Think about all the throwaway products you bring or buy on your travels: The disposable water bottles. The mini shampoo containers. The plastic baggies. With some easy swaps, you can score reusable versions of some of your most important essentials—and as a bonus, these are often higher quality than the disposable alternatives. You should also look for products with less wasteful packaging. And bonus points if the manufacturing process involves using recycled products or other thoughtful methods.
Ready to travel more sustainably? Here are ten products to add to your packing list.
Stasher
If you haven't traveled with Stasher bags yet, you're in for a treat. Made from food-grade silicone that's safe to use in the dishwasher, microwave, or even oven, these bags pinch closed at the top like your favorite disposable plastic baggies. You can put your liquids in the clear, quart-sized bags without any trouble from TSA, but beyond that, the options are truly endless. Use them as dry bags for wet items, corral your electronics and other small items, or pack baggies full of snacks. Some of them have flat bottoms for use as a bowl, and I can personally confirm that these are a great way to share your water bottle with your pup if you're hiking with a furry friend; just set it on the ground and pour the water in.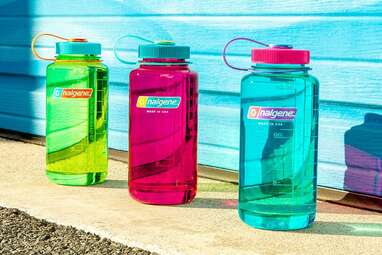 Amazon
Stay hydrated on the go with a water bottle that has a devoted following: Ye olde Nalgene. No, it's not insulated (all that metal can get heavy when you're traveling). But the 32-ounce bottle is made of 50% plastic waste, has an affordable price tag, and comes in nearly 30 color combinations ranging from bright to subtle. And best of all, it'll keep you from buying disposable water bottles, which just aren't as sustainable.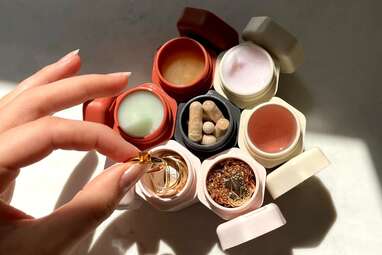 Cadence
Don't buy mini toiletries every time you travel; instead, decant your existing toiletries into these cleverly designed containers by Cadence, which are made from recycled plastic and excess manufacturing materials. Each leakproof container is magnetic, so it sticks to its neighbors and keeps all your stuff neatly together. The tile lids can be customized so every container is identifiable by its contents—Think items like skincare, supplements, and jewelry. The original Cadence capsules are small, so you might still want a separate bottle for travel shampoo (Cadence only fits two to three uses worth), but you should be able to fit 13 to 14 uses of moisturizer and around 25 small pills. If you need to fit more, you can try the new Cadence Flex system, which offers capsules in multiple sizes and the option to extend the capsules to make them bigger. Whatever system you choose, these are super convenient, and a nice alternative or supplement to more standard travel toiletry containers.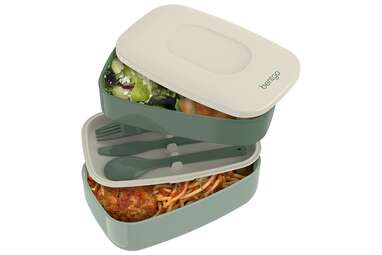 Amazon
Pack your meals and/or snacks in a stackable bento-style lunchbox, like the Bentgo Classic, to avoid using plastic wrap and disposable bags. The larger bottom container has plenty of space for a meal, while the top container is split into two separate compartments. The box even stacks neatly with a set of plastic silverware, so you don't have to rely on the disposable kind, and it comes in a bunch of colors. If you'd prefer something with a slightly lower profile, the brand also sells a single-layer box split into four convenient compartments.
Last Object/Facebook
Cotton rounds or wet wipes can be a handy way to stay fresh while traveling, but you'll feel guilty every time you throw one away. Instead, pack a LastRound Original, Large, or Pro by Last Object. These are meant to mimic cotton rounds, and feel functionally the same when wet. However, they're made of a blend of cotton and wood fibers, so you can wash and reuse them over and over. The Original version is designed to feel just like your average cotton round, while the Large rounds are palm-sized for covering more ground. The Pros are black, so you can use them to remove makeup without worrying about staining. Each recycled plastic case comes with seven rounds, which are just easier to carry and clean in transit compared with a wash cloth.
Amazon
I know what you're thinking—This seems like a stretch. But I can assure you that the Kindle Paperwhite will actually minimize waste when you're traveling. Stop buying paper travel guides that you'll toss or recycle after you're done exploring the destination; just download the e-book (you can even do so for free through your library). And if you're camping, sharing a hotel bed with someone who goes to sleep earlier than you do, or trying to do some late-night reading in a hostel dorm, the backlight on your Paperwhite will illuminate the pages, so you don't have to use a flashlight and then figure out how to dispose of your batteries properly. No matter how you use it (whether it be in-air reading or travel guide referencing), a Kindle is a game changer for any frequent traveler.
REI
Single-use plastic utensils just aren't it. Instead, opt for reusable portable utensils, like this Sea to Summit set. The fork, spoon, and knife are a great deal at only $6, and they're made from dishwasher-safe, glass-reinforced plastic that will last for quite a while. They come with an aluminum caribiner, so you can clip them handily together.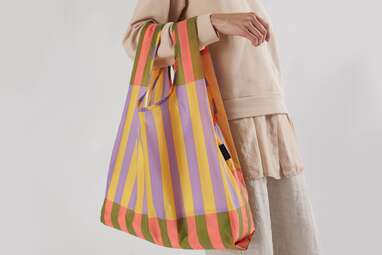 Baggu
Next time you're shopping during your travels (whether for groceries or souvenirs), tell the cashier you don't need a disposable bag. Baggu's ripstop nylon bag comes in a bunch of fun prints and folds up into a tiny fabric envelope that fits easily into a pocket or purse. When fully unfurled, it holds the equivalent of two or three grocery bags and up to 50 pounds. It's also easy to wash in a machine, so feel free to use it to hold muddy hiking boots, too.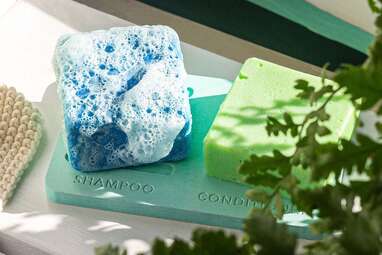 Amazon
Cut back on plastic packaging and the associated carbon emissions with a shampoo bar, which is also especially convenient for traveling because it won't leak or count towards the liquids you're carrying on the plane. This bar from Ethique also works as shaving cream, meaning it replaces two products that would normally come in plastic packaging. The brand offers a bunch of different shampoo bar options to meet specific needs, whether you want to clarify, tone, or moisturize your hair.
Amazon
Let's be honest: Packing a reusable straw probably isn't going to save the world. But every little bit helps, right? If you know you'll be frequenting the kinds of restaurants that serve drinks with straws, it's easy enough to throw a reusable straw into your bag to suck some soda through. We like this stainless steel little number from OXO Good Grips because it's collapsible (important for packing purposes), comes with a carrying case (also important for packing purposes), and has a silicone tip that you can use to adjust the length to match whatever you're drinking out of. It also comes apart into three pieces for easy cleaning, and there's even a brush to make the whole process seamless. You can also toss it into a dishwasher, if you have access to one wherever you're staying.