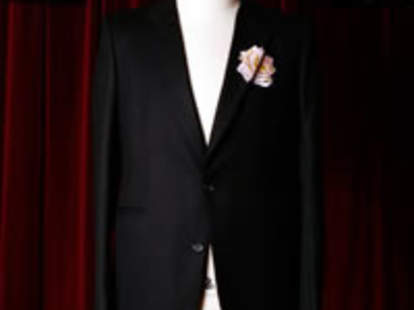 Donning a suit means walking a razor's edge between looking like a flossy sophisticate and a loathsome corporate drone. Wear a Social Suicide suit instead.
Based in London, Social Suicide honors their renowned native tailoring by desecrating it. The designers start with a finely crafted wool suit, then hand-stitch, slap, and paint on cheeky designs, resulting in a line of 10 slim-fitting numbers. Options range from the "Shark" (slitted down the sides with subtle, pink silk-lined gills), to the "John Holmes" (emblazoned with a 14-inch-ruler suggestingyour unsubtle, majestic dongliness)
To better adorn the adorned, the East London shop also hosts in-studio "fittings" whereby an exact replica of your tattoos are embroidered onto a bespoke suit -- so no one will have to strip off your sophisticated threads to know that underneath you're down with "Dronez4Life".