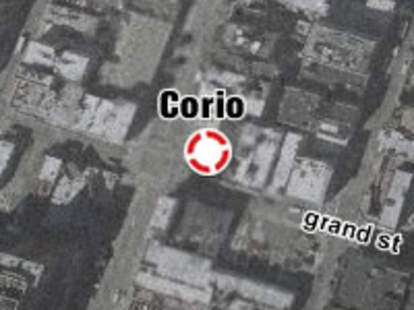 Burlesque can be a jiggly joy -- but when you're forced to devote an entire evening to silently watching belly-dancing trapezists, even the most mostly-nude acts can test your patience. To get your bawdy entertainment in smaller doses, hit Corio, gently opening Thursday.
Corio's a date-friendly, bi-level Soho spot with a living room-style lounge upstairs and a small café beneath. The basic idea behind the lounge: patrons can drop by whenever to hang out on plush mohair couches, drink, and chow on pleasingly substantive Mediterranean/French small plates (maple smoked bacon & white truffle oil, braised meatballs, Serrano ham & chicken fritters, etc). About once an hour, a performer will strut out and do a number on a slightly elevated platform. Then immediately after she's done, she'll scram, and you and your party can go back to talking about real estate, wizards, or the fact that you've just witnessed a drive-by burlesquing.
Corio's acts mostly involve humorous-to-sexy song renditions -- some girls go down to pasties, though due to the aforementioned date-friendliness/vice laws, nipples aren't on the menu. If even mere pasties annihilate your date's comfort zone (or you're with guys who insist on full mammary), you can eat in the relaxed, performance-free downstairs -- where any jiggly joy would have to be provided by you.