The One Bottle of Booze You Need This Fall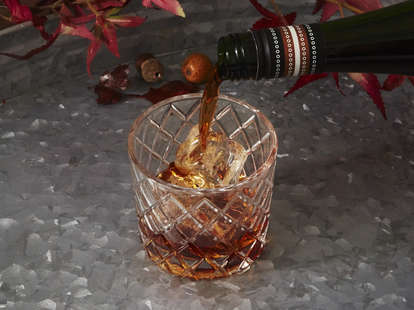 Matthew Kelly / Supercall
Allspice dram, allspice liqueur, pimento dram—it doesn't matter what you call it as long as you own a bottle of the stuff. Made with pimento berries (not peppers), the dark and spicy liqueur was noticeably absent from American liquor store shelves in the early 1980s. But then in 2008, St. Elizabeth Allspice Dram appeared on the market, just in time to ride the wave of the tiki renaissance.
Now, there are a few different drams that have joined St. Elizabeth on the market, including Hamilton Pimento Dram and The Bitter Truth's Pimento Dram. If you're a tiki fiend, you probably own one of these bottles already and use it regularly in drinks like the Three Dots and a Dash or the Lion's Tail. But I'm here to tell you regular, non-tiki folks that you need a bottle too. You don't need to be a tropicalia geek to crave a bottle of this wonderful spirit; you just need to harbor a desire to make the best fall cocktails of your life. Because this bottle is your one-step hack for instantly fall-ifying any cocktail.
On its own, the liqueur tastes like a gosh darn Christmas display at a department store—in a good way. It's packed with lip-drying cinnamon, spicy nutmeg and a gentle sweetness. It makes for a perfectly delicious seasonal digestif, though some might feel it's a little too intense to drink alone. That's okay. You can literally pour it into pretty much any drink and turn it into the perfect cocktail for 50-degree weather. Here are five examples of how to use allspice dram all fall long. By December 21, I promise, you'll have used up the whole bottle.
Pour It into Tea for an Instant Hot Toddy
Sweeten your mug of Earl Grey or chai with an ounce to an ounce and a half of allspice dram for a warming drink that's wonderfully spiced and comforting. While a Hot Toddy certainly isn't hard to make, this is even easier—it comes in handy when you're on the couch with a cold and don't have the energy to squeeze a lemon.
Use It Instead of Sweet Vermouth
Want a fall Manhattan? Swap out sweet vermouth for allspice dram. What about a fall Negroni? Same answer. For even more spice, try dashing a few extra hits of Angostura bitters into your Manhattan or garnish your seasonal Negroni with a clove-studded orange peel.
The super-simple classic is a perfect blank canvas for seasonal flavors, allspice included. Instead of a sugar cube, sweeten the cocktail with a quarter ounce of simple syrup and about an ounce of allspice dram (feel free to use more if you really want your cocktail to scream cinnamon). Serve this at your next dinner party, and people will think you're a bartending savant.
Mix It with Reposado Tequila for an Autumnal Margarita
Turn your summer favorite into a fall staple by swapping out blanco tequila for a more mellow reposado and simply adding an ounce of allspice dram on top of the usual agave and lime juice. Tie it all together with a dash or two of aromatic bitters and rim that glass with some cinnamon-sugar instead of salt.
Add a Few Dashes to a Glass of Whiskey
All of those other ideas too complicated for you? Try just adding an ounce of allspice dram to a simple glass of whiskey. It can be on the rocks or neat—it's up to you. Stick to sweeter, rounder whiskeys like bourbon or Highland scotch, and enjoy a two-ingredient, all-booze cocktail that will keep you satisfied all season long.