These Canned Wine Spritzers Are Bartender Approved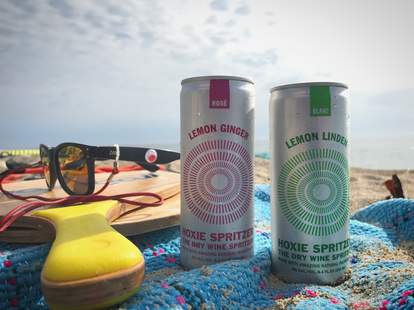 Don't call Hoxie a wine cooler. The line of canned drinks has nothing in common with the brightly colored beverages of the 1980s—and even less in common with coolers from the '90s, which were made mostly with malt, rather than wine. Hoxie's wine spritzers are made with real wine and all natural ingredients. They're light. They're dry. And they're approved of by those in the know: chefs and bartenders. That is, in some part, due to the fact that these canned wine spritzers were made by a chef.
Josh Rosenstein first started making wine spritzers on the line at a New York City restaurant called Village. During brunch service, Rosenstein would throw scraps of fruit and citrus into cooking wine to macerate, then mix the infused wine with a little bit of soda water. It was the perfect way to stay hydrated (and happy) while sweating through the brunch shift. Years later, he brought his spritzer-making skills to Los Angeles, where he started making them with fresh ingredients from the city's bountiful farmers markets rather than scraps. Then, while working a private event one night, Rosenstein whipped up some spritzers for the guests (this being L.A., they had requested that the cocktails be "light"), and one of them insisted he bottle his concoctions. So he did. And now, the spritzers are available in much more durable and portable cans.
Made with Missouri grapes—don't scoff; as Rosenstein points out, "August, Missouri was actually the first U.S. AVA"—the spritzes are currently available in two flavors: Rosé (made with Catawba and St. Vincent grapes, and flavored with lemon and ginger), and Blanc (made with Catawba and Vidal Blanc grapes, and flavored with lemon and linden blossom). Both flavors clock in at just 90 calories.
They're not exactly precise reproductions of the fruit scrap spritzers he was making at brunch. Rosenstein developed these recipes with Mandy Aftel, a scent expert and perfumer. It was Aftel who suggested adding linden flower to the Blanc. Rosenstein describes it as "his smell." It instantly transported him back to his childhood in New York's Riverside Park, and it brings a uniquely crisp quality to the spritzer. Both flavors are tart and light and tangy, though the Rosé brings with it more of a spice, thanks to the ginger.
Not everyone is immediately open to cracking into a spritzer—they have too many memories of saccharine wine coolers or watered down glasses of semi-sparkling Pinot Grigio. And that's why Rosenstein is, for the moment, focusing on selling to bars and restaurants. There, his spritzers can get the introduction they need. The experts can tell people, hey, it's OK, this is great, and you're going to love it.
Currently, Hoxie is available in 14 states and for sale on the brand's website ($28 for 8 cans).