The Best Booze You Can Buy for Under $25, According to Bartenders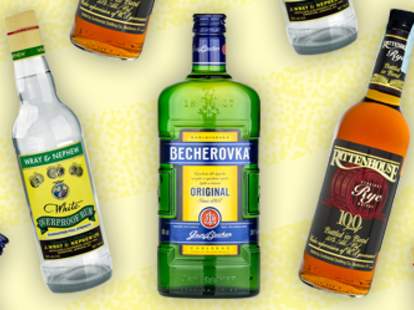 Every bartender has that one bottle they return to over and over again. These are workhorse liquors: dependable, satisfying, and most importantly, affordable. They can be used in cocktails or enjoyed on their own, and they include everything from smooth American bourbons to a tequila that might revitalize your Margarita. There's no reason drinking well needs to break the bank if you know where to look. Here's a handy guide to the best bottles you can buy for $25 and under, picked by bartenders from across the United States.
"This tequila comes from the highland region of Jalisco in Mexico. It's very versatile in a cocktail or great by itself. Very clean and citrus-forward, but holds on to the true taste of the agave. It elevates a Margarita, or try it as an
Old Fashioned
." —Meredith Hayman,
Michael's
, Santa Monica, CA
"It doesn't get overpowered by mixers, and tastes great all on its own. With its macabre artwork, the bottle looks great on the bar." —Robert McKelvey,
American Bounty Restaurant
at the Culinary Institute of America, Hyde Park, NY
"It's bottled in bond, 100-proof, aged at least four years—that's our workhorse at the bar. It's super-smooth and versatile. I always like using higher-proof spirits because I feel like they stand up in cocktails better." —JB Bernstein,
Vernick Food & Drink
, Philadelphia, PA
"A lot of bartenders would say you should get 100-proof; this is 80-proof, 1.75 liters. When I'm drinking at home, I want a nice, simple, consistent glass of whiskey on the rocks. I can have a few of them if I decide to, and it's not going to ruin my night." —Aaron Blakely,
Smith & Mills
,
Yves
, New York, NY
"I always make stirred, boozy drinks at home. It's good in
Negronis
and
Old Fashioneds
. You can make a lot of drinks with it." —Derek Mercer,
Blackbird
, Chicago, IL
"It's far and away the best rye whiskey at its price point. It is as good as your expensive ryes for way cheaper. I think it makes a better
Manhattan
than Rittenhouse." —Brandon Davey,
Topaz
, Brooklyn, NY
"It's a Demerara rum, cask-aged for three years. It's pure white. It can only come from Guyana. It's named after the river there. Those are some of my favorite rums, and they're always really affordable. It makes the perfect
Daiquiri.
" —JB Bernstein
"It has a ton of flavor. It's 63 percent alcohol. It makes a mean
Daiquiri
. I like a very strong Daiquiri." —Derek Mercer
"It's one of my favorite amari. I tell people often that it taste like roses. It's a softer amaro that's easy to sip neat or on the rocks." —Alex Anderson,
Cure
,
Cane & Table
, New Orleans, LA
"It's a bitter spirit from the Czech Republic—what they 'cheers' to over there. It runs in the same line as an amaro, but it's much lighter in body. It has intense cinnamon, clove flavors. Dark honey, citrus peel. It starts a little sweet but has that bitter finish that's good in cocktails. It's my secret ingredient." —JB Bernstein