4 Spiced Gins You Should Be Drinking This Fall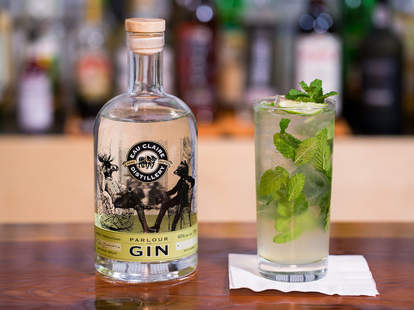 Courtesy of Eau Claire Distillery
Bright gin, with its floral notes and citrusy botanicals, is most often thought of as a warm weather beverage, particularly when it's topped with spritzy tonic. But there are many varieties of the complex spirit, and some boast more spice-forward notes and call for oak aging techniques, making them perfect for fall. Here, four gins that we love to sip during autumn, both neat and in classic cocktails.
According to Detroit City Distillery, this gin is "Michigan in a bottle." Made with white pine and blue spruce that was planted by the founder more than 20 years ago, Detroit City wanted to create a gin that truly captured the Great Lake state. That means notes of white pine and blue spruce floating atop a freshwater lake breeze, along with juniper, coriander and orange peel. Not only is this cozy gin perfect for fall, it will conjure memories of white Christmases as the winter wind sets in.
This gin is so tasty, we'd happily sip it neat anytime of year. But Eau Claire's Parlour Gin (named to honor the tradition of Prohibition-era gin parlours around the world), is particularly lovely for fall. Though it's a London Dry style, it sets itself apart from other bottlings with unique hints of rosehip, Saskatoon berry, coriander, lemon, orange and mint. With warm baking spices and a fruitcake finish, Parlour Gin is a great option if you're craving a citrusy, zesty take on the Martini.
Whiskey lovers rejoice—this is the gin for you. Frey Ranch Distillery in Fallon, Nevada starts by distilling high-quality grains with botanicals like juniper, citrus, lavender and cucumber, and then ages the liquid in oak barrels for a few months. Bottled at 90 proof, the result is a smooth, clean gin that has an exotic, spiced flavor and creamy lingering finish. Sip it neat or on the rocks to really get the most out of this bottling.
Philadelphia distillery Bluecoat has found the perfect balance between a dry-style gin and luscious, oaky flavor with their Barrel Finished Gin. They age their Bluecoat American Dry Gin in new, charred American oak barrels for a minimum of three months to give it a round, lightly sweet finish. Caramel and vanilla come through on the nose, while hints of toffee, black pepper and juniper linger on the palate. Try it solo or mixed in a classic Negroni or Old Fashioned.