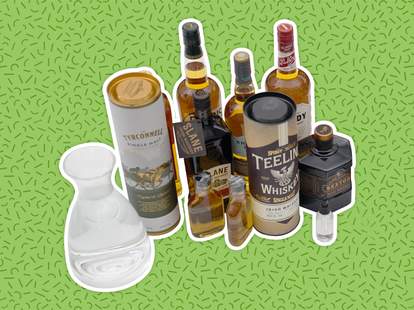 If you're new to Irish whiskey, allow us to give you a quick breakdown on the spirit. This category of whiskey is known for being lighter, more approachable and sweeter than others. For the most part, Irish whiskeys aren't smoky. They can be aged in just about any barrel and can be made from a variety of grains. And, unlike scotch or bourbon, Irish whiskey isn't defined by how it's made—only where it's made: Ireland.
Until recently, most Irish whiskeys were only available in the U.K. Then, a couple of years ago, the spirit just blew up. Now, there are more bottles of Irish whiskey on American liquor store shelves than ever. To help navigate the booming spirit category, we tasted our way through the Irish whiskey section of our liquor store to find the best bottles available. Here are the 10 best Irish whiskeys to buy now.
Everyday Irish Whiskeys
These are Irish whiskeys you don't mind mixing with ginger ale or with seltzer in a Highball.
Hands down the most popular Irish whiskey in the U.S., Jameson is synonymous with the American Irish pub. Produced since 1780, Jameson is a blended whiskey composed of spirits distilled from unmalted barley, malted barley and corn. After distillation, the blend is then aged in ex-sherry casks, ex-bourbon casks and ex-port barrels. It is light and fruity, with notes of custard and stone fruits and a distinct, lingering peppery finish and flavors of toasted oak. Poured over a couple of ice cubes, it is downright chuggable. For many, this is the gateway whiskey.
Powers Gold Label is complex, full bodied and extremely drinkable. A blended grain whiskey, triple distilled on pot stills, Powers is matured in American oak casks and non-chill filtered before being bottled. Higher proof than most Irish whiskeys at 43-percent ABV, this bottling is bright and boozy with hints of cinnamon, Corn Flakes, vanilla, apricots and honey. This is a bottle that can be sipped in any weather, straight, on the rocks or with a topper of extra spicy ginger ale. Once you try it, we assure you that you'll have it regularly stocked on your bar.
This light, approachable Irish whiskey has been produced in Cork since 1779. A blend of single malt whiskey, grain whiskey and single pot still whiskey, Paddy is triple distilled and aged up to seven years in oak. On the palate, it is soft and honeyed, with flavors of vanilla, cedar, creamed corn, hay and salted almonds. With a gingery, spiced finish, this golden-hued dram is the perfect companion to a crisp ale and a basket of fish and chips.
Distilled to be as delicious straight as it is in cocktails, Bushmills Original is a blended whiskey composed of triple-distilled Irish single malt whiskey and column-still Irish grain whiskey. Supple and creamy on the palate, it has notes of elderflower, sea salt, wet stone, honeycomb and oatmeal cookies. It is a great introduction for Irish whiskey newbies.
Higher End Irish Whiskeys
These are Irish whiskeys you drink with intention.
This is one of the most underrated Irish whiskeys on the market and a steal at $35. Made from 100-percent malted barley and distilled on copper pot stills, Tyrconnell is big, bold and flavorful. On the palate there are notes of mixed nuts, vanilla malted milkshakes, cedar, apples, pears and peaches. All you need to enjoy this whiskey is a rocks glass and a fat ice cube.
This unique, powerful whiskey is a blend of malted barley whiskeys—some of which date back to 1991—finished in five different types of barrels, including port, sherry, Madeira, white Burgundy and Cabernet Sauvignon. It is undeniably delicious. Dark and weighty, it has notes of orange rind, cloves, vanilla, raisins, treacle, white pepper, strawberries and pipe tobacco. It deserves to be sipped straight and appreciated.
One of our
favorite new releases of 2017
, the Sexton Single Malt is dangerously drinkable—you have to be careful not to finish a bottle in one night with friends. Made from 100-percent malted barley, this whiskey is distilled on pot stills and aged in ex-Oloroso sherry casks. In the glass, it's light and floral, with flavors of fruitcake, brown butter, peaches, honeycomb, Frosted Mini-Wheats and malted milk balls. Serve it over ice—or at least with a dash of water—to reveal its softer, fruitier notes.
Knappogue Castle is responsible for creating some of the best Irish whiskeys currently in the market. Their 12-year-old single malt is their entry level whiskey and it is absolutely stellar. Triple distilled and aged for 12 years in ex-bourbon casks, it has distinct bourbon-esque flavors of vanilla, white pepper, brown sugar and charred oak. But, as the spirit opens up, it reveals another layer of flavors, including notes of buttered waffles, sourdough bread, apples and clove. This is the type of whiskey that you sip slowly with your eyes closed.
This single malt is easily our favorite bottling in the Tullamore D.E.W. line up. Its four-wood aging process—in bourbon, port, Oloroso sherry and Madeira casks—creates a singular whiskey unlike any other on this list. The spirit manages to be big, juicy, fruity, creamy and savory all at once. On the palate, there are notes of sea salt air, seaweed, iodine, poached apples, vanilla and treacle. The finish is long, spicy and salty, with a sherried sweetness (and tartness) that lasts. This single malt is a stunner and should be reserved for only special occasions or guests worthy of its deliciousness.
Wild Card Irish Whiskey
These are whiskeys pushing the boundaries of the category.
Another standout from the Tullamore D.E.W. crew, this new Irish whiskey gets its name from its unique aging process. After distillation, the whiskey is aged in XO demerara rum casks from the Caribbean. The spirit's time in these tropical casks creates a whiskey that has a backbone of dark rum flavors. With notes of overripe pineapple, coconut cream, dark chocolate, tobacco and butterscotch, the Caribbean Cask is a distinct spirit in a class of its own. This whiskey is for rum fans and Irish whiskey lovers looking for something a little more experimental. Finally, here's a whiskey that works just as well as a rum in tropical cocktails.