6 Amazing Japanese Whiskies For Cocktails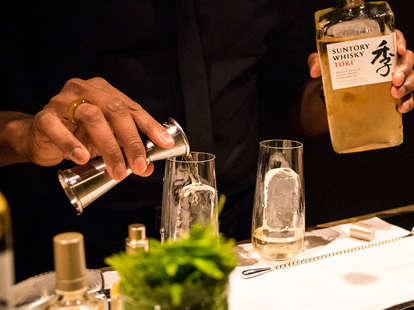 They can be a little harder to find, but Japanese whiskies are some of the best whiskies to use in cocktails. Originally developed to be mixed with seltzer in a Highball, these uniquely flavored whiskies can be used to give a variety of classic scotch and bourbon cocktails a distinctive twist. From Suntory's Toki, a blended whisky designed for versatility, to Nikka's buttery, candied fruit-laden Coffey Malt whisky, here are six Japanese whiskies you should try in cocktails.
The fact that this Japanese whisky is so delicious in cocktails makes sense: It was actually blended specifically to be used as the base of a
Japanese Highball
. To make it more appealing to bartenders—and applicable behind the bar—Suntory even priced the Toki at a lower price point than other Japanese whiskies. While effervescence is the ideal companion to this breakfast-y, malt-heavy whisky, the golden dram works in a variety of more western cocktails as well. Due to its light, refreshing fruitiness, Toki is phenomenal in
sours
and tropical whiskey cocktails like the
Poison Dart
. However you choose to use the spirit, this workhorse is destined to get a lot of use at home or at a bar.
This rich, mahogany colored whisky—made from a blend of Japanese malt and grain whiskies from Suntory's Yamazaki, Hakushu and Chita distilleries—is a powerhouse in brazenly boozy stirred cocktails. With its notes of dark chocolate, graham cracker crust, buckwheat honey and abundance of citrus, it creates a decadent
Old Fashioned
worth savoring. It is also one of the few blended whiskies on the list that has enough backbone and spice to be mixed into scotch-tail classics like the
Rob Roy
or
Bobby Burns
.
Another light, delightfully fruity and honeyed Japanese whisky, the White Oak distillery's Akashi is an incredibly versatile spirit. Similar in tone and texture to the Toki blend, this whisky works wonders with bubbles (Champagne, sparkling wine, tonic and soda), fresh fruit juices, stone fruit, and ginger. We'd argue that it makes one of the best bases for a
Whisky Ginger
and piquant, gingery classics like the
Penicillin
. Despite the fact that Akashi is one of the oldest family distilleries (and breweries) in Japan, this brand is definitely one of the most underappreciated Japanese whiskies on the market in the US.
Almost peppery, with notes of baking spices, butterscotch pudding, honey and cornbread, the Nikka Coffey Malt is the perfect Japanese whisky for all of your winter hot-tails. This extremely quaffable golden nectar is the perfect way to spice up your honeyed
Toddy
(add a slice of pineapple in lieu of lemon to bring out those candied, tropical fruit notes inherent in the spirit). As the base of your
Irish Coffee
it is almost heart-stoppingly delightful, giving the drink a vibrant maltiness and creamy quality that pairs especially well with a topper of whipped cream. We also recommend swapping the vodka in your
Espresso Martini
for a measure of this sunlight-hued dram; the results are so astonishing that they have to be tasted to be believed.
Aged in ex-bourbon casks, this entry level, Japanese blended whisky has a flavor and aroma akin to the American favorite. On the palate it's big, juicy and laden with notes of vanilla, toffee, ginger and even corn (though no corn was used to distill the spirit). With more depth than some of the other spirits on this list, Mars Shinshu Iwai is ideal as a base in layered, stirred and strong sippers like a
Vieux Carre
or a bitter
Boulevardier
. Fans of both bourbon and bourbon cocktails take note: This is your new go-to for the classics.
It's hard to use such a coveted, expensive whisky like the Yamazaki 12 as the base of a drink, but then you taste it in a cocktail and your head explodes (not literally). If you're going to be brazen enough to mix a spirit like this, it might as well be ridiculously over the top and spirit forward. The first time that we experienced this luxe-whisky in a cocktail was in a variation on the Rob Roy made with Ramazzotti amaro (in lieu of vermouth) and oloroso sherry. It was like having a cashmere sweater give you a hug while your insides were coated in velvet. While this whisky is not for everyday mixing, it is definitely worth experimenting with.