The Best New Mezcals to Celebrate Día de los Muertos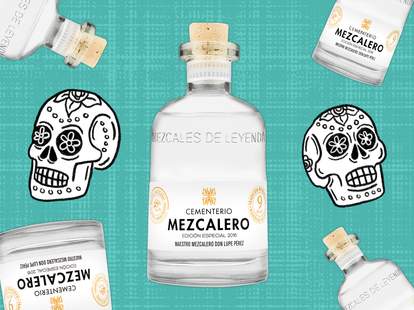 Día de los Muertos is upon us. A time to celebrate friends and family that have passed on to the big bar in the sky and help them on their spiritual journey, it's the underrated (but equally fun) end-of-October bash. Agave spirits like tequila and mezcal are often presented as offerings, and sometimes they're imbibed in honor of the deceased. To help celebrate the Mexican holiday, we asked a couple of experts to talk about their favorite mezcals from this year—and we thew in a few tasty picks of our own. These five bottlings are new, delicious and perfect to serve at your Día de los Muertos celebration.
Picks from the Pros:
"The best new mezcal that has come across our threshold here at Minero is a brand that's currently not even available in the Charleston market—Cinco Sentidos out of Oaxaca, Mexico. The brand prides itself on being 'a representation of small-scale maestro mezcaleros that produce agave spirits with complex flavors.' They currently have four variations of mezcal, but the Papalometl and Pechuga de Mole Poblano are our favorites. The Papalometl is mashed by hand, fermented in rawhide and double distilled in clay pots. The flavors that come across are grassy, earthy and leathery, and it's lightly smoky with the essence of fresh chiles.
The Pechuga de Mole Poblano is unlike any other pechuga that we've had. The flavor of mole is so pronounced in this variety, it almost feels as though you're eating a mole dish. The master distiller adds in cooked chicken (most pechugas are made with raw chicken) and mole poblano during the second distillation. The mole blend consists of chocolate, bananas, apples, chile ancho, chile mulato, cumin, cloves, cinnamon and other spices. No joke, all these flavors come through in the finished product and give you a standout, savory mezcal. Cinco Sentidos is a relatively new brand to Mexico, and they have only just begun to make their presence known in the U.S. market. Nonetheless, the line gets our vote for best new mezcals in 2017, and we look forward to being able to carry them in our restaurant in the future." — Wesley Grubbs (Chef de Cuisine) and Pam Berry (General Manager), Minero
"Any bottling from Mezcal Mala Idea in Oaxaca is my new favorite because they use four types of agave—Tepextate, Cuishe, Espadín and Tobala—which are wild agaves from the region that sometimes have been growing for 20 and 30 years. The agaves are not mixed but rather bottled separately. The palate of each expression is sophisticated and modern, but the method of distillation is artisanal and traditional. It is undoubtedly a great project." — Elmo Quintero, Sommelier, Grand Solmar Land's End Resort & Spa
"With so many maestro mezcaleros out there, I'd say that in the last five years or so, I have come to want and learn more from what maestro Tio Rey is doing with Vago. He's had some of the best Tobala on the market for some time now, so anything with his name on it is a sureshot. His Tobala en Barro ($117) release for this year is in my personal top three mezcals I've ever put to my lips. As for serving it, I think it's best served in a veladora or copita, no additives necessary. The hardest part, in my estimation, is not having enough of it to serve as there are only 78 liters of it in the world (kinda hard to find). It's extremely hard to hold back in crushing this bottle amongst friends." — Rashid Barrett, Spirit Guide, Las Perlas Austin
Supercall Picks:
This limited-edition mezcal is the first release in a series of bottlings that honors the tradition of aging the agave spirit in glass bottles underground. After aging, the liquids are excavated during a "desentierros mezcaleros" (mezcal unearthing), traditionally on Día de Los Muertos. Cementerio Mezcalero is distilled from agave americana sahuayensis, which can grow to about two meters in height and can weigh anywhere from 80 to 200 pounds. On the nose, it brings aromas of chestnuts and dried fruits with a fruity, buttery flavor that develops into a long, mildly smoky finish. If you're looking for a special occasion mezcal to celebrate the holiday, this is it.
Kimo Sabe has been taking the United States by storm with their joven and reposado bottlings, and now fans can add another expression to their bar cart. This unique añejo is aged for 18 months in American Oak casks that have already held the brand's reposado, which gives it a round, elegant nose with notes of vanilla and sweet grass. On the palate it's light and smooth with flavors of banana, licorice spice and a buttery finish. If you're new to añejos, this is a great place to start.