5 Piscos for Beginners to Try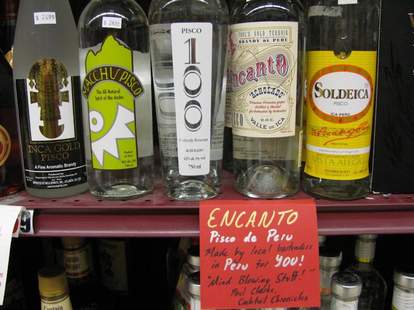 Although pisco is technically a grape-based brandy like Cognac and Armagnac—or Hennessey—that is where the spirits' similarities end. Pisco must be made in either Peru or Chile (though there's even a debate about that). In Peru, pisco is unaged in oak, free of additives, and rested in either glass, concrete or clay (none of which impart color or flavor on the spirit) for a minimum of three months before bottling, whereas in Chile the regulations are more relaxed. If you've ever been curious about trying pisco but don't know where to start, these five bottlings are not only easy to find in the United States, but are also affordable and approachable for pisco newbies. Here, the five best piscos for beginners to try.
Extremely approachable, light, flavorful and inexpensive to boot, this pisco is the perfect spirit for pisco neophytes. Produced by one of Peru's only female-run distilleries, Macchu Pisco is made from 100-percent Quebranta grapes and rested for a year before being bottled. On the palate, the spirit is as smooth as a vodka with notes of wet stone, jasmine and a green grape sweetness and acidity. This pisco is an excellent spirit to use in dry, fruity pisco cocktails like Pisco Punch.
Designed specifically for bartenders and as a cocktail base, Campo de Encanto is a blended pisco comprised from five different grape varietals (moscatel, mollar, quebranta, torontel and italia). On the palate, the spirit is herbaceous and dry with notes of lemon pith, pears, salted almonds and green grape skins. To get a sense of this pisco's versatility, start by mixing it into classic pisco-based libations like the Pisco Sour. Then, try it as the base to a more modern creation like the Peas and Cues, a savory springtime sipper.
One of the most ubiquitous pisco brands in American bars, this bottling from Barsol is the brand's best. Produced at the Bodega San Isidro—one of the oldest distilleries in Peru—Primero Quebranta pisco is made from 100-percent quebranta grapes and distilled on pot stills. Elegant and silky on the palate, this spectacular spirit has notes of vanilla bean, cacao, orange blossom and puff pastry. Barsol's Primero Quebranta is great for beginners who want to get acquainted with sipping the spirit straight, so it shouldn't be mixed into cocktails if you're just starting out on your pisco journey.
The only Chilean pisco on this list, Kappa is an exceptional spirit that can show novice pisco drinkers the differences between spirits from each country.  Made from 100-percent muscat grapes, Kappa Pisco is distilled twice for smoothness and blended with springwater from the Andes Mountains (it is against the law for Peruvian piscos to have any additives, including water). On the palate, this pisco has a lively brightness and florality with notes of orange blossom, jasmine, candied lemon peel and wet stone. This pisco would be phenomenal in simple cocktails like a Pisco Soda or a Chilicano, a pisco-based Moscow Mule.
While this spirit technically can't be labeled as a pisco because it's American made, novice pisco drinkers should still try it. Inspired by the piscos of both Peru and Chile, Frisco is an unaged brandy made from California grapes. Incredibly light and smooth, this brandy is just as delicious and crushable as its South American counterparts. On the palate, the spirit is bursting with fruity notes like pineapple, peaches, orange and fresh jasmine. This special bottling showcases the possibilities for the spirit outside of its home country—and where the category could go if it receives enough love stateside.