4 Sherry Cask Whiskeys Even Newbies Will Love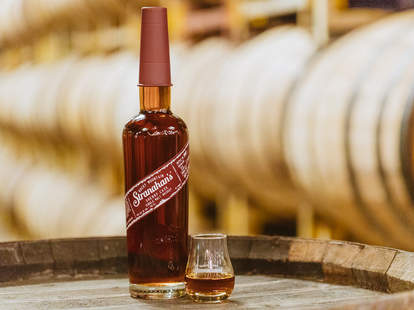 It can take some time to develop a taste for whiskey. But we have a shortcut. While there are plenty of bottles out there that are good for newbies, we're partial to those finished in sherry casks. The extra aging adds roundness while the sherry wood imparts depth and fruit-forward flavors. If you're trying to get into whiskey and don't know where to start, these four sherry cask-finished bottles are some of our favorite ways to kick off a whiskey obsession.
Denver-based distillery Stranahan's has a cult following—especially when it comes to their yearly Snowflake release, which is personally blended by master distiller Rob Dietrich. This fall, Stranahan's announced the latest expression to join their family of Rocky Mountain whiskeys: Stranahan's Sherry Cask. After aging Stranahan's Rocky Mountain Single Malt for four years in American white oak barrels, distillers finish the whiskey in 500-liter oloroso sherry casks. The result is an easy-to-drink, spicy-sweet spirit that smells of overripe cherries and leather with a honeyed fig flavor and smooth, spiced brown sugar finish. This spirit is best sipped neat, with a drop or two of cold water, in front of a crackling fire.
Even scotch newbies will love this smooth expression from The Macallan, which is aged for 12 years in sherry-seasoned oak casks. The non-peated single malt is only lightly smoky, so it doesn't shock the palate if you're not used to a woody, fiery whisky burn. The deep amber liquid brings notes of oak and dried fruit on the nose before flavors of cherry, baking spices and plums rush the palate. It's a silky, smooth expression that leaves a lingering hint of smoke—just enough to make you come back for more.
This award-winning whiskey has been pleasing palates for three years as the third bottling in Westland Distillery's core portfolio. They start with their grain-forward spirit and finish it in pedro ximénez and oloroso casks that have held sherry for more than a century. On the nose, rich aromas of maple syrup and honey ready your palate for the tangy kiwi and raisin notes to come. The long, luxurious finish is reminiscent of baked brown sugar-coated pears. Sip this one neat with a few drops of water to experience it in full.
Hillrock is fairly new to the Hudson Valley whiskey scene (the distillery opened in 2010), but that doesn't make their offerings any less refined. This solera-aged bourbon is the first of its kind. Periodically, a small portion of whiskey is removed from the barrel and new whiskey is added, so no barrel is ever fully emptied. The bourbon is then finished in 20-year-old oloroso sherry casks to give it rich floral and dried fruit aromas. Even bourbon purists will enjoy the corn-forward flavor, which is accompanied by toffee and baking spices. We love this bourbon on its own or mixed into an Old Fashioned.