7 Best Bottles of Vermouth to Drink Straight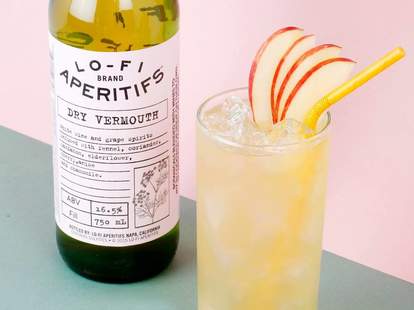 Courtesy of Lo Fi Aperitifs
Taking that first step to appreciating vermouth is tough after years and years of incorrectly thinking of it as a wretched, necessary evil behind the bar. We know it took awhile to realize its importance in a Martini, or how different bottlings could affect the flavor of your Manhattan. But, now that your go-to bottle of Dolin Dry is no longer gathering dust on your back bar (and is properly stored in your fridge), it's time to go one step further and start drinking vermouth on its own. In France, Italy and Spain, people have been drinking vermouth straight for years and years and years—and you should be, too. Here, the seven best bottles of vermouth to sip straight. You'll be drinking vermouth like an Italian in no time.
Hailing from Napa, California, this vermouth is made with a local Muscat Canelli wine base infused with locally grown herbs and botanicals. Bright and crisp at first sip, with flavors of elderflower, jasmine and lemon zest, Lo-Fi's Dry Vermouth is downright gulpable (it's especially thirst quenching on a balmy summer day). While it works in just about any gin cocktail—and pairs wonderfully with sparkling ciders, Champagne or seltzer—it is also just as easy to drink straight. It's a must buy bottle for anyone who enjoys an aperitif.
This special edition of Cinzano sweet vermouth was created as an homage to the original recipe created in 1757 and its creators Giovanni and Carlo Cinzano. Vegetal and almost meaty, with flavors of Kumatoes (and those heirloom tomatoes that look like someone spilled ink on them), beef broth and celery, this sweet vermouth is singular in taste. Amazing paired with meat and cheese plates—especially when pickles, jams or candied nuts are included—Cinzano 1757 will please anyone who enjoys more savory cocktails. We like it chilled, stirred over a cube of ice and strained into a pre-chilled Nick & Nora glass. Garnish it with a Castelvetrano olive or cocktail onion to further enhance the savoriness of the spirit.
Somewhere between Lillet Blanc and Cocchi Americano—albeit a touch more bitter and floral than either—this Italian vermouth is a stellar, lesser known spirit. Made with a Trebbiano di Romagna wine base, Bianco Ambrato is infused with over 37 different botanicals, including grapefruit peel, angelica root, elderflower, chamomile, gentian, ginger and cardamom. On the palate, the vermouth is semi-dry with a lush, velvety texture. As it opens up, there's an abundance of bright citrus notes, lingering florality and crisp minerality. We enjoy drinking this vermouth throughout the spring and summer over ice with either a mint leaf garnish or a twist of grapefruit peel.
One of the most respected wine making families in the Rioja region of Spain, the Bodegas Martínez Lacuesta house has been producing wines since 1895. Despite the fact that most vermouth connaisseurs are only aware of the French or Italian styles, Lacuesta Vermut Rojo is an extraordinary bottling that should be on any self-proclaimed vermouth lover's radar (it is also the only vermouth originating from Haro, in the heart of the Rioja wine region). In production since 1937, this aromatized wine uses a white wine at the base, which is infused with a secret family recipe of herbs, roots and botanicals, and then macerated for seven months in French oak casks. The resulting vermouth is dry, tannic and boldly flavored. It also has a slightly oxidized, sherry-like quality, and an almost bourbon-esque vanilla sweetness (it is also significantly less bitter than either French or Italian vermouths). Extremely quaffable, this vermouth is phenomenal served neat (at room temperature) with a single Spanish olive dropped into the glass.
The quintessential vermouth for a Martini, Noilly Prat's Extra Dry vermouth is similar to but subtly different from Noilly Prat's Original Dry. For one, it uses a drier white wine as the base (the Extra Dry only uses Clairette whereas the Original Dry uses Clairette, Mistelle and Picpoul). It also doesn't spend as much time in oak, which results in a crystal clear hue and a sharp crispness. Infused with over 20 different herbs and spices, including bitter orange, chamomile, gentian and nutmeg, Noilly Prat Extra Dry is delicate and buttery like a California Chardonnay, with a soft minerality and sharp, bitter finish. With a subtle savoriness, this vermouth is an excellent companion to a wide variety of foods—especially gooey French cheeses. We like to serve it chilled in a wine glass with either a sage leaf to heighten the herbal, savory notes or a lemon twist to brighten it.
This dry vermouth—hailing from Sheridan, Oregon, of all places—is one of the most incredible vermouths that we've ever tasted. Made from a blend of organically farmed aromatic white wines and white Pinot Noir, Ransom's dry vermouth is infused with all organic (and locally sourced when possible) herbs, botanicals and bittering agents (the roster of ingredients includes rosehip, wormwood, verbena, burdock root, fennel, vanilla and cardamom). The vermouth is then fortified with a grape eau de vie made in house and aged in French oak casks. It is bright and honeyed, with a green tea herbaceousness and savory, garden bouquet. This is the vermouth we want to drink with steamed clams with Thai chiles and lemongrass, or two dozen briny East Coast oysters. Once you open a bottle you won't have to worry about it oxidizing—it will be gone by the end of the night.
Based on a recipe dating back to 1786, Carpano Antica Formula is a vermouth fit for royalty. There is no other vermouth as velvety, luxurious or decadentantly rich. Just look at the label, which looks like a royal crest, and the thick, weighty Bordeaux-style wine bottle, and you'll know this isn't your typical vermouth. It explodes with flavors of dark cherry, raspberry, black currant and concentrated fruit. As the vermouth opens up, it reveals heavier, darker flavors of raw cacao, toffee, tobacco, black coffee, English Breakfast tea, candied almonds and oxidized red wine. This vermouth has enough depth to stand up to a dry aged ribeye drenched in bordelaise.