The 5 Best Cachaças for a Caipirinha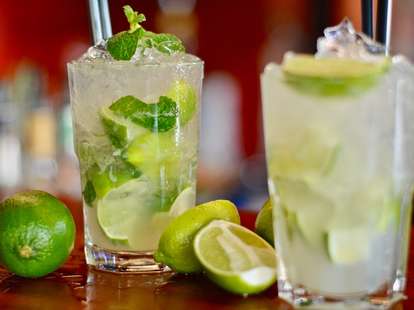 Photo by Aydin Aksakal / Pexels
For the uninitiated, a Caipirinha is one of the easiest, most refreshing cocktails that you can make (if you are already associated with the cocktail, you're ahead of the game). The boozy mascot of Brazil, Caipirinhas are made with Brazil's sugar cane spirit, cachaça, along with fresh, muddled lime and a touch of sugar. While the cocktail is extremely simple to make, the cachaça you use as the base will dramatically alter the flavor. From light and fruity cachaças to more savory cachaças, here are five of the best to use in a Caipirinha. Your summer cocktail game just got an upgrade.
One of the first cachaças available stateside, Leblon is bright and flavorful without being too funky. In a Caipirinha, this cachaça lends a blanco tequila-esque pepperiness and notes of fresh pressed sugarcane juice. As classic and minimal as a Caipirinha gets, this is the perfect cocktail for novices who haven't had many cachaças or Caipirinhas.
If you like your Caipirinha bursting with fresh fruit flavors, this is the cachaça for you. Distilled from fresh sugar cane and rested in stainless steel tanks before bottling, this cachaça retains all of its raw vibrancy and freshness. In a Caipirinha, the spirit gives the cocktail a subtle florality and notes of fresh cut grass, overripe banana and horchata. With just a little funkiness and a lasting creamy mouthfeel, this is a Caipirinha that will keep you coming back for more.
This cachaça is the perfect example of how broad the flavor spectrum of cachaças can be. In a Caipirinha, the spirit lends flavors that range from tropical fruitiness to earthy, mushroomy savoriness. There are notes of banana, guava, pineapple, mamey, braised tofu, sauteed asparagus and black truffles. You can even taste the soil in which the sugar cane was grown. When combined with the bright acidity from the lime, this spirit makes for a complex, layered cocktail that is downright crushable—especially on a hot day or with barbeque.
If you thought mushroomy savoriness was as funky and weird as cachaça gets, this bottling proves otherwise. At the forefront of the palate, it gives off a medley of tropical flavors including guava, papaya, pineapple and toasted coconut. Then, the spirit shifts gears to reveal flavors of fermented fruit, mango, sage, thyme, elderflower and bergamot.
If you want a Caipirinha that has the richness of Whiskey Sour, this barrel aged cachaça is for you. Aged in casks made from amburana wood—a tree native to Brazil and exclusive to South America—this spirit has a lovely amber hue and complex flavor. The wood imparts a creaminess to the cachaça and gives it notes of vanilla, custard, clove, malt, sour cherry and a cinnamon-heavy finish. Unique and layered, this Caipirinha is rich enough to drink in winter but refreshing enough to imbibe come summer.