5 Best Tequilas Under $30 To Drink Straight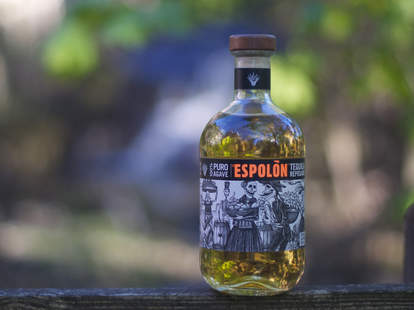 If you plan on mixing your tequila into cocktails or taking it as a shot, it shouldn't be extra aged or come with a steep price tag. To help navigate the maze of bottom-shelf tequilas that are actually drinkable, we created this guide. Here, our top five choices for the best tequilas under $30 that are good enough to serve neat—or with just a rock of ice.
One of our favorite tequilas—period. While Cimarrón just happens to be under $20, it has the taste of premium tequilas twice the price. Produced by Enrique Fonseca, a fourth generation jimador and tequilero, Cimarrón is fermented with wild yeast and rested in American white oak for four months before being bottled. On the palate the tequila is soft and creamy, with an abundance of vegetal agave flavors and a long, lingering spicy finish. Whether you choose to shoot it, sip it slow, or mix it in cocktails, this tequila is guaranteed to satisfy.
This tequila is one of the most common well tequilas in craft cocktail bars and for good reason: Pueblo Viejo tequilas are versatile, delicious and inexpensive. Almost bourbon-esque on the palate, this reposado tequila has notes of cinnamon toast, crème brûlée and clove, with a woodsy, peppery finish. This is the kind of tequila that you can drink straight, mix into a stirred cocktail like an Old Fashioned, or serve in a citrusy Highball like a Paloma.
If you're a tequila fan and you haven't tried any spirits from the Tapatio Tequila line—stop whatever you're doing and go buy yourself a bottle. This beloved tequila not only has a huge cult following (its devoted fans are the only reason it is available stateside), it also can be found on the back bar at any serious agave-focused cocktail bar. It's unique flavor stems from its two month resting period in stainless tanks (which does not impart any outside flavors like oak does) and the fact that it is bottled at 40 percent-ABV—a higher proof than most tequilas. On the palate the spirit is bright, vegetal and extremely peppery. Your Margarita deserves this tequila.
There's a reason that this reposado tequila is ubiquitous in bars and agave lovers go ga-ga for it: the juice is potent and delicious. Like their blanco tequila, the Espolòn reposado has a floral minerality and brightness, but its time in oak gives the tequila a rich, spicy, roundness. While the spirit can easily be incorporated into cocktails, we find it really shines on its own with a fat cube of ice.
This is not the first time that we've raved about this tequila and it won't be the last. Produced by French biochemist Sophie Decobecq, an expat living and producing some of the finest tequilas in Jalisco, this tequila is her entry-level spirit and it's lively and vivacious in the glass. On the palate Calle 23's blanco is herbal, fruit-forward and floral. There's a raw sourness (and creamy, salty, cheesiness) akin to raicillas from Jalisco, with touches of lime pith and dried chilis on the finish. You can't go wrong having this tequila on your home bar.