The Best Looking Vodkas to Instantly Upgrade Your Bar Cart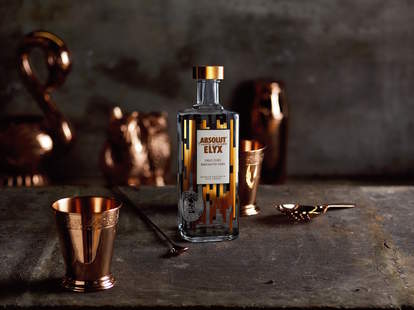 While it's really what's on the inside that counts, we'd be lying if we told you that we don't buy some spirits for their looks alone. Though many flashy designs can border on gimmicky, there are some brands that do it right, filling a stunning bottle with a quality product. Case in point: these five vodkas. Not only are they delicious, but they have the best looking bottles we've ever seen.
You likely know Elyx for its eye-catching pineapples and other
copper drinking vessels
. But the vodka bottle itself is gorgeous too, accented with the same signature metallic hue as the copperware. Made from single estate winter wheat and manually distilled in a 1921 copper column still, the vodka has a smooth, buttery taste that makes it extra easy to
sip straight
.
Courtesy of Crystal Head
Not only was this spirit created by
Dan Aykroyd
; it also boasts one of the coolest bottles on the shelf. Aykroyd and co-founder John Alexander wanted a bottle that would do the pure vodka justice, so they chose the skull as a symbol of life and enlightenment. Crystal Head is distilled from peaches and cream corn, then blended with pristine water from Newfoundland, Canada, for a delicate flavor with notes of citrus and vanilla.
Courtesy of Belvedere
While most liquor bottles are some shade of clear, we love the sleek, high-gloss look of Belvedere's Unfiltered Vodka. The black bottle is accented with gold branches, adding a little gothic intrigue to your
bar cart
. Created for
whiskey
lovers, it's distilled from single-estate Dankowskie Diamond rye, which brings sea salt and white pepper to the palate with a baked bread finish.
Created by industrial designer Karim Rashid, AnestasiA's bottle is a cross between a diamond and a glacier that will make all other bottles look boring in comparison. Founder and CEO Yuliya Mamontova comes from a vodka distilling family in her homeland of Ukraine, and the brand has won nine gold and platinum medals since its inception. It's distilled from sweet corn and blended with Pacific Northwest water for a clean, smooth taste.
Tigre Blanc Vodka is presented in the type of bottle that you leave on your shelf long after the liquid is gone. The white and gold design is a tribute to the magnificence of tigers, which the brand supports via the Panthera organization. The vodka is distilled from wheat from France's Champagne-Ardennes region for a mild, sweet flavor that works well in classic cocktails like the
French Martini
and
Black Russian
.