6 Ways You Should Be Using Jägermeister, According to Bartenders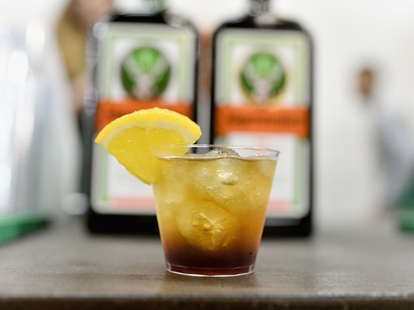 Jägermeister is a misunderstood beast of a spirit. Treated like yesterday's Fireball, the bittersweet German liqueur has been shunned as a bygone shot. But the master hunter (that's what Jägermeister means) is actually a great bottle to have at home—you just need to know how to use it. Here, five bartenders share their smart ideas for how to put Jäger to good use and redeem the maligned spirit.
"Jägermeister is a wildly nuanced cocktail ingredient that frequently gets overlooked because of its association with college style bombs, etc.," says Rory Toolan, bar manager at The Heavy Feather in Chicago. But, Toolan argues, it has a place in an equally overlooked cocktail: the Black Manhattan, which is essentially a Manhattan made with amaro instead of sweet vermouth. "Its herbaceous character is well suited for Black Manhattans or other cocktails that call for Italian style amari," he says. Maxime Belfand, head bartender at Saxon + Parole in New York, agrees. "It'll give it an interesting and unexpected herbaceous quality," she says.
"One of my favorite Highballs is a Jäger Mule," says Jacyara de Oliveira, bar director at Chicago's El Che Bar. Simply swap out the usual vodka of a Moscow Mule for a measure of Jäger and top with ginger beer and a squeeze of lime. "It's refreshing and spicy with a bittersweet finish as well as a little lower proof than your typical Highball."
Alan Lam, beverage director at Eataly NYC Flatiron, also draws a connection between Jäger and amaro, preferring to sip it straight rather than shooting it back or stirring it into a cocktail. "Jägermeister is very similar to an Italian amaro. Both are made with herbs, spices, and both are bittersweet in flavor," he explains. "In truth, Jäger can be sipped on like a real drink. I'd like to have mine after a meal neat and at room temperature as a digestivo."
Use Jägermeister in Place of Bénédictine
"If you are someone who enjoys a simple and classic cocktail at home and have a bottle of Jäeger in the mini bar, you could definitely use it as a twist in a Vieux Carré or a La Louisiane," says Samy Berdai, head bartender at Boulud Sud in New York. He recommends using it in the drinks instead of Bénédictine. "Bénédictine and Jäger are, in my opinion, closest cousins," he says. "Also, if you want to get a little more fancy you could pair Jäeger with ice cream—it goes pretty well together!"
Use Jägermeister to Give Depth to Shaken Drinks
In a daring move, Belfand recommends using Jäger to give shaken cocktails more character and nuance. Try it in a Gimlet or even a Smash—just don't add too much. "I would recommend using it in small quantities because it has a very powerful flavor, but also a pretty prominent sweetness," Belfand says. "No more than half an ounce."
Use Jägermeister to Spike Your Coffee
"Jägermeister today should have the complete opposite reputation than it did 15 years ago," says Louie Estrada, owner and chef of My Cuban Spot and bartender at Goldbar in New York. "As we speak, I have a bottle of Jägermeister in my freezer, but it holds a different place now than it did in the past." These days, Estrada likes to use Jäger to add a little extra buzz to his cup of joe. "People have been drinking sambuca and coffee for quite some time, so for something quick and easy why not Jägermeister and coffee?" Whether it's hot or cold brew, Jägermeister's 56 botanicals beautifully complement coffee's rich and bitter flavors. "All in all, I ask for people to open up to this O.G. of herbal liqueurs and to realize that it's not a one trick pony," he says.