These Turmeric Bitters Are Like Sriracha for Cocktails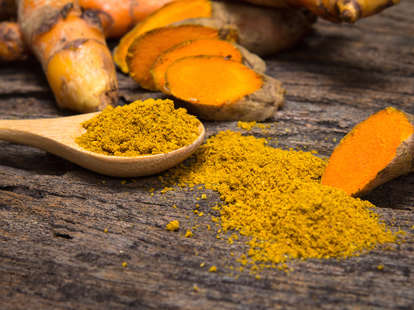 Cecil & Merl's just-released turmeric bitters are like Sriracha for cocktails—they make almost any drink that much better. The Brooklyn-based bitters company infuses fresh turmeric root into the base alcohol (made from non-GMO beet sugar), giving the bitters an intense yellow glow and the pungent aromatics of curry. They taste almost tropical thanks to the addition of dried pineapple, mango and honey, while gentian root and burdock provide an earthy, bitter backbone. They're very, very good.
Deborah Williamson, the brand's founder, says the bitters were designed to be ultra-versatile—fit for cocktails, non-alcoholic beverages and even food. We can personally vouch for the bitters stirred simply into soda water or in an extra-wet Martini. Plus, the bitters harness turmeric's many celebrated health benefits, like the root's anti-inflammatory properties. So you can feel (somewhat) responsible when you make that second round of cocktails.
Though they've only been out for a few weeks, the turmeric bitters are already flying of the shelves, so be sure to snag a bottle whenever you can. Once you do, try them in this gingerfied variation on a classic Sherry Cobbler, created by the bitters-makers themselves.
Turmeric Cobbler
1.5 oz Lustau Manzanilla Sherry
.5 oz Gin
.5 oz Lemon Juice
.75 oz Ginger Syrup
1-2 dashes Absinthe
4-5 dashes Cecil & Merl Turmeric Bitters
Soda Water
Lemon Wheel, for garnish
Candied Ginger, for garnish
Method