The 7 Best American Gins to Buy Now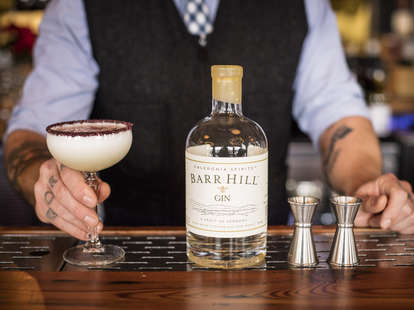 Courtesy of Caledonia Spirits
Gin is having a moment. From South Africa to Australia to Scotland, producers are turning out great products that extend far beyond the traditional juniper-forward, London Dry style. But one of the most exciting markets for gin right now is right here in the United States.
American distillers have embraced the herbaceous spirit, experimenting with a spate of unusual botanicals and flavors, using different base ingredients and resurrecting age-old techniques to create interesting products—all of which lend themselves beautifully to cocktails. So whether you love or hate the taste of juniper, here are seven great American-made gins to try now.
If you've ever enjoyed a Bee's Knees, you know of the sweet harmony that is honey and gin. This brand from upstate New York takes that combination one step further by adding local raw honey to its gin after distillation for just the right balance of floral flavor and aroma. It lends a lovely balance of flavors to a variety of gin cocktails, from Gimlets to 50/50 Martinis.
Made in San Francisco since 1997, Junípero is one of the oldest American craft gins on the market. At a spicy 98.6 proof, this gin provides a hefty backbone to cocktails of all sorts. As its name suggests, it relies on a classic juniper flavor, but it also has enough citrus and spice notes that it doesn't get too bogged down in tradition. Give it a shot in a Martini using fino sherry in place of vermouth, and you won't be sorry.
One whiff of this gin and you'll understand its appeal. The Brooklyn-based gin is pressure distilled in small batches with nine botanicals, including orange peel, elderberries, dried chamomile and cinnamon. It's one of the best examples of New American-style gin that doesn't place all its eggs in the juniper basket. The result is a bright, crisp, refreshing spirit that's perfect in a Tom Collins or Gin Fizz.
Like vodka, most gin is distilled from wheat. But this gin from Alameda, California, distillery St. George distills the base of this gin from rye grain, giving it an entirely different flavor and richness than just about any other gin we've tried. While its use in cocktails isn't as straightforward as a traditional gin, we recommend trying it in drinks with equally rich ingredients, like the Negroni. If you're lucky, you might even be able to get your hands on the limited release aged version of this gin, the rosy-hued Dry Rye Reposado.
Sometimes an 80 proof gin doesn't quite cut it—and when that happens, this is the gin to buy. Made in Brooklyn at New York Distilling Co., Perry's Tot clocks in at an almost alarming 114 proof. Inspired by the ultra boozy spirits the British Royal Navy once stocked (supposedly to ensure nearby gunpowder would still fire if any booze was spilled on it), the formula holds up to today's standards. Perry's Tot is surprisingly smooth with plenty of character to make your Gin & Tonic—or any other cocktail for that matter—sing.
This amber colored gin also bucks tradition, using a base distilled from malted barley, as well as botanical extracts created with high proof corn spirit. It's an homage to the gin drunk during the high point of craft cocktails in the 1800s, and Ransom's Oregon-based distiller Tad Seestedt enlisted the help of cocktail and spirits historian David Wondrich to develop the rather unusual method for making this gin. Though odd, it's one of the most interesting American-made gins on the market, thanks not only to its nod to history, but also its rich, almost whiskey-like flavor. It certainly makes a mean Old Fashioned.
As it turns out, even flavor is bigger in Texas. Made in Dripping Springs, Texas, this delightful example of New Western-style gin uses locally sourced botanicals to create one of the most unexpected blends of flavor you'll find. Citrus peel adds bright acidity, lavender gives florality, anise lends depth and spice, and pecans round out the finish. Try it in a Bee's Knees to highlight the floral notes in the gin, or mix it into the delightfully strange Sweet & Sour Chicken Toddy for a cold weather treat.