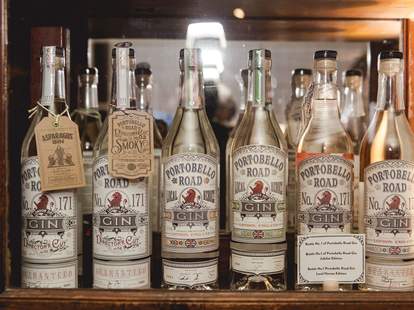 Courtesy of Portobello Road
The Brits know their gin. They were responsible for popularizing it in the 17th century, and English distilleries have prided themselves on both classic and modern versions of the spirit ever since. While there are almost too many great British gins to count, some stand out above the rest. Here are the tastiest British gins you should be sipping now.
We love regular ol' Tanqueray for classic drinks like Gin & Tonics and Dirty Martinis, but the brand's sophisticated No. 10 bottling is the original dressed up in its Sunday best. Its citrus-forward flavor profile makes it an excellent choice for classics like the Aviation, but enthusiasts will find it tastes mighty fine on the rocks with a swath of grapefruit peel. Juniper and coriander are prevalent upon first sip, and there is lots of orange and lime on the palate as well. A smooth, buttery finish gives this gin a creamy texture that's downright decadent.
When it comes to cocktails, Beefeater is an absolute workhorse and unbeatable for the price. The London-based London Dry has been in production since 1863 and currently holds the title of the world's most awarded gin. Classic botanicals like juniper, coriander, angelica root and licorice root give the gin a bold flavor up front, while citrus notes like lemon peel and Seville orange peel provide a fresh citrus finish.
Portobello Road is more than just a great London Dry gin—Portobello Road is a lifestyle. The spirit's nine-botanical formula includes things like orris root, licorice root, lemon and orange peels and nutmeg, which makes a near-perfect cocktail when mixed with tonic water and a grapefruit twist. But the coolest part of Portobello Road Gin is The Distillery, which features a make-your-own-gin workshop at The Ginstitute, a bar and on-site restaurant where you can experience a five-course meal with gin pairings. You can even check into one of The Distillery's three beautiful hotel rooms if you're feeling a little hazy after all that gin drinking.
Juniper fans, take note because this gin is going to be your new favorite spirit. When Sipsmith created V.J.O.P. (which stands for "Very Junipery Over Proof Gin"), they used triple the amount of juniper berries that goes into their classic London Dry bottling. To balance the flavor, they upped the proof to 57.7 percent ABV and added botanicals like Spanish almond, Seville orange and Madagascan cinnamon bark. Juniper shows up heavily on the nose and palate while complementary flavors of spice and dark chocolate make it perfect for an Aviation or Hot Gin & Tonic.
Husband and wife team William and Rubina Tyler-Street were curious about setting up a bespoke spirits brand back in 2012, so they invested in two small stills and got to work. They now have a portfolio of five bottlings and strive to use local ingredients and water from the Cornish Spring Water Company. On top of botanicals like juniper and star anise in Curio's Rock Samphire Gin, you'll experience a light, pleasant salinity that comes from their location on the Cornish coast. Try it chilled over ice or in your favorite classic gin cocktail.