6 Gins Under $30 Good Enough to Drink Straight
Drinking gin straight is not commonplace—even Martini diehards rarely take their gin without a dash or two of vermouth—but it should be. Packed with botanicals, the spirit is essentially a pre-made (if very strong) cocktail, ready to be poured and drunk down. You're probably (and understandably) skeptical, and that's fine. We'll ease you into it with these gins, all of which can be sipped straight (or mixed into cocktails) and cost $30 or less.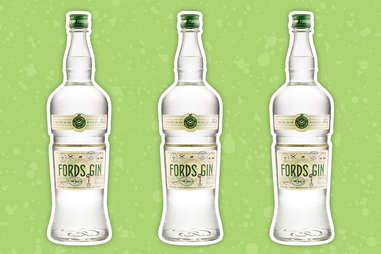 Even though this gin was literally designed to be used in cocktails by bartender-turned-86 Co. founder Simon Ford, it is balanced and refreshing and perfect for sipping straight. Infused with juniper and coriander seed, along with citrus peels, angelica and cassia, it's packed with the ideal flavors of a classic gin. Drink it very cold with a grapefruit twist.
If we didn't tell you that this was gin, you might think it was some not yet defined spirit akin to a citrus vodka or limoncello. But it's just a very lemony gin, which makes sense as it's infused with coastal Italian lemons in addition to other more traditional botanicals such as juniper, coriander and angelica. It's very easy to drink straight with a slight chill to bring out the citrusy notes even more.
You'll get a bit of a bite and kick from this juniper-heavy spirit, but don't worry—the fennel and citrus notes will balance everything out and leave you thirsty for another sip. If you find it just a touch too spicy, add a couple of ice cubes and let the spirit dilute until you can gulp it down.
If you regularly drink vodka, try sipping on this gin. It's remarkably mild with subtle whispers of juniper and a bright, zesty finish. Because of the lack of juniper, you will taste the alcohol, but it will be quick with citrusy flavors taking over at the finish. Chill this one down to an ultra-frosty temperature, and sip it with a twist of lemon, lime or orange.
Bright and citrusy, this Massachusetts gin is downright chuggable. It has some lovely annise notes, but don't worry, this isn't some black licorice bomb. It's slightly sweet when chilled, with lots of orange zest and a clean, smooth finish. Try it with an orange twist or even a cinnamon stick.
One of the pioneers of new American style gin, Aviation holds back on the juniper in favor of other, lesser-seen botanicals such as lavender, sarsaparilla and anise. It's rich and lightly savory with a deliciously spicy finish. Drink it chilled down and unadorned.