Try These Top-Shelf Gins and Discover Everything a Gin Can Be
I'll admit, I used to think I could use any of the value-priced bottles of gin when it came to making cocktails. These tend to have a relatively simple flavor profile, mostly juniper-forward, and often harsh on their own -- but that's alright because I thought gin one of those spirits that's all about the high-alcohol punch, something that would yield to the assertive flavors of vermouth rosso, Campari, orange liqueur, rosemary simple syrup, and who knows what else. I'd look at the Beefeater, the classic London Dry dating back to 1853, with the Tower of London Yeoman Warder on the label, then look at the shelf below the Beefeater, and that's when I'd reach my hand out to grab a bottle.
But then I tried my first taste of better gin -- something with a more complex and subtle flavor profile and a smoother finish. It was Hendricks, a Scottish gin in a chic, dark bottle that pushes its cucumber and rose infusion and touts itself as "unusual." It's not, but it's smooth and friendly and plays well with tonic and lime. I tried it and thought oh, that's what gin can be. It's just one step up from Beefeater, costing 10 bucks more a bottle. But ever since then, I've been more awake to what gin can be, and I've kept my eye out for lesser-known labels with personality.
Yes, it's a neutral spirit (from anything from corn to rye to corn to grapes) infused with juniper berries, and that's what gives it its primary flavor profile. But every distiller crafts their own unique recipe with additional botanicals. That's where the fun of complex and subtle flavors comes in.
We spent some time tasting new-to-the-market gins, talking with distillers, and returning to some old favorites to compile this list of gins that are worth spending a bit more on.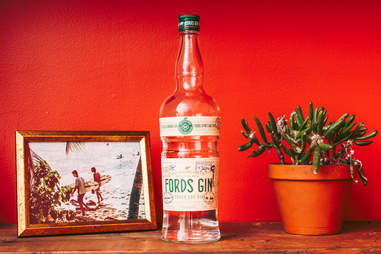 Cole Saladino/Thrillist
$25 at finer liquor stores nationwide
Eigth generation distiller Charles Maxwell and Simon Ford set about creating the ultimate cocktail gin, a spirit that would play well with anything the modern craft mixologist could throw at it -- sweet, bitter, and everything in between. It took them 83 iterations and nearly three years, but the result is a juniper-forward yet perfectly balanced spirit. Think of it as a cheeky answer to Brexit. It's made in London with eight different botanicals imported from all around the world: Coriander, grapefruit, orange, lemon, jasmine flowers, oris (the bulb of iris), cassia bark, and angelica root.
Cole Saladino/Thrillist
$55 at select stores in New York City
What is a 27-year-old celebrity custom clothing company doing in the spirits business? Harlem Haberdashery, an upscale uptown Manhattan boutique (and house of custom clothing company 5001 Flavors), produces a vodka, a rum, and this gin. The latter is a traditional London Dry style, updated with American botanicals including gin, lavender, rosehip, beach plum, cranberry, and just enough juniper for a moderate flavor up front. I picked up an almost cinnamon-like finish. You'll want to find an appropriate hat to wear with this gin.
$36 at finer liquor stores nationwide
When distillers set about reviving the distillery Bruichladdich, located in Islay, one of Scotland's five protected scotch-producing regions, they came across a challenge: what to sell while the newly-produced scotch ages. One solution came in the form of a gin they named The Botanist. It's created with 22 of exactly the kind of
hand-foraged botanicals
you'd expect to find in Islay, like heather, sweet woodruff and thistle, together resulting in an amiable gin that tastes of spring woodlands. It's probably my imagination, but I always catch a whiff of sea air when I drink it.
$30 at the distillery and select area stores
Distilled in the Hudson Valley of New York State, a region located a couple hours north of New York City. It's a friendly gin made from grape alcohol (from the winery up the street) with wild staghorn sumac, cucumber from local farms, and lavender. It's currently under the distillery's brand, but starting in the fall you'll see it under its new label, Fellows. We're including it here to encourage you to seek out your own locally-distilled gins in your area. Visit a distillery, learn about the process, and ask loads of questions before, during, and after your tasting.
Cole Saladino/Thrillist
$45 at select liquor stores nationwide
You could not ask for a more Los Angeles gin, and I mean that in the best way -- earthy but bold, incorporating botanicals that reach into just about every cultural group you'll find in the City of Angels. AMASS is made from 29 botanicals reflecting the terroir and cultural melange of Los Angeles, including California bay leaf, kaffir lime leaf, lemon, grapefruit and bitter orange peel, sarsaparilla, hibiscus, cardamom, cacao, and ginger. But also: nootropic/adaptogenic ingredients Lion's Mane and reishi mushrooms, and ashwagandha. High vibrations indeed -- is this the Moon Juice of spirits? It tastes...deep. That's the best way I can describe it. Gin for the age of Aquarius. AMASS is crafted by one of the few female master distillers in the world, Morgan McLachlan, who calls herself a "punk rock experimental" and "avant garde" distiller.
Sign up here for our daily Thrillist email, get Eatmail for more food coverage, and subscribe here for our YouTube channel to get your fix of the best in food/drink/fun.