The Best Japanese Whisky Brand in the World Is Now Making the Best Gin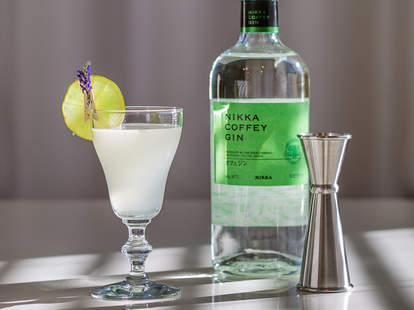 Courtesy of Barrel Aged Dad
This year, Jim Murray—the famous whiskey enthusiast and author of the much lauded Whiskey Bible—named Nikka's Coffey Malt Whisky the best Japanese whisky in the world. Now, that award winning whisky distillery is turning its talents to something else: gin.
As it turns out, Nikka is more than a one spirit pony. Distilled on the distillery's signature Coffey still (known for producing purer, higher quality distillates with delicate intricacies in both flavor and aroma) using a mash made from corn and malted barley, Nikka's newest product is one of the most unique gins we've ever tasted.
It's infused with an array of exotic Japanese botanicals and citrus fruits never before seen in a gin, including four types of Japanese citrus fruits—yuzu, kabosu, amanatsu and shikuwasa—sanshō pepper (a tongue-numbing, green-hued relative of the Sichuan peppercorn) and apple. It's almost savory on the palate, with an abundance of bright citrus notes. And, luckily, it's just the beginning of what's to come. Get ready to see more and more Japanese-style gins pop up on shelves, with Kyoto Distillery's Ki No Bi soon to be available throughout the U.S. (it's currently only available in New York and Texas) and Suntory's Roku on its way to the States as well.
Since this fascinating style of gin is new to the whole of the U.S., we did some experimenting (read: drinking), trying it out in a slew of classic gin cocktails to find out how best to put it to use. Though we found the Martini to be somewhat lackluster, the gin definitely has its place behind the bar.
In a Singapore Sling—a layered, flavor bomb of a drink that easily overpowers most gins—Nikka's abundance of citrus truly shines. The gin's yuzu notes uplift the cocktail, turning something that too often is saccharine and heavy into a refreshing and playful drink with a sparkling acidity. It breathes new life into a classic cocktail in need of an update for the modern palate. And it doesn't stop there.
Our Nikka Gin & Tonic—made with two ounces of the gin, a topper of Fever Tree Indian Tonic and a shiso leaf as garnish—is extremely delightful. Diluting the gin while adding carbonation releases hidden flavors within the spirit. There are notes of yuzu kosho (a fermented Japanese yuzu chili paste), grapefruit rind, lemon pith, kombu, juniper, green apple and peppercorn. Silky with a long, mouth-coating finish, this is easily the best Gin & Tonic that we've had in years.
While spending $40 on a bottle of gin might seem steep, we highly recommend the splurge—and if you're a gin lover, we insist on it.