The 6 Best Gins for Your Negroni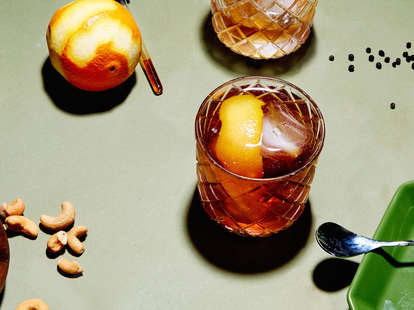 Matthew Kelly / Supercall

There are only three ingredients in a Negroni: gin, sweet vermouth and Campari. While the Campari is there to stay, the precise brands of sweet vermouth and gin are up for discussion.
For now, let's focus on the drink's core spirit: gin. (If you want to talk sweet vermouth we have some recommendations for that as well.) Each style of gin has its own unique attributes and flavors, from juniper-tastic to mild and citrus-y. Here is our guide to choosing the best gin for your personal Negroni style.
Distilled in London since 1863, this friendly, easy-going gin is perfect for mixing into cocktails. Its distinct flavor comes from nine essential botanicals, three of which (lemons, Seville oranges, and whole juniper berries) are steeped in the spirit for a full 24 hours prior to distillation. Rich with citrus oils, this ultra-affordable gin is bright and refreshing when paired with the bitter flavors of Campari in a Negroni.
The prefered spirit for a Gin & Juice (according to Snoop Dogg himself), Tanqueray's juniper-heavy qualities also make it a great candidate for heavier, stirred cocktails. Double-distilled, this London dry gin is clean on the palate, with subtle botanicals and enough juniper kick to cut through the bitter-sweet combo of sweet vermouth and Campari.
The oldest distillery still standing in its original location in England, Plymouth has been producing its signature style of gin for over 200 years. Softer than a London dry, Plymouth-style gin is light, floral and citrusy. Pair this gin with Byrrh instead of vermouth for a less bitter, refreshing twist on the classic.
Distilled from organic, New York state-grown wheat, this Brooklyn-made spirit is a delicious twist on the classic London dry style. The juniper is incredibly subtle—almost an afterthought on the finish—with unusual botanicals like ginger, chamomile, elderflower and cinnamon predominant on the palate. Pair this gin with a vermouth like Cinzano's 1757, whose flavors of black pepper and briar fruits will complement the spirit's robust ginger kick.
Although this limited-edition, small batch gin was designed for brunch cocktails like the Ramos Gin Fizz, we find that the Earl Grey tea and citrus flavors work magic with Campari and sweet vermouth, creating the perfect Negroni for midday imbibing.
Clocking in at a respectable 114-proof, this navy-strength gin adds serious firepower to any cocktail. Bright, with flavors of meyer lemon peel and a crescendo of juniper on the finish, this gin is as delicious in your Negroni as it is boozy. And it is very boozy.