The 5 Best Gins to Mix Gin Martinis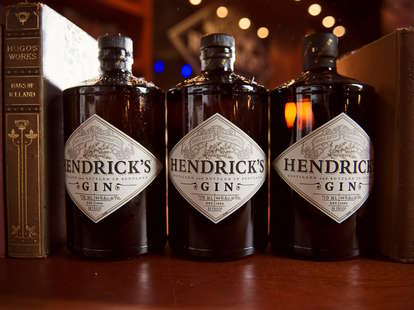 The Gin Martini is beautiful in its simplicity. With just two ingredients, it's super-easy to make and also incredibly easy to customize to your particular tastes. You just have to choose your gin wisely. To get you on the right track, these are Supercall's five favorite gins to mix Martinis.
This floral, fruit-forward dry gin makes a super smooth Martini, perfect if you're only just starting your love affair with the classic cocktail. Expect flavors and aromas like Turkish rose, slightly tart raspberry and fresh, sweet peaches.
This spirit has been distilled using the same blend of exotic ingredients, Dartmoor water and pure grain alcohol since 1973. It's chock full of botanicals like citrus peels, angelica root and green cardamom, which give it a smooth taste and aromatic finish. The full-bodied, lightly sweet spirit makes one of the most elegant Martinis we've tasted in awhile.
It doesn't get more classic than Tanqueray, a gin that's been in production for 180 years. It's made with a blend of a four-times-distilled spirit and a selection of four botanicals, which give it a clean, pure taste that's hard to forget. The Art Deco-inspired bottle features the Tanqueray pineapple family crest, which is a historical symbol of hospitality, and there's no better way to welcome someone into your home than with a Martini.
This proper British gin starts with a neutral spirit distilled from British wheat before it's infused with traditional herbs and spices like nutmeg, sage and rosemary. Boodles contains no citrus botanicals because the distillers expect most gin cocktails to be accompanied by lemon or lime. But if you prefer olives instead of a twist, no matter—this gin makes for a clean, blankslate of a Martini that will gladly take on some brine.
The master distiller of Hendrick's makes this gin in small batches and marries two different spirits to create the final product, which results in a balanced gin that's smooth enough to sip on its own. Rose and cucumber give it a taste unlike any other, while juniper, angelica root, coriander and citrus round out the nose and palate.
At 58.8 percent alcohol, this powerful Australian gin packs a punch, both in ABV and flavor. It's flavored with finger limes, oranges, ginger and spices like coriander and turmeric. Alone, it's packed with bright, vibrant citrus notes, with some earthy undertones thanks to the spices. Pair it with a super-dry vermouth like Dolin and make sure to stir the mix with ice until it is ultra-frosty. The resulting Martini is crisp, super-strong and extremely refreshing.
This extremely delicate gin from a world-renowned whisky producer is flavored with unusual botanicals such as yuzu, apples and tongue-numbing sansho pepper. It's silky and mouth-coating with some almost briny seaweed notes and lots of zesty citrus rind. This gin doesn't need much to shine, so hold back on the vermouth and make a nice Dry Martini. Garnish with a swath of lemon (or yuzu, if you have it) and really get to know all of this gin's nuanced flavors.