The Best New Gins of 2016
Courtesy of Cardinal Spirits
After years of being hassled in gym class and brushed aside in favor of sexier bourbons or wilder vodkas, gin is finally taking off its hideous glasses and shaking out its hair. Like the blossoming nerd in a rom com, it's getting a lot of newfound attention, and with all the new gins out this year, it's never been a better time to be the secret admirer who always held a torch. This year offered something for everyone—from smoked sippers to traditionalist Martini-bait to esoteric distillations from faraway lands. Here are our picks for the best new gins released in 2016.
Courtesy of ESP
Encased in striking matte black bottles, this new line of gins from Empire Spirits Project (ESP) is available in three unusual expressions: American Beauty (rose, ginger and cinnamon), NoHo (saffron, cardamom and orange) and Smoked (applewood smoke, peppercorn and caraway). All three are worth exploring, with the American Beauty and the NoHo lending themselves to Gin and Tonics that need no further adornment, and the Smoked demanding to be mixed into a bold Martini or simply sipped solo. With such a focus on specific flavors, it should come as no surprise that these gins are straight from the mind of a chef. Master distiller and co-founder Jake Sawabini's former life was on the line at restaurants like wd~50 and Le Bernardin.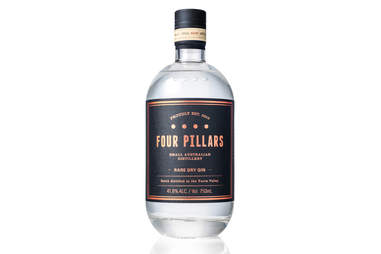 Courtesy of Four Pillars
Get ready for the Australian gin-vasion. The first Australian gin brand to make it onto U.S. liquor store shelves, Four Pillars currently offers two bottlings: Rare Dry and Navy Strength. The Rare Dry is distilled with a unique bill of botanicals that includes Tasmanian pepperberry, lemon myrtle and whole oranges (an unusual practice that results in a wonderfully warm and rounded zestiness). It's friendly but exotic and good in just about any drink. The Navy Strength packs a bright citrusy punch. Distilled with ingredients like finger limes, turmeric and ginger, it's spicy but not overly so, with a slightly savory finish. Appreciate its faceted flavor profile by mixing it with soda water, or experience its power by pitting it against ginger beer in a Gin Buck.
Courtesy of Cardinal Spirits
When it comes to spices, the country's top chefs turn to one man: Lior Lev Sercarz. The owner of NYC's La Boîte is a master spice blender whose work can be tasted in dishes served at renowned restaurants like New York's Le Bernardin, Philadelphia's Zahav and Chicago's Publican Quality Meats. Or you could just pick up a bottle of Terra, the new gin from Bloomington, Indiana distillery Cardinal Spirits. Sercarz developed a custom spice bill for the gin inspired by "nostalgia for nature." After speaking with Cardinal's co-founder Adam Quirk about his nature-related scent memories, Sercarz came up with a mix of spices heretofore unseen in gin, like zuta (an Israeli mint) and Indonesian berries. The resulting spirit smells of candied lemon peel and ginger with a slightly grassy sweet flavor and a cardamom-spiced finish. The only thing about it that's not fantastic is its availability: Right now you can only buy it in Indiana.
Courtesy of Desgin
After tasting this gin you might find yourself trying in vain to pinpoint exactly what gives it its signature, slightly sweet flavor. Spoiler alert: it's pistachios. Billing itself as an "American Modern" gin, it's round and subtle with no bite. On the palate, it tastes almost like honey (that's the pistachios at work), with very little of gin's usual juniper-forward flavor. It finishes with a hint of butterscotch, leaving a sugary tingle on your tongue. Currently available only from Mash + Grape, it's best mixed into sweeter cocktails like the Bee's Knees or even a Gin Old Fashioned.
Courtesy of Vertical Spirits
If we were slotting these bottlings onto a sort of gin spectrum, this gin would be as far away from the honeyed Desgin as possible. The first release from New Hampshire-based distilling company Vertical Spirits (which was actually produced by Berkshire Mountain Distillers on behalf of Vertical), it smells like lemon, juniper and mint, but tastes like fresh parsley. It's savory and spicy with no sweetness. You can thank a global blend of botanicals—including coriander, black pepper and Pacific kombu (a type of kelp)—for that bone dry profile. Try it in a Martini—preferably one made either dry or dirty.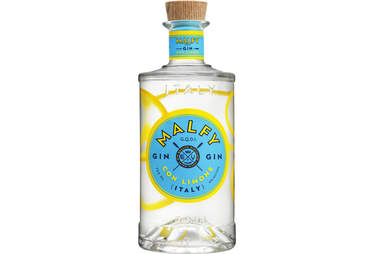 Courtesy of Malfy
With Malfy's new offering, we slide right back towards the Desgin end of the gin spectrum. Its bright, tart, lemonade-like aroma and equally lemony flavor make it a ridiculously friendly and welcoming gin—unless, of course, you don't like lemon. Produced in Moncalieri, Italy, the key botanical is, unsurprisingly, lemon peel sourced from the Italian coast, along with the usual suspects like Italian-grown juniper. On its own, it tastes like someone spritzed fresh lemon into your glass, making it the perfect base for a Martini with a twist.
Courtesy of Calyx
Another instance of the world of fine dining merging with the spirits sphere, Calyx Gin is a collaboration between distiller Stephan German and sommelier-turned-winemaker Rajat Parr. Influenced by his background in wine, Parr created something very unusual for the gin world: a vintage-style spirit whose flavor profile changes year to year. The 2015 edition (made with botanicals harvested in 2015—the 2016 is due to be released soon) has a zesty nose with lots of pine and rosemary. It follows through with those notes on the palate with a hint of savory turmeric and finishes with a pleasantly flinty minerality. A wonderful all-around gin to drink in whatever, whenever, it has the added appeal of idiosyncracy.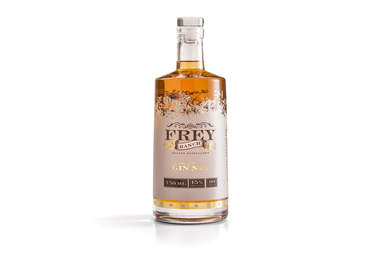 Courtesy of Frey Ranch
Nevada-based Frey Ranch follows a field-to-flask distilling philosophy. All of the grains used for their spirits are grown on the property—even the juniper berries are grown on site. Their recently released barrel-finished gin also includes estate-grown cucumber and lavender. It spends the last few months of production in oak barrels, which gives it a golden caramel color and an oaky finish. Upon first taste, you'll pick up some savory, briny thyme with a touch of tart guava and a sour orange nose. It's complex to say the least and should be appreciated on its own or in any cocktail that can stand up to a more full-bodied gin, like a Martinez or a Perfect Martini.