How to Drink Like an Italian
The Italians know how to fill a day with drinking better than anyone.
If you walk down the streets of Rome—or any Italian city for that matter—between 5 and 8 p.m., you'll see sidewalk cafes bustling with patrons sipping spritzes and nibbling on salty, crunchy snacks. It's aperitivo time, a pre-dinner tradition throughout the country that pairs low ABV drinks with complimentary bites.
After aperitivi, Italians return home to cook or settle in at restaurants. Wine bottles pop open and vino flows freely. Then, when the dishes are cleared, it's time for digestivi, dark, bittersweet amari used to aid digestion. After hours of sipping and refilling, it's finally time to retire to bed and recharge before doing it all again the next day.
Drinking like an Italian is truly an art, but, as they say, practice makes perfect. This guide will help start you on your journey, from the first sip of a spritz to the last drop of grappa.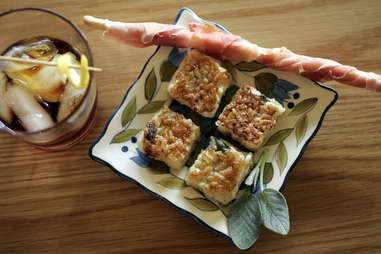 The Art of the Aperitivo
There are many ways to enjoy an aperitivo. Some people prefer a simple glass of prosecco while others are partial to bitter liqueurs like Campari and Aperol. And then there are those who opt for a vermouth like Cinzano or Carpano Antica. Some like to sip aperitvi straight, while others prefer them in cocktails like a Negroni or an Aperol Spritz. There are no hard and fast rules for choosing an aperitivo, as long as it's bright, light and appetizing.
"Recently I learned that Venetians drink their Aperol Spritzes with an olive," says Patrick Brennan, bartender at Spiaggia Restaurant in Chicago. "Since I tried this, I haven't gone back. At the restaurant, we offer bar guests a mix of Castelvetrano olives and recommend trying the Mantuano—a Spiaggia classic that riffs on a traditional Aperol Spritz with Wansas tequila, grapefruit-infused Aperol and prosecco." Brennan isn't the only bartender to riff on an Aperol Spritz. In Tasting Rome, authors Katie Parla and Kristina Gill replace Aperol with Cynar for an earthy take on the classic cocktail.
As for the snacks, those too vary from region to region and bar to bar. Nibbles can be as simple as salted nuts or potato chips, or as elaborate as buffets stacked high with things like pasta salad, thinly sliced charcuterie and cheese—all included in the price of a drink. If you're hosting an aperitivo hour at home, there's no need to go crazy. Offer fellow imbibers bites to munch on like tomato-topped bruschetta, buttered anchovy toast or a simple mix of spiced nuts and olives.
The Art of the Digestivo
Just like Italian aperitivi, after-dinner counterparts come in a variety of types and flavors. Richer, sweeter and typically more potent than aperitivi, digestivi are packed with stomach-settling herbs and spices to aid in digestion. These curative spirits range from fiery grappa to ultra-bitter liqueurs like Fernet Branca to sweet, viscous limoncello.
"The extreme, rooty bitterness of many digestivi make them an acquired taste for many Americans," Brennan says. "But one amaro that is universally loved is Amaro Montenegro because its pleasant orange flavor appeals to nearly everyone. If a guest likes that, I'll often move onto my personal favorite, Amaro Sibilla, which is made from herbs and honey from the Sibillini Mountains." Our favorite gateway digestivo is Amaro del Capo, a pleasant, balanced blend of sweet and bitter notes.
Bitter amari become easier to drink with experience, and you just have to keep sipping until your find your favorite (hard work, we know). Most authentic Italian restaurants will have a solid list of digestivi, so make it a point to try a different digestivo after every meal. That way, you can find your digestivo match without having to go through full bottles.
Once you've mastered the art of drinking like an Italian, you'll fit right in at a Florentine cafe—until you try and pronounce anything. That's a different lesson for another day.