What The Heck Is Sloe Gin, Anyway?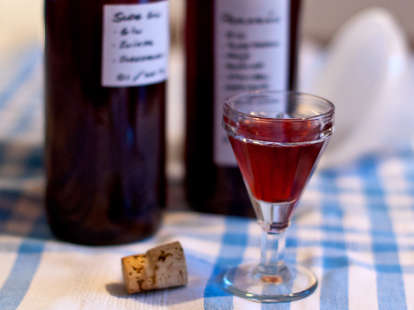 Stijn Nieuwendijk / Flickr
If you're not British (or older than 40), chances are you have no idea what sloe gin actually is. And there's good reason: Sloe berries are a fruit we don't often see stateside, and quality English-style sloe gins weren't available on our liquor store shelves until recently. A relative of the plum, the sloe berry is a fruit that is native to England. It grows on thorny shrubs, and has a sharp, astringent taste similar to blackcurrant that can only be tamed with alcohol.
To learn more about sloe gin's history, how to separate the good sloe gins from the bad, and how to properly drink the spirit, we tapped Steven DeAngelo, the founder of Greenhook Ginsmiths in Brooklyn, for his expertise. Here, DeAngelo gets to the meat of what a sloe gin is, and why and how you should be drinking it.
Sloe Gin Is And Isn't A Gin
"The technical definition of sloe gin is a gin liqueur," says DeAngelo. "And it should have the characteristics of the underlying gin. It shouldn't be made with a neutral spirit or a vodka."
Unfortunately, that definition is not always applied to sloe gins, especially those most commonly seen in liquor stores in the United States. Most sloe gins available stateside are more liqueur than gin liqueur. There are only a couple of U.S. distilleries actually making a craft sloe gin with gin as the base spirit.
Sloe Gin's Flavor Depends on Ingredient Quality
"There's a broad gamut of what sloe gins taste like," DeAngelo says. "High quality [sloe gin] is going to taste plummy and have an earthy, raisiny like quality. They are often very sweet. Good ones tend to also have notes of almonds, which comes from the pit of the fruit."
Industrial, commercial brands of sloe gin (easily identified by their plastic bottle and glossy label that completely lacks transparency on how the spirit was made) tend to be composed of mostly sugar and artificial flavorings. These lesser quality sloe gins are extremely sweet, one dimensional and have a harsh, alcoholic burn on the finish. If it isn't immediately apparent that your sloe gin uses gin as the base, don't buy it.
Sloe Gin Differs from the United States to the UK
Sloe berries don't grow in the United States, so if the liqueur is being made in America, it's usually made from imported sloe berries (which is costly and unlikely), concentrated sloe (lesser quality sloe gins), or alternative, local ingredients similar to sloe berries. For his take on a sloe gin, DeAngelo uses a local plum variety, which he infuses into a gin that he also makes. "It's my regional take on sloe gin," he says. "Beach plums are very close biological relatives of the sloe berry, but they're indigenous to the beaches of the Northeast. Beach plums have more of a maritime quality than sloes."
In England, there's also only a couple of commercial brands making high-quality sloe gins. Two of the best brands available are Plymouth—which uses a recipe from the late 1800s—and Sipsmiths' take on the liqueur. "It's really more of a homemade liqueur and a tradition [in the UK]," DeAngelo says. "People go out to the countryside, usually late August or September, and pick the sloes. They'll go home and soak them in a bottle of gin and add sugar to it."
Sloe Gin Is a Versatile Cocktail Ingredient
Between England and America, the way people drink the liqueur differs greatly. In its home country, "sloe gin is used as a winter warmer," DeAngelo says. "And for some odd reason, it's also common [in England] to see people put it in a flask and take it hunting with them. They also drink it around the holidays with Champagne."
But in the United States, it is more common to use sloe gin in cocktails. Invented before Prohibition in the early 1900s, the Sloe Gin Fizz is the most ubiquitous cocktail made with the spirit. But, according to DeAngelo, sloe gin also works wonders in place of gin in a French 75 or in a Negroni. Brooklyn's Fort Defiance uses DeAngelo's Beach Plum sloe gin in their take on a Ramos Gin Fizz. "It gives it an extra dimension and this fruity quality," he says. "It also gives it this nice Strawberry Quik looking color."
However you choose to mix it—or if you opt to drink it straight (according to DeAngelo, it works almost like an amaro or digestif)—one thing is for certain: You should be drinking more sloe gin. And, as the winter turns to spring (or when the summer turns to autumn), there's no better time to pick up a bottle.