7 Mezcals That Are Perfect for Beginners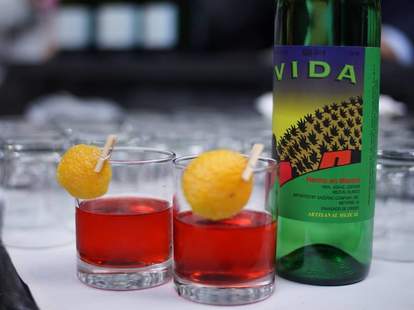 After years of drinking tequila, you have decided to finally try its more rustic sibling: mezcal. While you might have some trepidation delving head-on into the spirit category—because of all those rumours about the spirit being a scotch-esque smoke bomb—we're here to help you on your journey exploring the Mexican spirit. From Del Maguey's light and fruity Mezcal Vida to Fidencio's earthy Clásico Mezcal Joven, these seven mezcals aren't heavy on the smoke or the funk. Here, the best mezcals for beginners.
Launched in 2010, this release from legendary mezcal importer Ron Cooper was designed specifically for its approachability, drinkability and versatility behind the bar. Twice distilled in a copper still heated by a wood-fueled fire, this mezcal is smooth, velvety and richly flavored, and lacks the heavy, peat-ish smoke affiliated with other spirits in the category. On the palate, Mezcal Vida has a clean minerality with notes of honey, vanilla, sandalwood and tangerines. This mezcal makes for easy drinking when sipped straight and works as the base to any tequila cocktail.
Produced in Santiago Matatlán in the shadows of Oaxaca's Mountain of Wolves, Montelobos Mezcal is made from 100-percent espadín agave (for consistency and sustainability, the agave is farmed rather than wildly sourced). Distilled and produced by 5th generation mezcalero Don Abel Lopez, the agave piñas are roasted in a stone-lined pit and allowed to ferment with wild yeast after being crushed on a tahona. The resulting spirit is slightly smoky on the palate and naturally sweeter than most mezcals, with a flavor akin to barbecued pineapple and tacos al pastor. Extremely drinkable, this mezcal is phenomenal in a Margarita—especially one with a touch of freshly pressed jugo de piña.
From San Juan del Rio in southern Oaxaca, this mezcal is also distilled from 100-percent espadín agave. Certified USDA organic, this Mezcales De Leyenda bottling is the most vegetal and tequila-like spirit on this list. On the palate, the spirit has notes of lemongrass, thyme, sage, and wet stone with subtle whispers of smoke only on the finish. While it would work as the base ingredient in a number of cocktails, this mezcal is best sipped neat and paired with food.
While this is one of the smokiest mezcals on the list, the smoke is not as intimidating or dominant as it is in other mezcals we've tried. Made from 100-percent espadín agave, this unaged bottling (Ilegal also makes a reposado and an añejo) is extremely flavorful with a raw, vegetal savoriness. On the palate, there are flavors of roasted green peppers, jalapeño, pineapple, braised brisket, rosemary, sea salt, bitter orange and grapefruit. Another excellent choice for cocktails, this mezcal is best in stirred drinks like the Oaxacan Old Fashioned or a fiery, cigar-smoke tinged Manhattan.
The most unusual mezcal on this list (and possibly on the liquor store shelf), this offering from Mezcal Vago adds locally-sourced roasted corn to the mix. Made by mezcalero Aquilino García López at his palenque in Candelaria Yegolé, Oaxaca, this singular bottling gets its cream-corned flavor from comal (a flat, clay, wood-fired pan for making tortillas) roasted dried corn kernels that are added to the still. Bright, naturally sweet, round and creamy, this mouth-coating mezcal is a whopper in the glass. We recommend drinking it straight with a serving of fresh corn tortillas and stewed, spicy barbecued goat drizzled with fresh lime and chipotle salsa.
Comprised of 90-percent espadín agave and 10-percent wild barril agave, this mezcal is produced by a co-op of more than 20 families from the tiny village of San Miguel Ejutla in Oaxaca's central valley. Naturally sweet and bright with an abundance of tropical notes (and tropical funk like some Jamaican rums), Banhez is the perfect gateway spirit to the more unusual flavorings of wild agave mezcals. Expect flavors of wet leaves, dark earth, wet stone, overripe banana, Champagne, mango and tepache. This mezcal is a staple on our bar and one of our favorites to mix with straight seltzer—especially salty, mineral-rich Topo Chico.
This espadín-based mezcal is our choice for the best agave spirit to drink straight and savor—it's as decadent and bold in the glass as any whiskey.  One of the only mezcals on the market that is certified both organic and biodynamic, Fidencio Clásico is produced in Santiago Matatlán, Oaxaca using a Cognac still. Bottled at still strength (it is undiluted and uncorrupted by water), this incredible spirit has aromas of clay, lemon pith and white pepper. It drinks hot and lasts long on the tongue with flavors of key limes, grapefruit, cinnamon and clove (only on the finish does the smoke really begin to shine through). Serve it the way it would be in Oaxaca, with a plate of fresh pink guava or orange slices and a bowl of sal de gusano to accompany each sip.