The Best Mezcals Under $75 To Buy Right Now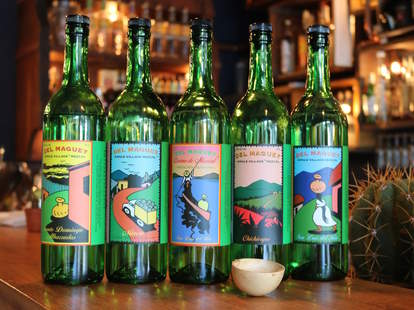 If you've recently developed a mezcal obsession, you've probably noticed how expensive the spirit can be. While trying to find a bottle that won't break the bank can be difficult—especially if you don't want a bottom shelf novelty bottle with a scorpion in it—it's not impossible. From a cocktail workhorse to a rich and floral sipper, here are nine of the best mezcals under $75 to buy right now.
This espadín agave-based mezcal is made in Oaxaca at a small, family owned distillery. The unaged mezcal is light on the smoke and slightly vegetal, with notes of poblano pepper, honeycomb, salt and the traditional black pepper finish. It's perfect for sweltering hot days, as an
accompaniment to spicy foods
or in cocktails. If you want a mezcal with more heft, try Ilegal's barrel-aged reposado ($60), which is best sipped straight.
This triple distilled, unaged mezcal is ultra refined and delicious. On the palate, the spirit is pleasantly fruity, with bright citrusy notes and a lingering hint of smoke on the finish. Although it lends itself well to cocktails, it is perfect for sipping neat.
A unique small batch mezcal created by distiller Aquilino Garcia Lopez, the Vago Elote is infused with roasted sweet corn. With subtle notes of green papaya and spearmint, the infusion gives the mezcal a complex, buttered-toast sweetness and a long, creamy finish. This bottle is meant to be savored. Drink it straight with no chaser.
Distilled by Pedro Hernández, this mezcal is bottled at a whopping 94 proof. It's textbook espadín, with hints of jalapeño, tart pineapple and wet stone. A robust finish starts with wafts of campfire smoke and white pepper, then shifts to a long hot, alcoholic finish that's both tannic and drying. It's delicious neat, accompanied by an orange slice dipped in
spicy worm salt
.
Each label under the Alipus brand represents a different village, agave plant and mezcalero. This bottling is distilled by Don Valente Angel Garcia Juarez and is made primarily with espadín agave (with some semi-wild agave) and fermented in cypress vats. Rich, floral and creamy, this mezcal tastes like spirits twice the price. On the palate, there's flavors of papaya and wet stone with subtle smoke and black pepper in the finish.
There are many things to love about this espadín-based mezcal, but we find it especially appealing that it is one of the only mezcals on the market that's both organic and biodynamic. Made in the Santiago Matatlán region of Oaxaca, Fidencio Clásico is fermented with ambient yeast (and yeast that lives within the plant) and distilled in an alambic pot still. The results: A mezcal that is elegant and charmingly simple. It's bright and slightly acidic, with notes of lemon and lime oil, cinnamon, and tropical fruits like pineapple and guava. Delectable in cocktails, this mezcal is a versatile spirit that belongs behind any bar.
Produced in San Juan del Rio by maestro mezcalero, Rodolfo Hernández, this artisan spirit is distilled from a combination of espadín and angustifolia haw agaves. Perfect for mixing, it lends a savory sweetness and subtle smoke to cocktails. On its own, the spirit is clean and bright, with a touch of earthy clay funk and white pepper on the finish.
Produced by Don Jose Emilio Vieyra Rangel and his son Emilio Vieyra (the family has been distilling for five generations) in the Mexican state of Michoacán, this mezcal is made from wild cenzio agave and distilled using Filipino clay pot stills. It's raw and unrefined, with flavors of pine, wet gravel and, odd as it sounds, prosciutto-wrapped melon. Aside from
Derrumbes Michoacán
, this is currently the only mezcal from the Michoacán being imported into the United States. Do yourself a favor and buy this spirit before it's gone.
We admit that this mezcal is over our price cap, but it's our favorite from Del Maguey's line and we had to include it. Named for the village where it's made, this mezcal is soft, silky and extremely quaffable. The first sip is luxurious and should be left on your palate to be savored. As it unfolds onto your tongue, there are flavors of grilled pineapple, tamarind funk, wet stone, sea salt and a wisp of smoke on finish.