7 Best Mezcals for Mezcal Margaritas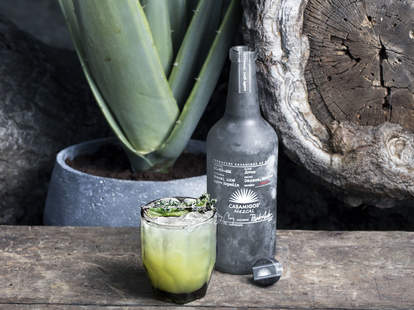 Attention, Margarita lovers: If you've only been using tequila in your Margs, you've been limiting yourself. While there are a wealth of delicious tequilas on liquor store shelves, a Margarita becomes a completely different animal when mezcal—tequila's more rustic, ancestral cousin—is added to the drink. Instead of making the same boring Marg you make every Taco Tuesday, try one with mezcal instead. From smoke-heavy bottlings, to fruitier offerings, to more savory ones, there's literally a mezcal for every palate and every type of Margarita. Here, the seven best mezcals to use in a Mezcal Margarita.
Designed specifically for cocktails and to be used by bartenders as their well mezcal, Del Maguey's Vida bottling is distilled from espadín agave grown throughout the state of Oaxaca. This mezcal is consistently good, widely available and incredibly versatile. It also happens to be especially delicious in a Margarita. Paired with just a touch of agave syrup and fresh lime, the mezcal reveals savory, vegetal notes (almost like a blanco tequila) and flavors of wet stone, cinnamon, grapefruit peel and white pepper. Only on the finish does the smoke come through, perfectly contrasting the bright citrus.
Incredibly bright and floral, and a touch spicy (like biting into a fresh jalapeño), Mezcal Unión Uno is better suited for a Margarita than most tequilas. Made in San Baltazar, Oaxaca, from two types of agave—including espadín and cirial (a member of the Karwinskii family)—this mezcal is bottled straight from the still at 38 percent ABV. Fruity and subtly sweet, with very light smoke, it is especially good in more tropical, fruit-driven takes on the Marg like an Acapulco or a Mango Margarita.
If you like your Margaritas a touch more on the savory side, this mezcal is your new go-to. Distilled from 100 percent organic espadín agave by fifth generation mezcalero Don Abel Lopez, Montelobos' joven bottling is produced in the traditional method—pit roasted, tahona crushed, and wild yeast fermented. This production style yields more unique flavors more akin to funkier wild agave bottlings. There are notes of rosemary, roasted poblanos, sea salt, preserved lemons and barbecued meats. We'd pair this spirit with beets, carrots, rhubarb or even peas in a Margarita.
Almost gin-like in flavor, this mezcal is incredibly refreshing when paired with fresh citrus. New to the market in 2017, Yola Mezcal is the buzzworthy new spirit from Yola Jimenez (of La Clandestina Mezcaleria fame), Swedish singer-songwriter Lykke Li and chef Gina Correll Aglietti. Made from agave sourced from Jimenez's family farm in San Juan Del Rio, Oaxaca, Yola Mezcal is produced using traditional methods. Herbaceous and complex, with notes of wild flowers, juniper, pink peppercorn and citrus oil, this mezcal is not just an incredible addition to a classic Marg, it also pairs perfectly with traditional gin companions like fresh cucumber or celery.
While this bottling is technically the entry-level release in the Fidencio line, it is anything but ordinary and tastes better than mezcals twice the price. One of the only mezcals on the market that is both biodynamic and organic, Fidencio Clásico is distilled from 100 percent espadín agave from Santiago Matatlán, Oaxaca. Produced with ambient wild yeast to start the fermentation, the mezcal is distilled on an alembic, Cognac-style still. Rustic tasting, with notes of ash, smoke, wet dirt and black pepper, this bottling reveals subtle tropical fruit notes when paired with citrus in a Margarita. It is especially good when combined with both fresh lime and grapefruit juice in the cocktail.
The newest bottling from the Casamigos brand, this mezcal is produced in Santiago Matatlán by a fourth generation family of Mezcaleros using 100 percent espadín agaves. It's distilled twice and rested for up to 30 days before it is lowered to 80 proof with local, mountain spring water and bottled. Almost silky on the palate, the mezcal is incredibly complex and herbal, with notes of menthol, licorice, thyme, oregano and sage. While it would be fine to mix this spirit into a classic Margarita, we prefer the complexity it lends to one made with a tamarind syrup or tamarind juice.
This mezcal is truly something special. While its creators would probably cringe if you used even a drop of it in a cocktail, its unique flavor lends it perfectly to the sour, saltiness of a classic Margarita. Made from 100 percent blue Weber agave—like all tequilas—this mezcal is produced like tequila was before it became an industrialized, commercial product. Made in Huitzila, Zacatecas, by the Buñelos family, this mezcal is pit-roasted, tahona ground and fermented naturally. Higher in ABV than most tequilas, it is extremely savory, with notes of olive brine, sea salt, wet stone and sagebrush. If you want to get really weird, we suggest using a damiana liqueur rather than an agave syrup or an orange liqueur.