7 Delicious New Spirits You Need to Drink Right Now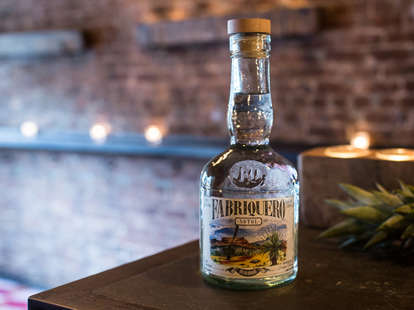 It's nearly impossible to get bored when it comes to booze. Every month, at least one brand spankin' new bottle hits the market, and 2017 has seen its fair share of launches from whiskey to vodka to cachaça. The past couple of months have been especially prolific as some new spirits launched during July's Tales of the Cocktail in New Orleans, and the next few months will be just as plentiful. Check out the seven best and newest spirits to try before the season is over—your home bar will thank you.
Colibri means "hummingbird" in Portuguese; it's a fitting name for this new, limited edition run of cachaça. Novo Fogo Colibri will disappear in the blink of an eye, thanks to a small run of only 2,400 bottles, set to hit the shelves on October 1. Aged by moving the spirit back and forth from repurposed American oak to Brazilian amburana barrels, the amber-hued cachaça is rich, nutty and full of spice. Be sure to get your hands on a bottle before it flits away forever.
Westland Distillery has been committed to showcasing the unique terroir of the Pacific Northwest since they opened their doors in 2010. But their Native Oak Series takes things to the next level. They recently launched the second bottle in the series, Garryana 2|1 American Single Malt. Matured in Quercus garryana, a rare species of white oak that's exclusive to the region, this single malt is naturally smoky thanks to the wood, which contains a high amount of phenols. A nose of clove, mocha and candied ginger opens to flavors of molasses, barbecue smoke, espresso and citrus.
When it comes to Mexican spirits, tequila and mezcal are only a fraction of the equation. In Mexico, a number of other spirits are distilled from agave or agave-like plants, including sotol, which must be made in one of three northern Mexican states—Durango, Coahuila or Chihuahua—from what is known as the desert spoon plant (it looks similar to agave, but it's part of a different species of plant). Though currently not a common find in the U.S., sotol is slowly making its way into liquor stores and the drinking public's consciousness, much like mezcal has done over the past few years. Fabriquero, which launched in June, hails from Durango and is made at a distillery that's more than a century old. The agave is picked by hand and then roasted over acacia, mesquite and lava rocks for five days before fermentation begins. With herbal, floral and smoky notes, this sotol is a great candidate for sipping neat or on the rocks, but would also work beautifully in a number of classic agave spirit cocktails—why not let those flavors shine in an Old Fashioned?
Redemption takes pride in its small-batch bourbons and ryes and has added another spirit to its portfolio: The limited-edition Redemption Wheated Bourbon features a mash bill of 45 percent winter wheat (most wheat-forward bourbons boast between 20 and 30 percent), 51 percent corn and four percent malted barley, and is aged for four years in new oak barrels. Aromas of sage, lavender, pear and vanilla give way to silky flavors of coffee, hazelnut, cardamom and black pepper. Soft and approachable, it is a great whiskey for beginners to try.
Tanteo is known for its fiery hot tequilas, with their Chipotle and Jalapeño offerings capturing heatseekers' drinking imaginations. But the brand's most recent launch, Tanteo Habanero, is packed with even more heat and peppery spice than anything you've tried yet. Infused with fresh habanero peppers plucked from the Yucatán Peninsula, this agave spirit is the best way to set your Margarita aflame. The spirit launched in July and will be released across the U.S. throughout August. Before you pick up a bottle of your own, be warned: Though it does have mild notes of citrus throughout, downing a swig is like taking a bite out of a fresh habanero pepper—seeds and all—so you may want to serve it with a side of palate-cooling milk or at least a bowl of guacamole.
Born in Boyne River Valley, which was considered the center of Irish whiskey production for centuries, this spicy brown spirit is a newcomer to the United States. Slane is triple-cask matured, firstly in virgin oak, then in Tennessee whiskey and bourbon barrels, and finally in Spanish Oloroso sherry casks. The result is a bold, smooth spirit that is more complex than a traditional blended Irish whiskey with a lush nose of caramel, vanilla and brown spice. Its spicy flavor quickly mellows into notes of butterscotch and dried fruit.
Not only is Simple Vodka incredibly smooth and great for cocktails, the brand is also committed to sustainability and giving back to a community in need. All of the locally-sourced Russet potatoes come from farmers within 40 miles of the distillery, and they use pure, clean water from the Snake River Aquifer in southern Idaho. They only distill their smooth vodka once, and they recycle wastewater and turn potato by-products into animal food in the process. Best of all, for each bottle sold, Simple Vodka donates 20 meals to the hungry throughout the United States with the help of local and national hunger relief organizations.